Chrissie Wellington's Mindset Heading Into Saturday's Race
Three-time Ironman world champion Chrissie Wellington offers "an honest evaluation" of her condition, and sounds very different than last year.
Heading out the door? Read this article on the new Outside+ app available now on iOS devices for members! Download the app.
Three-time Ironman world champion Chrissie Wellington offers "an honest evaluation" of her condition, and sounds very different than last year.
Chrissie Wellington looked at the mass of journalists at last year's pre-Kona press conference with a stone-like gaze and declared that she was ready to race faster than ever. Two days later, she withdrew before the race started due to illness. Her tone at this year's press conference was remarkably different.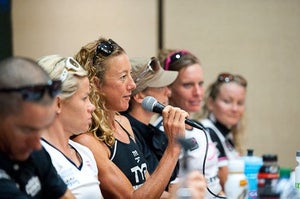 Wellington said that it would be "an understatement" to call last year's experience a disappointment. She was devastated. The three-time champion described her return to fitness after the illness that forced her out of the race as, "an emotional and physical challenge," and that she has "taken a lot of lessons as for my need for rest and recovery." Although she has taken more care to stay healthy this year, she is facing another unexpected obstacle this year.
Two weeks ago, Chrissie was doing her final long ride before the Ironman World Championships and her front tire flatted just before a turn. She leaned her bike through the corner and it slid out from underneath her. She went sprawling on the pavement. A trip to Boulder Community Hospital revealed no broken bones, but her leg, hips, shoulder and arm all had road rash and she was in a lot of pain. Wellington says she was, "in the shape of [her] life" before the accident but admits the crash has influenced her preparation these past two weeks. Wellington's unshakably confident tone from last year has been replaced with a more reflective, even self-critical outlook.
"I felt incredibly strong across all three disciplines and confident coming into the race, but I'd be lying if I said the crash had no effect on me physically…I've got to respect my body and appreciate that when you have an accident that it will take it's toll. That's the asterisk I put over any question about the shape I'm in. It's an honest evaluation…I'd be lying if I said my preparation wasn't hindered in the past ten days"
Perhaps this crash combined with last year's illness will be the catalyst that propels her to even greater heights just as Chris McCormack and many other champions grew because of their failings on the Big Island, but regardless of the outcome, her self-evaluation leading into this race sounds drastically different than last year.
Despite these changes, Wellington still beams with much of the same self-assuredness she is known for. She says, "I haven't lost that physical fitness, it's still there…I firmly believe that the body and the mind are amazing things. Despite the wounds that I am carrying my spirit is not dampened. I will go out there and give it absolutely everything and make it a great race."
Written by Aaron Hersh. Follow him throughout Kona race week @triathletetech.