Ben Hoffman Turns In Impressive Performance in South Africa
The talk of 33-year-old Ben Hoffman being the United States' best hope of someday getting the Ironman World Championship title back is sure to increase.
Heading out the door? Read this article on the new Outside+ app available now on iOS devices for members! Download the app.
The talk of 33-year-old Ben Hoffman being the United States' best hope of someday getting the Ironman World Championship title back is sure to increase in the lead up of this year's race, thanks to his stellar performance at Sunday's Ironman African Championships at Nelson Mandela Bay in South Africa. Hoffman combined a 49:14 swim, a 4:22:33 bike and a 2:42:52 marathon to cross the finish line for the win and a new course record at 7:58:40—marking his first time going under eight hours at the distance.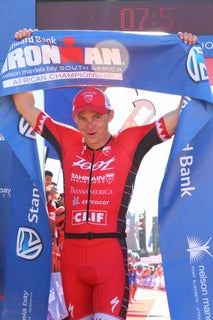 "I exceeded all my expectations and that wasn't even on my radar," he said in a press release from his Bahrain Endurance 13 team. "It's not a super fast course so to do that, I'm just blown away."
He was pushed the entire marathon by Germany's Nils Frommhold, who also went under eight hours and finished less than a minute later at 7:59:30.
"There's no doubt that he pushed me to my limit and my best performance on the day for sure," said Hoffman. "I knew I did the training and I knew I was ready, but I just had to execute and continue to believe in myself. There were definitely a few moments on the run where I started to doubt myself, but the crowd support out here lifted me up. It's absolutely awesome."
Hoffman also won this race in 2016, and although he's in a much better spot with Kona Pro Rankings points this year, he'll again be happy to have an automatic starting spot at the Ironman World Championship.
"It was a really easy decision to come back and do it again, and not just because I won the race," Hoffman told Triathlete.com in the week leading up to the championships. "The event is top notch and I am basically am a walking spokesperson for South Africa as a whole… What I like about the race is that it's a championship race and it's earlier in the year. Fortunately for me this year I don't have to worry too much about points, but last year I did a little bit so that motivated my decision to go. Knowing that if I didn't have the great performance there, or what I needed, I would still have time to do another Ironman potentially before Kona. This year I still like the idea of doing one fairly early and then having the summer to just race half-Ironmans and be in a little more in control of my schedule. I can be a little more relaxed and then do that second big push for Kona in the fall. I think that sets the year up well so that you're not trying to be on for the entire season."
Hoffman's victory was well noted all over social media, with the strongest words of praise coming from coach Brett Sutton—one of the tougher critics in the sport.
[twitter url="https://twitter.com/trisutto/status/848518651049385985″ align="center"]
On the women's side, two-time Ironman world champion Daniela Ryf (SUI) beat out defending champion Kaisa Lehtonen (FIN)—crossing the finish line at 8:47:01.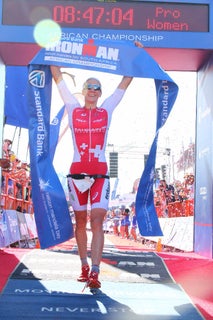 Though she looked strong throughout, it wasn't the dominant performance we're used to seeing from Ryf and that's likely because she tweaked her back into the lead-up to the race. "I think it's a bit of a miracle," she said. "To be honest, I was preparing to go for 12 hours today, and I was really scared of the swim. I couldn't swim for about 10 days and today I just hoped that my back would hold together and I'm so happy that everything went kind of the maximum it could go. I could swim quite okay, it hurt the most in the swim and then on the bike I gave my best and it took me awhile. In the beginning I was really struggling and then finally I could push my legs and then the run was also kind of okay and I'm really surprised how it went."
Ryf came out of the water out front at 53:48, but sat back in fourth on the bike before later moving a move back to the front of the race. She was able to build a lead of three minutes by the time bike turned to run. She finished off her day with a 2:57:27 marathon.
"I'm super happy and also a big thank you to the crowd today, they really cheered me on and of course thank you to my coach because the last week was not so easy," she said. "I was very close to not coming, and I'm really happy I came here to South Africa and I could celebrate such a great win."