Americans On Top In Coeur d'Alene To Earn First Ironman Titles
Heading out the door? Read this article on the new Outside+ app available now on iOS devices for members! Download the app.
Americans Andy Potts and Linsey Corbin won today's Ironman Coeur d'Alene in Idaho. Potts led nearly from start to finish to earn a dominating victory, while Corbin battled with American Meredith Kessler all day and came out on top thanks to a strong run.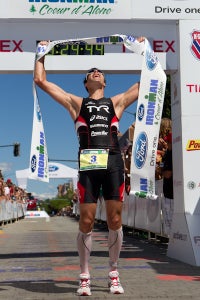 The day started off with American John Flanagan, perhaps the only man faster than Potts at the swim, leading the men into T1 in 45:58. Potts exited at 46:28, with the next fastest swimmer not finishing for another six minutes. With Flanagan and Potts starting the bike with such a significant lead over the competition, the chasers were forced to head onto the 112-mile bike course with a strong effort. As Potts surged, Flanagan faded and Potts' lead only continued to grow. While many have questioned if Potts will ever be able to bike with the best in Kona, he made a strong statement by heading into T2 with a large lead and a 4:42:28 bike split. Once on the run, Potts continued to shine, posting a 2:52:47 marathon. He earned his first-ever Ironman victory with a time of 8:24:40. Australia's Courtney Ogden ran a 2:56:28 marathon to earn second. American Michael Lovato turned in a patient race, working his way from fifth out of the swim to third at the finish line.
In the women's race, American Hilary Biscay found herself in a familiar position at the front of swim race. She headed into T1 with a narrow lead over fellow American Kelly Williamson, who is fresh off of a second place finish at June 6's Rev3 Quassy Triathlon. Another American, Meredith Kessler, was third into the transition. Americans Linsey Corbin and Desiree Ficker, considered to be among the favorites by many, started the day off on a tough note by swimming eight minutes slower than the leaders. Corbin and Ficker fed off of each other's momentum to catch the lead pack, and eventually take the lead positions. Kessler did not let the pair get too far, as she found her way back up to the front and headed into T2 with a narrow lead over her fellow Americans. When bike turned to run, it became clear it was a three-women race as the next closest pursuer was more than 15 minutes back of Kessler, Corbin and Ficker. As Ficker faded, it became a battle between Kessler and Corbin. In the end, Corbin turned in a 3:04:36 marathon to earn the win and a new course record at 9:17:54. Kessler finished second at 9:23:52.
Ironman Coeur d'Alene
Coeur d'Alene, Idaho—June 27, 2010
2.4-mile swim, 112-mile bike, 26.2-mile run
Men
1. Andy Potts (USA) 8:24:40
2. Courtney Ogden (AUS) 8:38:17
3. Michael Lovato (USA) 8:41:17
4. Luke Bell (AUS) 8:43:16
5. Chris McDonald (AUS) 8:48:30
Women
1. Linsey Corbin (USA) 9:17:54
2. Meredith Kessler (USA) 9:23:85
Check back for a photo gallery from the day.