Alistair Brownlee Dominates at the Beijing ITU Grand Final
Brownlee's Grand Final dominance earned him the overall world title, with younger brother Jonny coming second and Gomez finishing third.
Heading out the door? Read this article on the new Outside+ app available now on iOS devices for members! Download the app.
The ITU's 2011 Beijing Dextro Energy World Championship Series Grand Final was marked by sheer British domination, with Alistair Brownlee of Yorkshire, England, destroying the elite men's field and securing his title as 2011 world champion.
Sven Riederer of Switzerland came in second and Alistair's younger brother Jonathan crossed the line in third.
In overall World Championship Series standings, Jonathan's performance earned him the runner-up title, and Javier Gomez of Spain, who had an off day at the Grand Final today and finished sixth, rounded out the World Championship Series podium.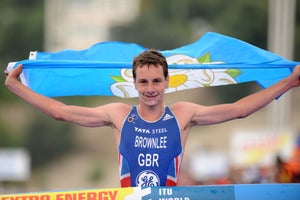 In what seemed to signal what was to come, the race began with cool and rainy British weather, and Jonny led the athletes out of the water in 17:11 despite tossing his goggles in the early part of the swim. Alistair exited right behind him.
As the riders settled into the bike, athletes including Alistair, Jonny, Gomez, Alexander Brukhankov, Bevan Docherty and Americans Matt Chrabot and Mark Fretta began pushing the pace at the front, preventing the first chase pack, which included reigning Ironman world champion Chris McCormack, from catching them.
Several breakaways were attempted, but none succeeded.
As the athletes filed out of T2 and onto the run, both Brownlees set a blistering pace and separated themselves from the pack almost immediately.
Alistair began to pull away from his younger brother in the middle of the penultimate lap, and his lead grew with every step. He jogged into the finish with a Yorkshire flag draped across his back.
"I started to feel great, and I knew Jonny wasn't feeling great. I can tell—I train with him every day," Alistair told an ITU reporter after the race.
Jonny was eventually caught by the group of five or so runners behind him—a group that included Riederer and Gomez. Brownlee showed resilience, though, as he fought off all but Riederer.
"It was a hard day today. I didn't feel my best. …I could have quite easily given up," Jonny said to an ITU reporter after the race.
Today's course was the same one used in the 2008 Beijing Olympics, and Alistair's finish time of 1:48:07 was 45 seconds faster than that of Olympic champion Jan Frodeno.
Alistair's world championship is the second elite world title in his young career, as he won it first in 2009. He is also a former Under-23 world champion and Junior world champion. His Grand Final win today was his third in as many tries.
American Matt Chrabot finished 25th; Jarrod Shoemaker did not finish.
McCormack finished 31st, running through much of the field after being unable to bridge the gap between his bike pack and the lead pack.
Grand Final finish
1.         ALISTAIR BROWNLEE           GBR     1:48:07
2.         SVEN RIEDERER        SUI      +0:08
3.         JONATHAN BROWNLEE        GBR     +0:11
4.         DMITRY POLYANSKY           RUS     +0:13
5.         LAURENT VIDAL        FRA     +0:17
6.         JAVIER GOMEZ          ESP     +0:20
7.         DAVID HAUSS            FRA     +0:29
8.         VINCENT LUIS           FRA     +0:37
9.         MAIK PETZOLD         GER     +0:40
10.       IVAN RANA     ESP     +0:44
25.       MATT CHRABOT        USA     +2:22
31.       CHRIS MCCORMACK AUS     +2:40
46.       MARK FRETTA           USA     +4:38
Overall World Championship Series Rankings
Alistair Brownlee, Great Britain
Jonathan Brownlee, Great Britain
Javier Gomez, Spain
Sven Riederer, Switzerland
Alexander Brukhankov, Russia
David Hauss, Russia
Laurent Vidal, France
Dmitry Polyanksy, Russia
William Clarke, Great Britain
Brad Kahlefeldt, Australia