4 Triathlon Destinations Full of Mystery and Intrigue
These unique race destinations guarantee you'll have some stories to tell after you cross the finish line.
Heading out the door? Read this article on the new Outside+ app available now on iOS devices for members! Download the app.
Alcatraz Island
If you're a triathlete and you haven't watched the 1979 Hollywood classic Escape from Alcatraz, find your way to iTunes, Hulu, or Netflix soon, and put some popcorn in the microwave. Early in the film, Clint Eastwood (playing incarcerated convict Frank Morris, who has apparently already escaped from several prisons) is brought into the warden's office and warned of his bust-out odds at the maximum-security federal prison situated on Alcatraz Island in San Francisco Bay.
"A few people have tried to escape. Most of them have been recaptured, those who haven't have been killed or drowned in the bay," the stoic warden, played by Patrick McGoohan, tells Eastwood's Morris. "No one has ever escaped from Alcatraz."
Well, Morris must have been a triathlete at heart. Eastwood plays out one of the great prison breaks in history—even though the movie leaves viewers hanging, never knowing if Morris ever completed the 1.2-mile swim to the San Francisco shores or if he drowned en route.
The prison has been closed since 1963 and the island was eventually relegated to a National Historic Landmark. But it's that thrilling intrigue that has made Alcatraz Island a fabled starting point for triathlons for almost 40 years.
The original Escape from Alcatraz triathlon started in 1981 as a private event for members of the South End Club and the Dolphin Club, beginning in San Francisco and ending in Marin County. The course started with a swim from Alcatraz Island to San Francisco, followed by a bike ride over the Golden Gate Bridge to Mill Valley and then a run over Mt. Tamalpais to Stinson Beach and back. A public race split off in 1983 and was a popular triathlon for years before being reduced to a swim-run duathlon. This year's Alcatraz XXXIX Escape from the Rock is set for Aug. 22, 2020.
A notorious battle among race officials led to another race being split off, an event that eventually became the Escape from Alcatraz Triathlon, now owned and operated by IMG. Held on June 7 in 2020, Escape from Alcatraz remains a hugely popular event. It starts with a 1.5-mile swim from a ferry boat adjacent to the island over to the transition area at Marina Green on the shores of San Francisco. This is followed by a hilly 18-mile bike that loops through Presidio and Golden Gate Parks, before concluding with an 8-mile out-and-back run that includes the notorious Sand Ladder, a log-step staircase climb straight up from Baker Beach.
"You have to be a good swimmer, a good biker, a good runner," says pro Eric Lagerstrom, who won the race in 2015. "You have to be able to orienteer in the water and find your route. You have to have technical skills on the bike. You have to be good at running uphill and downhill. It really requires you to be dialed in on all aspects of swimming, biking, and running."
Roll Call
Prisoners who attempted to escape

36 (two men tried twice)

Escapees caught alive

23

Number of triathletes/duathletes who "make the break" every year

About 2,000

Amount of time allotted for all those athletes to jump off the boat and start swimming

8 minutes

Sharks spotted near Alcatraz Island annually

Dozens

Shark attacks on triathletes/duathletes since 1981

0
Beyond Alcatraz Island
While not as notorious as escaping from Alcatraz Island, write your own adventure with these unique race destinations:
Alaskaman Extreme Triathlon
June 2020
Seward, Alaska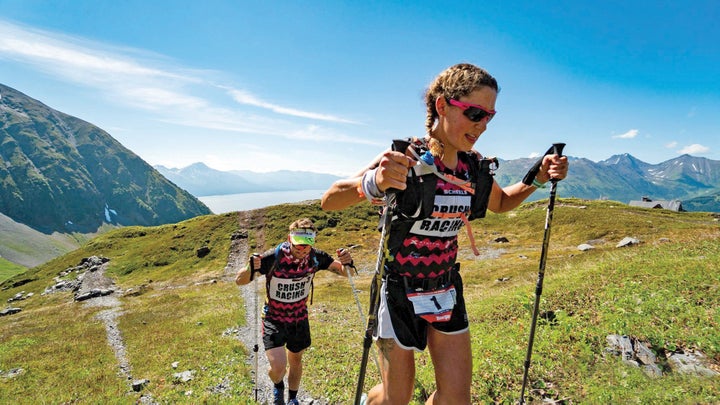 Surrounded by dramatic mountain peaks, Seward is a port city on an inlet of Alaska's Kenai Peninsula. It's a gateway to Kenai Fjords National Park, where glaciers flow from the Harding Ice eld into coastal fjords, and a place where people have notoriously gone to disappear. For triathletes craving a frontier of tri-isolationism, the point-to-point 143.1-mile Alaskaman includes a 2.6-mile swim in the frigid waters (50 degrees in June) of Resurrection Bay, a 113-mile bike ride along Seward Highway and Bird to Gird paved bike trail, followed by a 27.5-mile run along bike paths and dirt trails at Alyeska Resort.
Lofoten Triathlon
AUG. 14, 2020
Svolvær, Norway
"My hair, which had been raven-black the day before, was as white as you see it now. They say, too, that the whole expression of my countenance had changed. I told them my story—they did not believe it. I now tell it to you—and I can scarcely expect you to put more faith in it than did the merry fishermen of Lofoten."
These are the closing lines of Edgar Allen Poe's short story "A Descent into the Maelström", a piece set close to one of the rare triathlons held inside the Arctic Circle, the Lofoten Triathlon. The event includes three distances: extreme (4K swim/196K bike/45K run), Olympic (1K swim/50K bike/12K run), and super-sprint (375-meter swim/10K bike/2.5K run) in the cold waters of Svolvær Harbor, on the narrow paved roads and bridges that connect numerous coastal islands and peninsulas, and even through two rugged mountain passes, all before finishers run through a traditional sh rack that serves as the finish line. Don't worry, the course has no maelströms.
XTERRA Kunming
September 2020
Kunming, China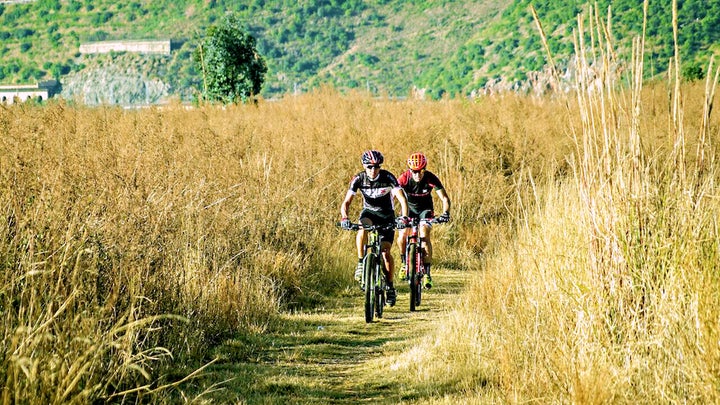 One of the most faraway off-road triathlon races in the world, Xterra Kunming is set in China's south-central Yunnan Province, where the remains of an ancient walled city and a bronze temple date back to the Ming Dynasty (1368-1644). The earliest civilizations of Kunming date back to 279 B.C., but it has been a thriving transportation and industrial center since the early 20th century, when a rail line was connected to Hanoi, Vietnam. Set at an elevation of 6,600 feet above sea level in and around azure Lake Yangzong, the event includes a traditional XTERRA race (1.5K swim/30K mountain bike ride/10K trail run) and a shorter sprint tri (750-meter swim/15K mountain bike ride/5K trail run).