Abu Dhabi International Triathlon Odds: The Women
Heading out the door? Read this article on the new Outside+ app available now on iOS devices for members! Download the app.
A bike crash on January 2nd took the overwhelming favorite, the Tiger Woods of triathlon, Chrissie Wellington out of the action before it ever started. That opens up the door in the women's field and makes the top prize of $50,000 USD a prize within reach.
The Women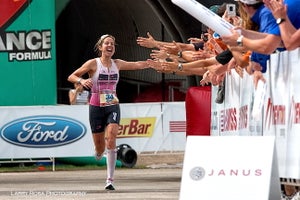 Tereza Macel, 36, CAN – 3-1 (3-1 fastest bike split)
This dual Canadian and Czech citizen made a name for herself in 2009 when she blasted out back to back wins at Ironman Lake Placid and Ironman Canada. Her ammo was a deadly bike split in both of those races. According to her profile on the Team TBB website, her personal cycling goal for 2010 is to ride under five hours in Ironman races whenever possible. Unless Chrissie is on the start line, accomplishing that goal will net Macel wins in the future and, like her favorite role model World's Strongest Man champion Magnus ver Magnussen, we think Macel will crush it this Saturday in Abu Dhabi.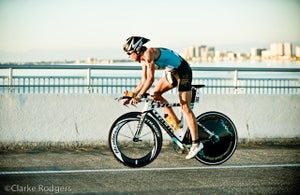 Julie Dibens, 35, GBR – 3-1 (1-1 fastest bike split)
The two-time Olympian (2000 and 2004) is also the three-time Xterra World Champion and last November in Clearwater at the 70.3 World Championships became the first woman to break four hours in a 70.3 with her 3:59:33 first place finish. Earlier in the summer at the 5430 half-iron in Boulder, Colorado, Dibens scorched the women's field, including Wellington, en route to a two-minute victory. The only question mark will be Dibens' ability to jump up in distance as she has never raced an Ironman to date, although this will change this October as the reigning 70.3 champ has her Kona slot.
Yvonne Van Vlerken, 31, NEL – 3-1
The Dutch former world record holder has a personal best iron-distance time of 8:51:55 at Challenge Roth in 2007. In 2008, she finished runner-up to Chrissie and after her DNF in Kona in 2009, she won the inaugural Ironman Cozumel after flying through the three-lap bike in 5:03:44. If she can limit her losses coming into T2, she could run her way to the top of the podium.
Caroline Steffen, 32, SWI – 4-1 (2-1 fastest bike split)
After placing third at Ironman Australia, she capped off her season with a fourth place finish in Clearwater. At the 70.3 World Championships, Steffen rode a 2:08:23 bike split and exited the bike in second, only behind eventual winner Julie Dibens. Steffen is coming off a win at Geelong 70.3 and a month of solid training with Team TBB in Krabi, Thailand and should be ready to rock and roll at the front of the race.
Rebekah Keat, 32, AUS – 4-1
While the two-time Ironman Australia champion is well known for dropping Wellington an extra CO2 canister in Kona two years ago, she is anything but saintly on the race course. She placed second to Wellington at Challenge Roth last year, but both athletes dipped under the previous iron-distance world record. Kona was her last major race – where she was disqualified for receiving three bike penalties – so don't be surprised to see Keat racing like a woman possessed on Saturday.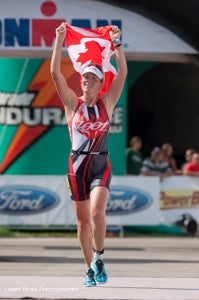 Samantha McGlone, 29, CAN – 4-1
The 2007 Hawaiian Ironman runner-up struggled with injuries during the second half of the 2008 season but returned with a fourth place Kona in 2010 and hit her mark later in November with a dominating win at Ironman Arizona. The redhead rode a blistering 4:56 for the fastest bike of the day at Arizona which shows she now has a strong bike to back up her already dialed-in run. McGlone is fresh off an early season win at the Desert Duathlon, where she beat former Kona champion Michellie Jones and fellow Tucson resident Leanda Cave.
Leanda Cave, 32, GBR – 5-1
The Tucson-based 2002 ITU Olympic distance World Champion is one big win away from stamping her arrival as a true contender in long distance racing. She is the two-time Escape from Alcatraz winner, won both Tri 101s at the Nice distance, and has wins at Florida 70.3 and California 70.3. She leads from the front, as she showed during her debut in Kona when she led until mile-80 of the bike. Cave was DQ'd last weekend at the Desert Duathlon for not depositing her bike helmet by her designated transition spot, so look for the lanky Brit to come out swinging this weekend.
Virginia Luna Berasategui, 34, ESP  – 7-1
The diminutive Spaniard is coming off the best season of her career with a win at the challenging Wildflower Half and third place at Ironman Hawaii. Her 5:01:41 bike split in Kona was the second fastest on the day and the only woman within ten minutes of Chrissie's 4:52:06 112-mile bike split. Unfortunately, while training in Mallorca, Berasategui was hit by a car and recently had surgery to repair missing teeth. It is hard to know where her condition is at with her time away from training and just starting on Saturday is a victory in itself.
Rachel Joyce, 31, GBR – 8-1
Her seventh place finish in Kona last year bodes well for the future of this second year pro. On the Big Island last October she blasted away to the fifth fastest bike of the day, covering the 112-mile course in 5:10:03. Look for her to be in the mix.
Sofie Goos, 29, BEL – 10-1
This relatively unknown Belgian quietly won a few races in 2009- including Antwerp 70.3, Challenge Barcelona and Ironman Florida. Her 4:52:25 bike split at Ironman Florida was the second fastest on a day where nine women biked under five hours on the Panama City, Florida course.
Joanna Lawn, 36, NZL – 12-1

Lawn just won her seventh Ironman New Zealand title last weekend in Taupo. Will be excused if she is seen sipping mojitos this upcoming weekend instead of toeing the line.
Click here to see the men's odds.
Compiled by the editors.
Click here to check out all of our coverage of the Abu Dhabi International Triathlon.