70.3 Worlds Preview: Holly Lawrence Goes Head to Head with Daniela Ryf
Will Holly Lawrence defend? Can Daniela Ryf get her title back? Susan Lacke previews this weekend's 70.3 World Championship action.
Heading out the door? Read this article on the new Outside+ app available now on iOS devices for members! Download the app.
Chattanooga the place to be this weekend, as more than one hundred of triathlon's best will descend upon the Tennessee town for this weekend's Ironman 70.3 World Championship. The event will feature an exciting new two-day format, which allows for both men and women professionals to race on separate days and experience clean, fair competition for their respective $125,000 prize purses.
The women's field features talent upon talent, with multiple 70.3 world champions, a two-time Ironman world champion, several Olympians, and a handful of legends. Read the men's preview here.
Holly Lawrence (GBR)
Coach: Sean Yates
After taking the championship title at last year's 70.3 event, Lawrence took her winning ways all over North America with 70.3 victories in St. George, Oceanside, Santa Rosa, and Mont-Tremblant. However, it's unclear whether she'll be able to keep that momentum going into Chattanooga: Lawrence recently revealed on her Instagram account she has been battling a foot issue which has "compromised" her training. If she's fully recovered, look for her to unleash some stellar run speed over the final 13.1 miles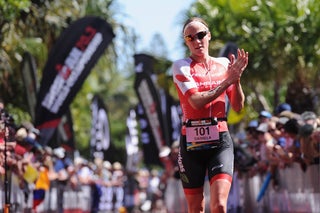 Daniela Ryf (SUI)
Coach: Brett Sutton
The 2014 and 2015 Ironman 70.3 world champion and defending two-time Ironman world champion would very much like to take back her crown this weekend. Ryf is known for not just winning, but dominating the field at most races she enters—an easy 20-minute lead between Ryf and second place is a typical occurrence. But this isn't a typical race, and Ryf's preparation has been less-than-typical, as the first part of her 2017 season was plagued with back issues. Has she returned to top form? We'll find out on Saturday.
Mel Hauschildt (AUS)
Coach: Jared Hauschildt
One of the most successful women in 70.3 history, Hauschildt comes to this year's world championship event having already taken two golds, one silver, and one top-five finish. She's a threat in every way imaginable when she's fresh, but racing at the hot and hilly ITU Long Distance World Championships two weeks ago (where she finished ninth) could put a damper on that threat.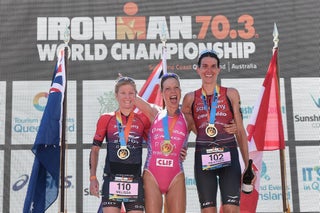 Heather Wurtele (CAN)
Coach: Paulo Sousa
Wurtele's had plenty of podiums at this event: third in 2014, second in 2015, and third in 2016. Will this be the year she finally breaks through to the top step? She's one of the sport's most well-rounded athletes, and 2017 has been a solid year of racing half-iron events, but—as with Hauschildt—we're curious about the impact of racing at the ITU Long Distance World Championship, where she battled hard for a third-place finish.
Jeanni Seymour (RSA)
Coach: Jesse Kropelnicki
In 2017, South Africa's Jeanni Seymour has four wins at the half-iron distance and a second-place finish behind Holly Lawrence at the 70.3 North American Championships. She's coming into this race with a laser focus on the W—look for her to pick off the competition in the run leg, where she often clocks the fastest splits in her field.
Ellie Salthouse (AUS)
Coach: Siri Lindley
Despite being one of the youngest competitors in the field, 24 year-old Salthouse races like a seasoned vet. She's a consistent podium finisher: in 2016, her inaugural year of racing the 70.3 distance, she took home six wins and four top-five finishes. This year, she's placed herself in the toughest fields, facing competition from legends like Lawrence and Wurtele, and the experience has only made her better. We anticipate she'll drastically improve on last year's 11th place finish at this event
Annabel Luxford
Coach: Shaun Stephens
Once ranked No. 1 in the world on the ITU scene, Annabel Luxford switched over to non-draft-legal racing in 2013 with great success. The Australian star consistently brings ITU speed to every race she enters, frequently placing in the top three. She's bested several impressive fields this year, including a wire-to-wire win at the Ironman 70.3 European Championship in Denmark.
Helle Fredriksen (DEN)
Coach: Joel Filliol
The 2012 Olympian and current record holder for the fastest half-Iron distance triathlon recently added another title to her resume: ITU Long Distance silver medalist. At the race in Penticton two weeks ago, she looked incredibly fit, but also admitted the run (which, at 18 miles, was the longest run of her career) was a struggle. Can she bounce back in time?
Sarah True (USA)
Coach: Self
The Olympian and ITU athlete is still fairly inexperienced at the 70.3 distance, yet she's racing like a seasoned pro: After her second place finish behind Heather Jackson at Ironman 70.3 Chattanooga in May, she took third at Ironman 70.3 Edinburgh. Since then, she's kept a low profile as she's trained for the World Championship. Earlier this year, she told Triathlete she wouldn't attend the event "unless I feel I'm ready to race at the front for a 70.3." After confirming she'll be racing this weekend, we're excited to see her in the mix.
The Ironman 70.3 World Championship WPRO race will take place on Saturday, Sept. 9. For a full start list and live coverage, visit IIronman.com.