70.3 Oceanside Showdown: Frodeno vs. Sanders
Though there have already been a dozen 70.3s in the books for 2017, the true start to the North American race season begins this weekend in Oceanside.
Heading out the door? Read this article on the new Outside+ app available now on iOS devices for members! Download the app.
Though there have already been a dozen 70.3s in the books for 2017, the true start to the North American race season begins this weekend in Oceanside. With both last year's male and female champs on hand, the 2017 edition carries on Oceanside 70.3's tradition as "The Early-Season Race To Win." Boasting a $50,000 prize purse that actually seems light given the level of competition, this North County San Diego event is a perfect storm of early-season talent. Just about the time many pros begin to come out of hibernation and the California temperatures transition from mildly mild to just mild, pros take this opportunity to bust off the rust, evaluate their fitness and spend facetime with some of the sponsors that support them (many tri companies call San Diego home). Let's break down the two races:
The Women
Last year's winner, Heather Wurtele is back, and lately her form has been pure fire. Despite finishing the year with a 12th place finish at Kona last October, Wurtele has been in the zone when it comes to sightly shorter races. She won five half-distance events in 2016 and has been on the 70.3 World Championships podium for three years in a row. Just over a week ago, Wurtele won Campeche 70.3 by over 10 minutes. "It's always great to start the season off with a win, and it was nice to feel fit and ready to race after a long winter training block," Wurtele says about the victory in Campeche. "I felt great physically, and the awesome crowds in Mexico made the race a lot of fun."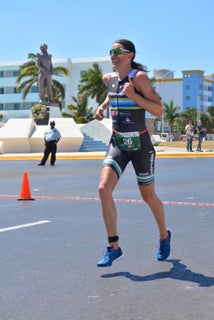 But Wurtele's good form and fun don't exist in a vacuum—the rest of the field will be aiming at a big target on her back. One woman in particular will have vengeance on her mind. "For several years it seemed to come down to a battle between Heather Jackson and myself," says Wurtele. In 2014, Wurtele won while Jackson was second; in 2013, Jackson won while Wurtele was second; in 2016, Caroline Steffen wedged herself between Wurtele and Jackson. While Steffen is noticeably absent from Oceanside this year, Jackson's third place finish at Kona in 2016 proves she's only gotten better.
Though names on the start list like Meredith Kessler and Rachel Joyce should also make fans take notice, the other huge presence is Holly Lawrence. Lawrence stunned everyone with her runaway victory at 70.3 Worlds in 2016. Back in 2015 at Oceanside, Lawrence first blipped onto the long course tri-world's radar with a kamikaze attack, leading the race until she faded to third in the closing miles of the half marathon. Last year, she backed up her Worlds victory in Mooloolaba by dusting a strong short course field at the Beijing International Triathlon. "Last year at both Oceanside and St. George I was able to catch Holly Lawrence by the end of the bike and run to win," Wurtele says. "But later in the year, at both 70.3 Mt. Tremblant and 70.3 Worlds she got faster and faster. As the reigning 70.3 world champion, I have to say she's the biggest threat."
Look for Lawrence's superior swim to put some time on Jackson and Wurtele early, but bet on both ladies to kill themselves on the bike to put Lawrence in range on the run.
The Men
While there's no shortage of talent in the men's field (Andy Potts, Brent McMahon, Joe Gambles, Luke McKenzie, et al), all eyes are going to be on zee big German, as Jan Frodeno returns to Oceanside this year in an attempt to reclaim the title he won in 2014 and 2015. While Frodeno passed on Oceanside last year, the rest of his 2016 campaign was obviously ridiculous—winning his second Kona title and setting a world record time for the iron-distance at Challenge Roth. "I really missed not racing in Oceanside last year," said Frodeno in a recent interview with Ironman. "I always enjoy the energy around the event, it seems like the unspoken awakening of tri hibernation."
But there's another record holder in the field this year: returning champ Lionel Sanders. After winning Oceanside in 2016, Sanders focused his season on Kona—which resulted in a disappointing 29th-place finish. Undeterred, Sanders reset his sights on Ironman Arizona in November and set a world record for Ironman-branded events. In the off-season, Sanders dropped a bombshell when he told fans he wouldn't be returning to Kona in 2017 in order to properly focus on his athletic progression.
Already this year, Sanders has been on a winning rampage. He's racked up wins at 70.3 Buenos Aires and 70.3 Pucon in March and January respectively and shows no signs of slowing down. "I made the mistake a few years ago of going four to five months without racing in the off-season," says Sanders. "I vowed never to do that again, so that was my major motivation for those races."
As Frodeno looks to reclaim his title, Sanders has the Kona champ on his mind. "He and I ran side by side in 2015 for the first 5km, and then he dropped me like a bad habit," says Sanders of the Oceanside event two years ago. "To this day, that is the most motivating and powerful experience I have had in triathlon. Not a day goes by that I do not reflect on that race."
At the same time, Sanders is realistic about Frodeno's abilities. "Jan does not show up to races out of shape, and certainly doesn't race for second, so that will be the biggest change this year," he says. "I have waited two years to have a rematch with Jan on this course. There is no other race this year in my mind, other than Oceanside."
Look for Sanders to capitalize on the wetsuit-legal saltwater swim to minimize losses in the water, but also don't discount super-swimmer (and five-time Oceanside winner) Andy Potts to go for broke from the gun with Frodeno in tow.
The Other 3,500 Racers
There will be the young (18-year-old Konor Sacks), the old (70-year-old Gerry Forman) and everyone else in between. Keep your eyes peeled for Ben Andrews—an Olympic Track and Field Trials qualifier in the 1,500m. The 42-year-old former track star will undoubtedly raise some eyebrows with his run split, but his recent work as a real estate expert for television might make him a recognizable face in the pack.
Also look for former world champion Formula One racer Jenson Button, who is racing as part of his journey to try to qualify for his first Ironman World Championship in 2017. While not nearly as fast out of the car, Button is still no slouch in the triathlon world, as he is hoping to better his third place age group finish from 70.3 Philippines in 2012.
For everyone else, our returning champs have some valuable tips for race weekend:
Eat:
Heather Wurtele: "Mi Ranchito (12812 Rancho Penasquitos Blvd., San Diego, CA 92129) that has the best fish tacos, made with from local, fresh fish, that I've ever had! [Though] it's not close to Oceanside, but from our time at training camps near Poway, it quickly became our favorite Mexican food place."
Lionel Sanders: "We have been staying in this dive hotel just off the freeway the last couple of years. We didn't really need to stay there last year, but did anyway for tradition. There's a little diner down the street called the Village Kitchen and Pie Shoppe (950 Tamarack Ave., Carlsbad, CA 92008). I ate every meal there in the days leading up to the race last year. All excellent. Awesome pie too!"
Race:
Wurtele: "Make sure you have the right gearing on your bike. Some of the climbs are long and steep, but the end of the race is downhill and fast so you don't want to be grinding too much going up, nor spinning out on the way home."
Sanders: "Stick to the plan and do not deviate from it. If you still feel good in the final 10km of the run, then you can pour out all the energy you have left. The damage is usually done in the first 30 minutes on the bike and the first 5km on the run. Your perception of effort at those stages is usually way off due to adrenaline. Better to be conservative and finish faster than you started, then to start off aggressive and have a spectacular blow up."