2018 70.3 Worlds Preview: Pro Men
The impressive field includes world champions, a handful of Olympians, and some of triathlon's most exciting up-and-coming talent.
Heading out the door? Read this article on the new Outside+ app available now on iOS devices for members! Download the app.
This weekend, 51 of triathlon's top male pros will toe the line in South Africa in hopes of taking top honors and a share of the $250,000 professional prize purse at the Isuzu Ironman 70.3 World Championship. The impressive field includes three past 70.3 world champions, a two-time Ironman world champion, a handful of Olympians, and some of triathlon's most exciting up-and-coming talent.
Athletes will race a 1.2-mile swim at Kings Beach in Nelson Mandela Bay, bike a challenging 56-mile route along coastal roads in Port Elizabeth, and tackle a flat and fast run course on the shores of Hobie Beach. The design of the course should facilitate an exciting race amongst a truly world-caliber class of athletes. (Read the women's pro preview here.)
Javier Gomez (ESP)
As one of the most decorated athletes in the sport, Gomez carries a lot of hardware—five ITU world titles, an XTERRA world title, and a pair of Ironman 70.3 world championships. Gomez hopes to make history this weekend by clinching a third Ironman 70.3 World Championship. His training this year is much different than years prior, as Gomez added the full iron distance to his repertoire this year and hopes to be a contender at October's Ironman World Championship. Will his Kona build affect his performance in South Africa?
Jan Frodeno (GER)
The two-time Ironman and 70.3 world champion wants to take his title back, and is in fine form to do so. He's won 83 percent of 70.3 races he's entered in his career, making him one of the most formidable athletes in the sport. In addition to his winning pedigree, Frodeno knows the ticket to beating Gomez, having done so in the 2008 Olympics (where he won the gold medal in triathlon).
Sam Appleton (AUS)
Though he has long been one of the most respected and consistent athletes on the 70.3 circuit, Sam Appleton has never made it on the podium at a 70.3 World Championships. At last year's race, he came tantalizingly close with a fourth-place finish. The Aussie has had a particularly strong 2018 season, including wins at 70.3 races in Geelong and Santa Rosa—will this be the year he cracks the top three?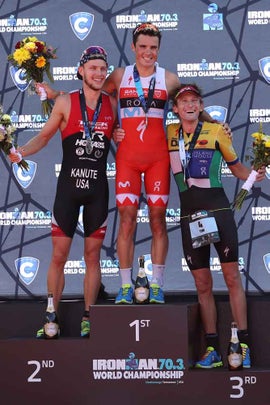 Ben Kanute (USA)
The 2016 Olympian has managed to balance ITU and long-course racing, and has quickly made a name for himself on the 70.3 circuit. At last year's 70.3 World Championship, Kanute built a hefty lead on the swim and bike, only to fall to a supercharged Gomez in the final half of the run. He's determined not to let that happen again, and has been training with a sole focus on taking the top step of the podium in 2018.
Alistair Brownlee (GBR)
In Alistair Brownlee's first race after a six-month recovery from surgery, the two-time Olympic gold medalist burned up the course at Ironman 70.3 Dubai with a 22:35 swim, a 1:58:51 bike, and 1:09:34 half marathon. He followed that up with another victory at Ironman 70.3 Liuzhou, which he claimed was "not the prettiest performance," despite clocking a wire-to-wire 3:45:28 win. If that was recovery, it's exciting to think of what he could do with his fully-healthy body this weekend.
Rudy von Berg (USA)
Twenty-four-year-old Rudy von Berg is having a moment. The two-time USA Triathlon collegiate national champion made a name for himself on the 70.3 scene this year, ending Jesse Thomas' six-win streak at the Wildflower Triathlon and taking the win at the Ironman 70.3 European Championships. Von Berg is a dark horse for the win, but with his strength and speed, it wouldn't be a surprise to see him in the mix.
Ruedi Wild (SUI)
Wild is one of the few in the pro ranks who can claim to be a truly lifelong triathlete. The Swiss star has worked his way up from the children's Swiss championship title to U23 European Champion to the 2012 Olympics. At this June's Ironman 70.3 Switzerland, Wild put on a master class of racing, with a solid 23:56 swim, 2:09:47 bike, and dominant 1:14:32 half marathon to take the victory in 3:51:27. If he can replicate that performance this weekend, he could possibly add another feather his already-impressive cap.
Braden Currie (NZL)
2018 has been one of Braden Currie's best years yet. After successful defending his title at the Red Bull Defiance (a two-day off-road adventure race), Currie unleashed one of his strongest races ever to take the win at the Ironman Asia-Pacific Championships in June. That win locked in a Kona spot for Currie, who will also take on the XTERRA World Championship race in October.
Other Notables
Michael Raelert (GER), two-time 70.3 world champion and current record holder for fastest time at the Ironman 70.3 World Championship; Home-course favorite James Cunnama (RSA); Brazilian super-biker Igor Amorelli. See the complete men's start list here.
The men's pro race will take place on Sunday, Sept. 2, with live streaming available on the Ironman Now Facebook Page. The pro men kick off the day's action at 7:30 a.m. local time (10:30 p.m. PDT Saturday/1:30 a.m. EDT Sunday). Hosts of the commentary will be Ironman world champion Greg Welch, three-time Ironman champion Michael Lovato and three-time Ironman champion Dede Griesbauer.