2012 ITU World Championship Series Gets An Early Start In Yokohama
Perhaps the biggest news heading into the event is that former world No. 1 and the 2008 Olympic silver medalist, Vanessa Fernandes of Portugal, is on the start list.
Heading out the door? Read this article on the new Outside+ app available now on iOS devices for members! Download the app.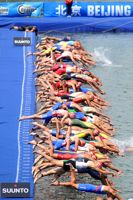 The 2012 ITU Dextro Energy World Championship Series kicks off on Monday in Yokohama, Japan, with a strong contingent of the world's best short-course triathletes competing.
The event was originally supposed to be part of the 2011 World Championship Series season, but it was rescheduled after a devastating earthquake and tsunami hit Japan in March.
The next World Championship Series race, which is scheduled for Sydney, won't occur until April of 2012.

Women's Preview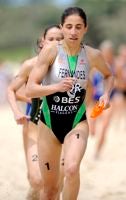 Perhaps the biggest news heading into the event is that former world No. 1 and the 2008 Olympic silver medalist, Vanessa Fernandes of Portugal, is on the start list.
Fernandes, who is one of the winningest triathletes of all time in any distance with five elite European titles, a 2007 world title, and a record 20 World Cup wins, abruptly announced in February that she was taking a break from the sport due to health issues.
After she won her silver medal in Beijing, Fernandes struggled with injuries, failing to finish the three World Championship Series races she entered in 2009 and coming in 10th at the 2010 World Championship Series event in Madrid.
Other than Fernandes, there are several other big names on the Yokohama start list, including 2011 world champion Helen Jenkins of Great Britain and 2011 world runner-up Andrew Hewitt of New Zealand.
The women will have steep competition from Australia's Emma Jackson and Emma Moffatt, Sweden's Lisa Norden, Ai Ueda of Japan, Kate McIlroy of New Zealand, Switzerland's Nicola Spirig, as well as many others.
There are a few notable absences, though, as many athletes have chosen to sit out the race after an arduous 2011 World Championship Series season that ended only last weekend.
Potential podium athletes including Emma Snowsill of Australia; Paula Findlay of Canada; Americans Gwen Jorgensen, Laura Bennett and Sarah Groff; and Barbara Riveros Diaz of Chile, are among those who are not scheduled to compete.
Jillian Petersen of Colorado Springs, Colo., will be the lone American woman racing.

Men's Preview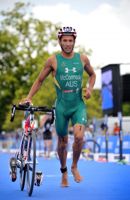 The three men who dominated the 2011 World Championship Series season—Great Britain's Alistair and Jonathan Brownlee and Javier Gomez of Spain—have decided to forgo Yokohama this year.
Their absence means that the title will likely be battled for by men such as Sven Riederer of Switzerland, Alexander Bryukhankov and Dmitry Polyansky of Russia, France's Laurent Vidal, Brad Kahlefeldt and Brendan Sexton of Australia, Mario Mola of Spain, Bevan Docherty of New Zealand and Joao Silva of Portugal, among many others.
Reigning Ironman world champion Chris McCormack will also be competing in Yokohama. He is coming off of 31st place at the Grand Final in Beijing last weekend—a race that was a small victory for him given his abandonment of the London Olympic test event in August with a pulled hamstring.
McCormack, who was the 1997 ITU short-course world champion, famously announced earlier this year that he would not defend his world title in Kona and instead attempt to qualify for the 2012 London Olympics for Australia. He has been open in the past about his disappointment about being left off the 2000 Olympic team in Sydney.
Americans Matt Chrabot, Jarrod Shoemaker and Mark Fretta are also scheduled to compete.
Related: Chris McCormack Reflects On His ITU Season, Will Spectate At Kona
[sig:CourtneyBaird]