Wassner On Her Hat Trick At The Nautica New York City Triathlon
Rebeccah Wassner became the first woman to win the Nautica New York City Triathlon three times in a row. She discusses her win and what life is like in the Big Apple.
Heading out the door? Read this article on the new Outside+ app available now on iOS devices for members! Download the app.
Rebeccah Wassner became the first woman to win the Nautica New York City Triathlon three times in a row. She discusses her win and what life is like in the Big Apple.
Triathlete.com: Congrats on the hat trick at the Nautica New York City Triathlon and becoming the first woman to do so. How was the race this year?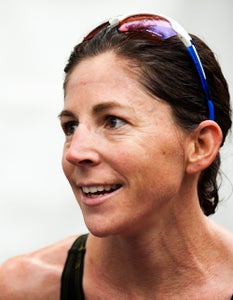 Wassner: Thank you. I've won three NYC triathlons now, but Grete Waitz won nine NYC marathons, so I have a ways to go. John Korff and Bill Burke do an excellent job of putting this race on, making it a city-wide event and something that people look forward to every year. Last year the heat was an issue, this year rain. There's always something. As for my race, I just tried to swim hard, stay on my bike in the rain and wind, and then run fast.
Triathlete.com: Racing in that heat and humidity takes a lot out of you. What do you do for recovery?
Wassner: With this race, the heat, humidity and also the hilly run lead to feeling pretty tired and sore. For recovery, I started hydrating immediately after the race with ZICO coconut water. ZICO is a personal sponsor and also a sponsor of the race, so I was fortunate to have an endless supply at the finish line. Usually, Laurel (twin sister), Sarah (our younger sister) and I like to run the Central Park loop in the opposite direction to cheer on friends and racers, but this year I was stuck in drug testing for about an hour and missed out. The day after the race, I sipped on EFS sports drink all day. I also like to do a few easy workouts the day after a race—usually a light swim and the stationary bike or elliptical at the gym. Just something easy and mindless.
Triathlete.com: You live in New York and this race is so close to home. So does this race have special meaning to you?

Wassner: This race definitely has a special meaning to me because it is a hometown race and my friends and family are part of the experience. I like it because it gives us the chance to show people in New York what we do for a living. The course is lined with supportive fans—many people who may not know me, but have seen me training in the park or at the gym. Also, as with most things in NYC, the race is a huge production and it is just fun to be a part of it. I did my first New York City triathlon in 2002, as an amateur. After the race, I looked at the results and realized that my run time was faster than all of the pros but one (and that was the year pro nationals was held in N.Y.). Of course, my bike time (1:19!) was about 20 minutes slower than everyone else, but it was then that I thought to myself, maybe I could do this as a pro.
Triathlete.com: How competitive are you with your twin sister Laurel? Do you train together?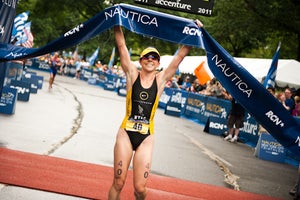 Wassner: Laurel and I are more supportive of each other than competitive with each other. Growing up, Laurel was always slightly better at every sport we played, so I guess I've always been driven to try to match her. I cannot even recall one swim meet where I beat her. The first few years I competed as a pro, my training partners and competitors didn't even know I had a twin. But, in the back of my head, I knew that if Laurel had the opportunities I had to be healthy and train full time, she had the talent to become a competitive pro. Now that Laurel is healthy and training full time, we try to train together as much as possible. She's improving constantly and now we are very evenly matched. Actually, we were recently tested as part of a research project for Nike (one of our sponsors) and found that we have the same exact VO2 max. Not only were our numbers the highest the lab had ever recorded, but they were exact to two decimal places.
Triathlete.com: Where are some of your favorite training areas in New York?
Wassner: I split my time between New York City and New Paltz, N.Y., which is a 90-minute drive north in the Hudson River Valley. When I'm in the city, I do most of my swimming at the Sports Center at Chelsea Piers. I also do treadmill runs there. I bike two mornings a week in Central Park, from 5 to 7. I save most of my longer rides and runs for when I'm upstate. I run in the Mohonk Preserve, which has a huge network of gravel carriage roads that I can access from our backyard. You can run for hours and not touch a road. The riding is great, too—lots of hills and climbs. My husband and I often go for long rides in the Catskills.
Triathlete.com: What are some of your favorite hot spots to go to when you aren't training?
Wassner: When not training, I spend some quality time at Carolyn Mazur's Fusion Physical Therapy and Sports Wellness. Laurel and I head to Moomah, a cafe in Tribeca, for coffee after our morning workouts. Another favorite is RBC, another Tribeca coffee shop and, of course, the chocolate challah twists, oat scones and just about anything else from Amy's Bread. My older sister and her husband work on Broadway, so we're often the lucky recipients of tickets to shows. There's always something new and different happening in New York.