This Triathlete Couple Got Married in T1
Kevin Collins and Shannon Wright did the usual swim-bike-run, as they have at every race. But this time, they also added a fourth event: I Do's.
Heading out the door? Read this article on the new Outside+ app available now on iOS devices for members! Download the app.
At the 2017 Grand Rapids Triathlon, Kevin Collins and Shannon Wright did the usual swim-bike-run, as they have at every race. But this time, they also added a fourth event: I Do's.
The triathletes, who met in a spin class at a Grand Rapids, Mich. gym, attribute the sport to bringing them together—getting married at a triathlon, then, simply made sense.
"Kevin was the spin instructor at the gym I went to," recalls Shannon. "He was very encouraging to people interested in getting into racing, so I approached him about helping me get a bike so I could one day do the Grand Rapids Triathlon."
Kevin took Shannon to the local bike shop, and quickly found Shannon to be easygoing and fun to talk to. The two developed a friendship first, built on shared swim sessions and bike rides. That soon blossomed into romance.
"There are so many highs and lows in training and racing, and Kevin has helped me through it all," says Shannon. "Racing in general has taught us a lot about supporting each other in good times and bad; we have seen each other through injuries and bad races as well as PR's and wins."
On New Year's Eve 2016, he proposed. She said yes. They immediately started planning a tri-themed wedding, only to come up with something even better: What if they had the wedding during an actual triathlon?
"Since the Grand Rapids Tri was the race that brought us together, it was a very special one," says Kevin. "It was, in a way, how our journey together began."
They contacted the race directors, who were on enthusiastically on board, and set about working on the logistics. Kevin also contacted his friend Gary Ryan, owner of Vie 13 Kustom Apparel, for custom wedding attire worthy of swim-bike-run-wedding.
On race day, the happy couple donned bride and groom kits and held hands as they walked into the water to start the sprint-distance race. After exiting the swim, they ducked into a nearby park just outside of T1 (so as not to impede the progress of other athletes) to exchange vows. Four minutes and 41 seconds later, they were on the bike as man and wife.
"It was just incredible, hearing so many congratulations from other athletes on the course, spectators and volunteers," says Shannon. As they crossed the finish line together, Kevin picked up his new wife and carried her over the threshold.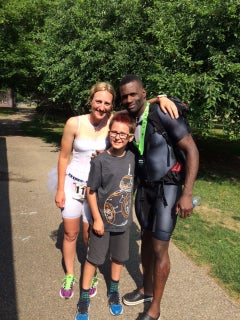 "It felt like we had accomplished so much getting each other to that point," says Kevin. "I think that represents what we want to do in our marriage, help each other through the tough times and bask in the glow when things are going great. I think that finish was the perfect start to the rest of our lives."
There is no rest for the newlyweds—their next stop is their honeymoon in Wisconsin, where they'll be racing in the 11-day Tour of America's Dairyland.
"We both love to race, so anytime we can do that together is a blessing," says Shannon. "Just having the support of each other is what we are most looking forward to."