Tri Club Profile: Brigham Young University Triathlon Club
An inside look at the Brigham Young University Triathlon Club.
Heading out the door? Read this article on the new Outside+ app available now on iOS devices for members! Download the app.
An inside look at the Brigham Young University Triathlon Club.
Located: Provo, Utah
Founded: 2008
Members: 60+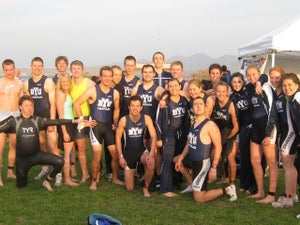 The BYU Triathlon Club isn't your typical collegiate team—they're self-coached, student-funded and, because of their religion, no one trains on Sundays.
Even with busy college schedules, the BYU club members practice nine times a week. The students find that the Mormon lifestyle actually complements triathlon training. "I don't train on Sunday, which is good because otherwise I would probably not be giving myself enough of a recovery," says Skye Murphy, a standout female athlete on the team. "Being Mormon also requires me to have discipline in several other areas of my life—the things I eat and drink, the activities I participate in—so I would say that has added to my ability to dedicate and discipline myself as a triathlete."
Mormons go on a two-year mission at age 19, putting college and triathlon on hold to focus on teaching others about the church. "Missions might seem like a sacrifice, but we gain skills that we need in both life and triathlon," says club president Parker Moffatt, who claims he was "lethargic" until going on mission inspired him to get in shape. "We learn goal setting, time management and long-term planning."
"Having lived a life of moral discipline makes it easier to live a life of physical discipline," adds club workout leader Grant Ledarhl. "Triathlon is a physical sport, but the strength of your mind is what gets you fit. I have no doubt that my service in our church made me a much stronger person."
The team competes in the Mountain Collegiate Triathlon Conference against some teams that have structured, funded programs with coaches. Their $15 dues help cover some costs, but all the students pay out of their own pockets for race fees, gear and travel expenses. They're also not considered an intramural team, so they garner little recognition from the school.
The team is made up of all levels, from newbies to seasoned athletes such as Chris Mabey, who started competing alongside his parents at age 12. The annual BYU True Cougar Triathlon helps draw in new members, with a beginner-friendly "reverse triathlon" race entailing a 1.8-mile run, 6.2-mile bike and 200-yard swim, all on campus. As another recruiting tool, a BYU member will throw on a bike jersey and hop on a trainer in the middle of the student center, which 30,000 students pass through.
Provo (located 45 minutes outside of Salt Lake City) has ideal triathlon training grounds. If the club wants a nothing-but-hills mountain climb, they have it. If they want a flat, cruising loop, they have that too. They name their training runs with songs based on the workout, such as "Stairway to Heaven" or "Ramble On."
Because they are entirely responsible for their own training, they decide as a team what their goals are. "No one makes us wake up at 5:30 a.m. to hit the pool, and no one makes sure we get our run in. The club members are extremely dedicated, and that makes it a fun and exciting thing to be a part of," Murphy says.
//Jené Shaw