Triathlon Tour Guide: Baton Rouge, Louisiana
Where to train, play, and eat in the capital city of Louisiana.
Heading out the door? Read this article on the new Outside+ app available now on iOS devices for members! Download the app.
Where to train, play, and eat in the capital city of Louisiana. 
Jeremy Stagg graduated from Louisiana Tech University in 2013 with a B.S. in mechanical engineering, then put his degree to work at The Dow Chemical Company in Baton Rouge—a town that tends to make far more headlines for its obesity rates than its sports culture. As Stagg embarks on his rookie pro year in 2018, he has no plans to head to a well-known endurance sports mecca—he's got a lot of love for his city and a network that'll make him fast, right at home in Louisiana's state capital.
The former high school track and cross-country runner never raced a tri in college. But he saw the 2013 New Orleans 70.3 results and thought he could dominate his age group, so he signed up. "I went out in 2014, and it was awful. The run was miserable," Stagg says. "But it inspired me to hire a coach and train for it right." Since then, the 26-year-old has gone on to set the course record, bike record, and help set the course relay record at his local half, River Roux. And he'll officially turn pro this year, having earned his card with a 4:17:08 at the Augusta 70.3 last September.
Swim
Crawfish Aquatics, 7150 Bluebonnet Blvd.
This 8-lane, 50-meter facility, often divided by a bulkhead, "has a masters group that's fun and challenging," Stagg says. Crawfish also hosts a tri development team for kids aged five and up.
Ride
In town, Stagg heads to River Road, a pancake flat, 11-mile loop south of the city. For extra mileage, he'll tack on a 14-mile loop around Alligator Bayou, a tree-lined, swampy cycling hotspot. When he wants some hills, he heads north about 45 minutes to St. Francisville, where cyclists can get in about 2,000 feet of elevation gain in a 50-mile loop—about the same as the bike course at 70.3 Augusta.
Run
Around the LSU lakes. There are two main lakes that crisscross in between, and if you do the whole loop, it's about 6.8 miles around. "There are a lot of students, a lot of people walking and riding bikes around," Stagg says.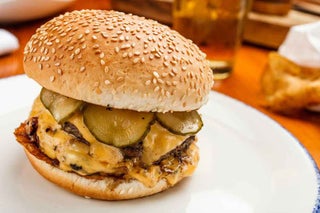 Nosh
Pelican House, 2572 Citiplace Court
Go for Sunday brunch. Order mimosas and the crawfish omelet. Once upon a time, Stagg's favorite was the alligator scramble, alas a menu overhaul took out his recovery meat of choice.
Keep In Mind
"If you come in the summer, be diligent about hydrating," Stagg says. "The heat and humidity are oppressive. I can drink 10 bottles on a three- hour ride." The average high in July: 92, with humidity percentages peaking in the low 90s.
Surprise!
"The sports medical team here is great—it's cool to get such a high level of care in a small town," says Staggs, who heads to Trifecta Sports Therapy for massage and bodywork, and Hymel Sports and Wellness Center for general training niggles like neck soreness.