This Tri Travel Guide Will Make You Want to Visit Bermuda ASAP
It was on the tiny island of Bermuda that Flora Duffy first learned to swim, bike, and run.
Heading out the door? Read this article on the new Outside+ app available now on iOS devices for members! Download the app.
Two-time ITU world champion and four-time XTERRA champ Flora Duffy now splits her time between South Africa and Boulder, but the Bermudian's heart is always back on her sunny home island. Though she mostly returns now just to visit family or vacation, it was on the tiny island that she first learned to swim, bike, and run.
As Bermuda prepares for its first ITU World Triathlon Series race on April 28, more and more triathletes are discovering these training grounds in the middle of the Atlantic Ocean—just a two-hour flight from the East Coast. To help athletes prepare, Duffy showed us around her hometown training grounds and shared some tips for making the most out of a small space. The island is just 20 square miles, yet is home to countless age-group athletes, a kids' triathlon program (where Duffy got her start), and a number of homegrown races.
"You have to get a little creative," said Duffy, by creating different routes and loops. "But, on the plus side, you're never far from home." That means you can pop back for anything you need.
It also helps to mix it up. For example, while the mountain biking on Bermuda is limited, she said, if you ride a mountain bike, instead of a road bike, then you it also gives you the option to jump on and off running trails and to get to more extreme parts of the island for exploring.
Swimming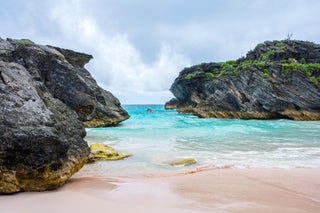 If you want to get in some open-water swimming, head to Shelly Bay Beach. "It stays pretty shallow the whole way, so you can always see the bottom," said Duffy. The calm, boat-free bay is where she headed to get some swimming in after coming home post-winning the ITU world title in Rotterdam last year.
The weather can change quickly in Bermuda, so the key is to keep your eye on the wind and the waves. Another nice protected spot is Harrington Sound, which is surrounded on all sides by land with just a small inlet connecting to the ocean. The sound is a popular spot for locals; there's even annual Around the Sound swim race. And if you want to swim with some locals, there are a few groups that get together regularly. In fact, Duffy's dad, Charlie, leads an open water swim group most Saturday mornings.
If, for some reason, you aren't tempted by the crystal clear blue water all around you, then you can still head to the pool. Until a few years ago, the main lap-swimming options were a handful of high school pools—including the recently renamed Flora Duffy Swimming Facility at her old high school, Warwick Academy. But the recently built Bermuda National Sports Centre is the place to be now, with a 50m pool, track, fields, and gym. "It's an incredible facility," said Duffy, "that's open for everybody." Prices can be a bit steep ($18/adult for drop-in), but if you'll be there for longer there are multi-use passes and monthly rates.
Running
There's one place that you'll always find runners in Bermuda: the historic Railway Trail. "That's where everyone runs," said Duffy, who grew up just around the corner from the trail and has logged hundreds of miles on it.
After the railroad, which ran the length of the island, closed in the mid-20th Century, the government ultimately turned 18 miles of the original 22 into a trail along that same route — except where houses or roads have broken it up. You might have to jump on the road for a bit, and then back on the trail, which is mostly packed dirt, with some stairs, roots, wooden paths, and bridges. For the most scenic run, hit the four kilometers off the North Shore along Bailey's Bay, where you'll run over one of the country's most picturesque bridges. For a longer section of trail, run from the roundabout outside Hamilton all the way to Port Royal. (Ask hotel staff or just look for signs to find the trailheads.)
Biking
Cars on the island are limited to just one per household, so rush hour in Bermuda may sound like an oxymoron, but on these narrow roads the traffic can be overwhelming, particularly when scooters attempt to overtake you. Fortunately, rush hour passes quickly and drivers are typically fairly courteous. Duffy recommends heading out early, at sunrise, or later, after 9 a.m. Once you get out of the bustle of Hamilton, you'll be riding along empty, well-paved, hilly roads.
If you ride west to Somerset, and all the way out to the Royal Naval Dockyard, you'll reach the very end of the road (and the end of land) before you have to turn around and come back. It's about 30 miles round-trip from Hamilton, with a surprising amount of painful little climbs and, of course, stunning ocean views. To mix it up, Duffy recommends heading out on South Road and coming back down Middle Road, changing up your options. Bonus: you'll get to see more of Bermuda that way.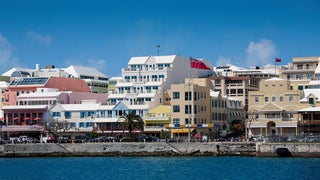 On Saturday, there's a group ride that leaves around 6:15 a.m. from "Johnny Barnes' roundabout," said Duffy, which is the very local way to describe that meet-up spot. (A more accurate description might be the east end of Broadway just outside of Hamilton.) That ride heads west, while the 8 a.m. group ride on Sunday meets at the flagpole on Front Street in Hamilton and heads east towards St. George's.
Don't forget: Bermuda follows British rules, and you'll need to stay to the left on the road.
Post-Workout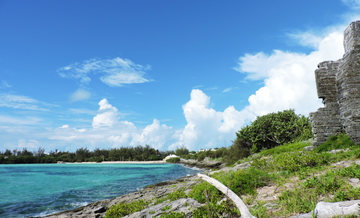 After you're done working out, you're not really done. If you come to Bermuda and don't make it to the beaches, then you're doing it wrong. Duffy recommends making sure you get to Horseshoe Bay, which is perhaps the country's most famous and frequently photographed spot—for good reason. She also urges visiting triathletes to "get out on the water," whether that's stand-up paddleboarding, jet skiing, or scuba diving. If you do go diving, don't miss the reefs and shipwrecks around the edges of the island.
Once you're all done and need to fuel, head to some of Duffy's favorite restaurants: Devil's Isle in downtown Hamilton has "the best coffee," she said, plus a range of fresh and healthy dishes and smoothies; Ruby Murry's is Indian food, but one of Duffy's favorites in town for a dinner out; and La Trattoria is a Bermudian classic, she said, a spot everyone on the island has been to.
And there you have it: a Bermuda itinerary fit for a world champion.