Tailored-to-Triathlete BnBs Are Our Favorite Travel Trend
Ditch the overpriced hotel chains.
Heading out the door? Read this article on the new Outside+ app available now on iOS devices for members! Download the app.
Ditch the overpriced hotel chains. Accommodations (and trip planning) tailored to triathletes are our favorite new travel trend. 
Race travel was always a double-edged sword for Nick Cohenmeyer, an attorney and triathlete based in San Diego. While he loved exploring new places, staying at hotels introduced one headache and frustration after another.
"I got tired of paying for amenities I was never going to use—we're not there to lounge by the pool all day—and it's a pain to check in and check out at the designated times, especially on race day," he says. "The hotel experience just wasn't a good value."
Hopeful that the Airbnb service—where people rent out all or part of their home to travelers—would be a more flexible, economical solution, Cohenmeyer began booking his accommodations through the app. But then he found that a lot of hosts weren't psyched when he showed up with his bike. "A lot of times they didn't have a garage and they certainly didn't want me to bring my bike into their house and dirty the carpet, let alone have a bike tool I could borrow in a pinch," he says. What he really sought was like-minded people he could crash with.
So last year, Cohenmeyer, "a born entrepreneur" who sold homemade greeting cards to neighbors as a kid, decided to create BicycleBNB, a private accommodations booking service catering to cyclists and triathletes. "I'd just hosted eight cyclists at my house for the Belgian Waffle Ride* here in San Diego, and had such a blast," he says. "I thought BicycleBNB could be a great way for cyclists and triathletes to connect with other athletes, save a little money and make some new Strava friends."
He created a beta app/site through an entrepreneurial incubator program, and with business partner Michael Marcx (a former competitive cyclist and president of Spy Optics) is now focused on getting triathletes to register their homes. For every booking, BicycleBNB collects 15 percent of the total fee. (AirBNB charges travelers a 6–12 percent service fee, and charges the host a 3 percent booking fee.) Phase two includes a GPS-powered directory of local group rides and city guides with recommendations for dining and activities.
The benefit of a local's intel is also the main draw of Airbnb Experiences, a recently launched program that has people serve as tour guides for everything from day hikes to a multi-day food tour. When an Airbnb employee approached San Francisco Bay Area triathlon coach Duane Franks about creating an experience for triathletes, he jumped at the chance.
"You know what it's like when you go to a new place—you don't know where to find the best riding, pools, open-water swimming and so on, so having someone guide you every step of the way has a lot of benefits," says Franks, who has coached in the area for 25 years.
He organized the first Triathlon Adventures itinerary in January, a single-day swim and run around Angel Island (there were seven participants), and has since developed a three-day "immersion" option, which is essentially a training camp. Most athletes stay with an Airbnb host, and in addition to serving as a triathlon guide, Frank says he also acts as "local interpreter and historian." So far, he seems to be the only host of triathlon-themed Airbnb Experiences, but that's bound to change quickly as more coaches and triathletes are recognizing the ease and enjoyment of this type of travel.
Franks is excited about the growth potential Airbnb Experiences offers the sport. "Millions of eyes are on this site, and someone who is just an adventurist could come across triathlon experiences as something to do, and it might be the start of a triathlon career for them," he says.
Whether or not the growth of tri-centric travel options leads more people to jump into the sport, the camaraderie and convenience factors will undoubtedly give this travel trend some serious staying power.
Tri BnB
Accoms for the multisport minded
WelcomeAthletes
Worldwide
Launching in 2017
Welcomeathletes.com
Sign up for this free "hospitality network dedicated to athletes" to host a visiting athlete or find a place to crash for a race.
Airbnb Experiences
Worldwide
Founded: 2016
Airbnb.com
Link up with local coaches and triathletes around the world for one-day or three-day training trips. The Triathlon Adventures Experience with veteran coach Duane Franks tours the San Francisco Bay Area's "magnificent" swim, bike and run venues.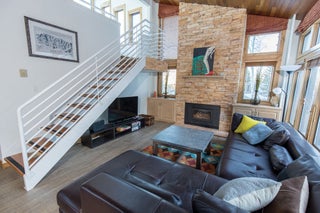 The Betty Haus
Park City, Utah
Founded: 2016
Thebettyhaus.com
This high-end, three-bedroom townhouse, owned by husband-wife endurance athletes Kristin Mayer (founder of Betty Designs) and Matt Wright, is just steps from some of the area's best trails for some epic training terrain.
BicycleBNB
Worldwide
Founded: 2016
Bicyclebnb.com
An Airbnb-like homestay service catering to cyclists and triathletes.
*A grueling approximately 140-mile ride with 13,000 feet of climbing and 36-plus miles of dirt sections held annually in San Diego.