Road Trippin' Triathlete: Just As Suspected, I Now Have A Crush On Colorado
The Road Trippin' Triathlete recaps her time in Colorado. She spent time learning about SwimLabs, checking out cool gear at Pro's Closet and riding in Boulder.
Heading out the door? Read this article on the new Outside+ app available now on iOS devices for members! Download the app.
Follow Triathlete magazine senior editor Jené Shaw as she drives cross-country in search of cool triathletes and interesting triathlon-related stuff throughout the nation. Click here to read past Road Trippin' Triathlete articles.
The one main problem with a roadtrip that's tied to a deadline is that you will, at some point, be forced to leave a place you wish you could stay for a few more days. Having heard dozens of times, "You haven't been to Boulder? Aren't you a triathlete?" I made sure Colorado was on my route.
The Genius That Is SwimLabs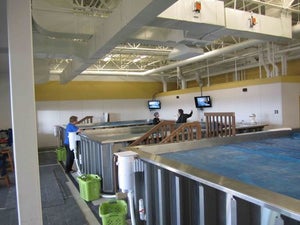 I started the morning at SwimLabs just outside of Denver, where I met co-founder Michael Mann. SwimLabs does for swimming what video treadmill analysis did for shoe buying—it really takes it to another level. Using custom-built endless pools with three mirrors, 360º video cameras and the computer software Dartfish (used in ski races and major league baseball), coaches can break down a stroke in a much more detailed way than a single underwater camera could. They'll put you side-by-side with an Olympic swimmer and draw on the frame to highlight proper angles or mistakes of your stroke. And after your session you can take home a CD of yourself swimming to give to your coach or keep on hand for boring Friday nights.
Michael and his college roommate Gliff Cutler opened SwimLabs four years ago, and they now have two locations in Colorado near Denver. Although he's very humble, Michael holds numerous world swimming records for the 55—59 age group and coaches masters programs in the area. The SwimLabs team teaches kids and adults how to swim and coaches competitive swimmers to get faster. They even have a high velocity pool designed for swimmers like me that are capable of a 52-second 100-yard pace. Part of that sentence is a lie.
Next I cruised over to TriBella, the all-women's multisport store that I highlighted in this slideshow.
Now, to Boulder!
Inside The Pro's Closet
If you're curious what pros do with their extra gear and schwag when they don't need or want it, look no further than The Pro's Closet, an eBay store based out of Boulder. Former pro cyclists Pete Lopinto (road) and Nick Martin (mountain) know first-hand how much extra stuff athletes receive and don't need, so they started the business to facilitate selling those items. (In fact, I just missed a world champion triathlete—who shall remain nameless—dropping off a lot of gear and apparel.)
"You can't go to a bike shop and buy past pro gear," Nick says. "We've filled up an entire wall with one client before. If you think about how much stuff they get every year and how much their sponsors change, it's just cluttering in their house and they become hoarders." The Pro's Closet now has about 1700 live auctions at all times and ship about 40 percent of their items internationally.
They don't release a pro's name associated with each item, although some team apparel is obvious. They won't say, "These were Joe Pro's customized wheels" on the auction, but that just means someone could walk away with a sweet set of wheels without even knowing just how sweet they really are.
I'll Blame the Altitude for my Speed
I got in a quick ride in Boulder with the help of friends at our brother publication VeloNews. I kept it to a simple out and back with minimal turns as dealing with a long cue sheet would've overcomplicated things. I barely skimmed the surface of all the riding and activities Boulder has to offer, which can only mean one thing: I have to go back!
Next up: Red dirt and arches in Moab, Utah

–The Road Trippin' Triathlete