Road Trippin' Triathlete: I Found The Reader Of The Year In Moab, Utah
Road Trippin' Triathlete Jené Shaw introduces one of her most enthusiastic supporters.
Heading out the door? Read this article on the new Outside+ app available now on iOS devices for members! Download the app.
Follow Triathlete magazine senior editor Jené Shaw as she drives cross-country in search of cool triathletes and interesting triathlon-related stuff throughout the nation. Click here to read past Road Trippin' Triathlete articles.
When I originally posted my road trip route on Facebook asking for input, I received a collection of responses that included:
• "Why aren't you going to [fill in the blank]?" (If I had months to road trip, I would!)
• Recommendations for things to see and do in places I wasn't going (thanks?)
• Some warm welcomes to join local rides or suggestions for places to eat (score)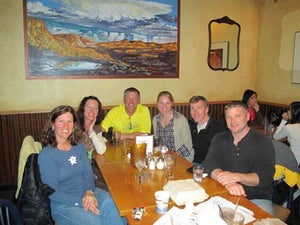 But above all was the response from Triathlete subscriber Amy Campbell Walling of Moab, quite possibly the most enthusiastic  triathlete I've ever met. Not only did Amy give me multiple brunch and coffee suggestions, she helped me set up a bike rental through Poison Spider, directed me to a great trail run and OFFERED TO LET ME STAY AT HER HOUSE when I realized hotels were booked because of the Canyonlands Half Marathon (ultimately she found me a hotel room, but still!). She feels strongly that Moab is one of the best places to live and train as a triathlete.
Moab is a beautiful, interesting place. It has such incredible training grounds for both road and mountain biking as well as trail running and any climbing-canyoneering-rafting adventure you can think of. But there's actually no local triathlon club! Fortunately they are building an aquatics center that will open soon, which is good news for Amy since she trained for Ironman St. George entirely in a hotel pool that took six strokes to get across.
I ran on the Amy-recommended Amasa Back Trail along the Colorado River, and I was shocked to see mountain bike trails in areas I was struggling to navigate on foot.
I met up with her and her family and a couple of friends for dinner. They told me about one climb in Moab that apparently goes up something like 3,000 feet in seven miles. Oof. Moab would be the perfect place for a training weekend!
Later that night I went to a campfire hosted by Triathlete bike columnist Scott Fliegelman, the head coach of FastForward Sports. He and 100+ athletes come to Moab every year for the half marathon after preparing with a group training program in Boulder. It was interesting to hear about Scott's unique coaching model and to get a better perspective on the Boulder scene—it's not just for pros.
Thank you to Amy for making my stay in Moab so wonderful and good luck in St. George this year!
–Road Trippin' Triathlete/Jené Shaw