A Trip to Wine Country: The Ultimate Triathlete Off-Season Getaway
A tri-focused trip to a vineyard during harvest season is the late-season treat your body needs.
Heading out the door? Read this article on the new Outside+ app available now on iOS devices for members! Download the app.
There's no better reward for a long tri season than a getaway to wine country. This autumn, combine gorgeous swim, bike, and run scenery with the U.S. wine grape harvest for an epic moment of multisport serenity. Presenting two top wine country spots to put on your bliss list.
Wine Country Spot: Napa County, CA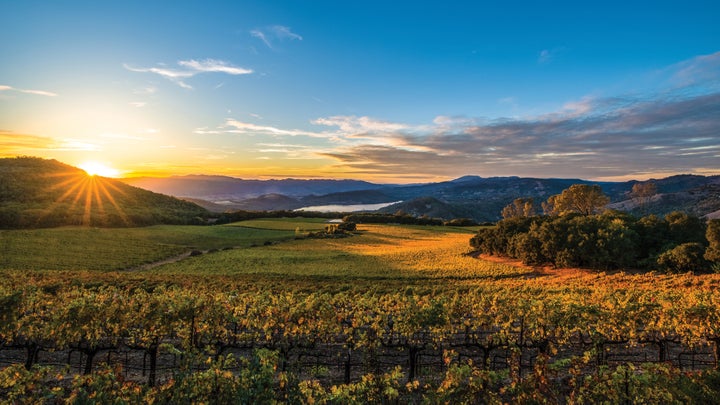 Your Local Guide: Sarah Gott, director of winemaking at Joel Gott Wines and competitive age-group triathlete
"Fall is a beautiful and busy time of year with harvest happening," says Gott of the epicenter of Californian winemaking in Napa County. The amazing training, beautiful scenery, and wine options give a great balance for triathletes looking to train and unwind. "The leaves are turning colors, and you'll get cool mornings and warm days."
For open-water swimming, check out nearby Lake Berryessa on the northeastern side of Napa County (water temperatures vary from 60-70 degrees F in the autumn). Though rare in the fall, if the Berryessa dam is full, be sure to see the Lake Berryessa "glory hole"—a giant, ominous-looking hole created by water spilling into an over ow pipe. Don't worry, you won't get sucked in. For those looking to swim between the lines, St. Helena High School masters swim meets on Monday, Wednesday, Friday, and Saturday mornings.
It's also no surprise that Napa County has fantastic riding with miles of hilly and quiet roads flanked on both sides by endless vineyards (and the occasional truck "grape spill"). A 55-mile loop from St. Helena to Jimtown crosses into similarly "wine-famous" Sonoma County through the town of Napa to Knight's Valley and Anderson Valley—both U.S.-designated winegrowing regions known as American Viticultural Areas (AVA). A hillier 50-mile option takes riders around Lake Berryessa from St. Helena, and a shorter 30-mile option winds its way through Pope Valley with near-constant views of growing grapes being harvested and transported.
While any of the roads are great for running, if you want to hit the trails, Gott suggests the Lake Hennessey trail—a hilly shoreline trail that runs about seven to eight miles out and back.
Pre-workout, check out the Modal Bakery, a spot known for their English muffins. Post-workout, head to Gott's Roadside restaurant for the kimchi burger if you're ready to just consume; try the Impossible burger if you're ready to be surprised at what vegetarian "beef" can taste like.
For triathletes looking to lodge with a mix of luxury and health, stay at the Southbridge Hotel in St. Helena with easy access to the Health Spa Napa Valley gym—a centrally located gym with a lap pool that's owned by retired triathletes. Solage in Calistoga is another, more pricey, option with an 80-meter pool, good food, and great gym amenities.
No triathlon trip to Napa is complete without a visit to the Clif Family tasting room (yes, like Clif Bar "Clif"), where you can do tastings, food and wine pairings, and even meet up for group rides (save the vino for after!). Though there are countless wineries in Napa Valley, be sure to check out a few that support local endurance sports, like Avinodos and Robert Craig Winery.
By far the most unique way to see some of the area's wineries—while technically getting in some chamois time—is via the self-guided biking "Cool Wine Tour" from Calistoga Bike Shop with nearby wineries offering included tastings and a bottle shuttle that brings your purchased wine back to the bike shop when you return.
Wine Country Spot: Willamette Valley, Oregon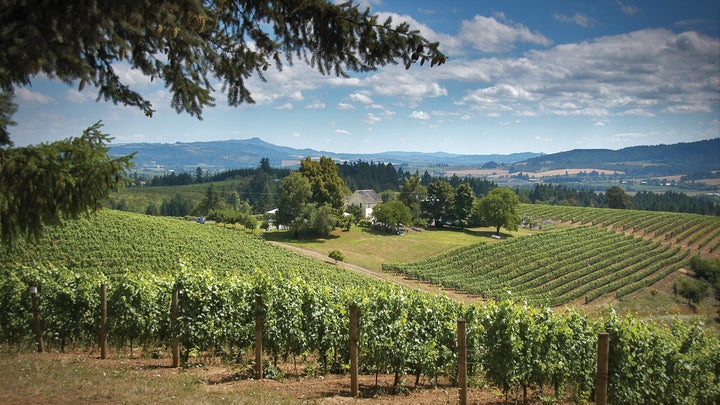 Your Local Guide: Brian Villarete, former college swimmer and triathlete for over a decade
While Northern and Central California may be the most recognizable winemaking regions in the U.S., the area that stretches from Portland to Eugene and through Salem, Oregon is known as the Willamette Valley region, and it's home to well over 500 wineries. Historically known as the destination for those heading west on the Oregon Trail, this temperate area is not only ideal for farming and vineyards, but also for tri training.
For those looking to swim in the open water, head less than an hour east outside of Salem to the boat-free Silver Falls Reservoir, where chilly springtime water temps give way to warmer swimming in the summer and fall. For pool access and masters swims, check out the Army Kroc Corps community center in Salem.
When cycling, Villarete suggests heading out on Silver Falls Highway to Silver Falls State Park for excellent on- and off-road cycling, as well as trail running with routes that take you past multiple waterfalls along the way. You can also make a 34- mile ride of the Silver Falls loop by heading out from Silverton through farmlands, up 3,100 feet of climbing, and past killer views of Mt. Hood and Mt. St. Helens.
Villarete also recommends taking Cascade Highway for the Victor Point loop—a 17-mile route of rolling hills with views of the nearby state park—and north to Mount Angel. "There's a small German town that hosts running races and great post-race or ride sausage and beer," he says. "The highways nearby have hundreds of back roads to get 'lost' on and explore."
Before you go out to train, be sure to head over to The Governor's Cup coffee roaster in central Salem. For a post-workout libation, try any one of Salem's many breweries, particularly Gilgamesh Brewery, Bo and Vine, and Salem Ale Works whose slogan alone, "Putting the ale in Salem," makes it worth putting on your list.
When you come to visit the Willamette Valley overnight, stay at the Grand Hotel in Salem, just blocks away from parks in downtown Salem that offer 25 miles of training paths or at the Even Hotel in Eugene, a chain focusing on "active travelers" that's also located near urban hiking and running trails like Spencer's Butte.
To finish off the trip, check out some of the area's winery "clusters" and spend a half-day visiting wineries like Left Coast Cellars with an on-site hiking trail open to the public, demeter-certified biodynamic vineyard Johan Vineyards, and Keeler Estate where you can reserve an ATV tour throughout the property.