4 Resorts That Cater To Triathletes
These four destination resorts recharge both the body and mind with heavenly packages tailored to multisport athletes.
Heading out the door? Read this article on the new Outside+ app available now on iOS devices for members! Download the app.

Train hard, recover harder
Week after week, your body performs on demand, so give it the love it deserves (and requires to sustain your training). These four destination resorts recharge both the body and mind with heavenly packages tailored to multisport athletes. Train hard, then bliss out.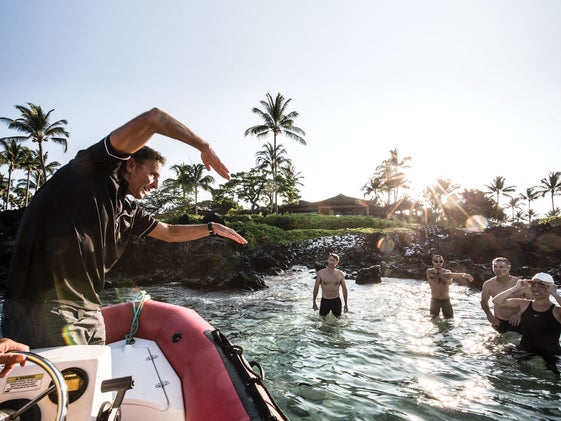 Four Seasons Hualalai
Fourseasons.com/hualalai
Kona Coast, Hawaii
Pamper score: 10 
The Dave Scott Experience at this uber posh Four Seasons is the triathlete's fantasy camp. Imagine training for five days with a six-time Ironman world champion in what is simply one of the most beautiful places on earth. Don't expect a swim, bike, run smashing—the Scott method is to train smarter, not harder, and there's plenty of chill time built into the agenda. "My goal is to make you a better triathlete by teaching you intelligent and purposeful training methods, not by simply piling on more training hours," says Scott, who personally calls each participant before camp to review background and goals. You'll refuel with fresh, locally inspired gourmet fare (and learn a lot about athletic nutrition from Scott), and enjoy stunning room accommodations steps away from the sand. The Hualalai Spa is a sight to behold—nestled within lush tropical gardens, this 28,000-square-foot haven offers a variety of rejuvenating massage and body treatments, and you can also take advantage of the spa's lap pool, whirlpools, sauna, steam rooms and cold plunges. The final camp of 2017 is Aug. 28–Sept. 1, and is open to everyone from beginners to veteran triathletes.
Insider tip: If your race plans include Kona, doing multiple rides through the iconic lava fields on the Queen Ka'ahumanu Highway with Scott right there next to you is an invaluable and special experience. Few people know the nuances and challenges of the Hawaii Ironman course better than "The Man."

Hyatt Regency Lost Pines Resort
Lost Pines, Texas
Pamper score: 8
Just east of Austin, this sprawling, luxe ranch hotel on the lower banks of the Colorado River is also the site of an all-women's triathlon, so the ladies can race hard, then get pampered poolside. The Lost Pines edition of the Spa Girl Tri series (Spagirltri.com, 2017 race date is Sept. 23) entails a 300-meter swim in the resort's lazy river, a mellow 10-mile ride along winding country roads, and a two-mile run around the gorgeous 400-acre property, which is also home to longhorns and alpacas. (There are also two- and three-person relay options, making this a smart event option for first timers.) The race ends at a pavilion on the river's edge, where finishers sip mimosas and savor the view. All finishers also receive a 15 percent discount at the property's 18,000-square foot Spa Django—we're partial to the locally inspired Colorado River rock massage. And while you're racing and relaxing, the rest of the family will have plenty to do. The resort has its own water park, a large recreational area with games, and tons of organized activities like hayrides and horseback riding.


Westin Riverfront Beaver Creek
Westinriverfrontbeavercreek.com
Avon, Colo. 
Pamper score: 7
The Westin chain is known for its athlete-friendly amenities, but this is next level: The luxury mountain retreat at Beaver Creek (just outside Vail) boasts a resident world champion triathlete, Josiah Middaugh. Book one of the hotel's triathlete training packages, and you get direct access to the 11-time XTERRA USA national champion during your stay. Middaugh will spend an hour analyzing your stroke mechanics in the resort's saline pool, lead you through a CompuTrainer bike workout and focus on strength training during a gym session. The higher-end Champions of Luxury Package ($1,015/night), includes your three training sessions with Middaugh; mountain-chic accommodations in a roomy one-bedroom suite; unlimited access to fitness classes (choose from more than 70 classes each week), including a robust yoga program, and top-end equipment at the Athletic Club; a 100-minute Rocky Mountain Sports Massage at the resort's Spa Anjali; a Fitbit tracker; and a $100 dining credit.
Insider tip: If you don't want to spring for a one-on-one training package with off-road royalty, you can still take advantage of bike workouts in the resort's dedicated CompuTrainer studio and Masters swim workouts in the outdoor pool. The trail running around Beaver Creek Mountain is also spectacular.

Sanctuary Resort on Camelback Mountain
Paradise Valley, Ariz.
Pamper score: 7
Who wouldn't love each day to end with a luxury spa treatment designed to restore and relax tired muscles? That's what you get with this three-day package at Sanctuary, located in the heart of gorgeous Paradise Valley. You'll stay in a chic, spacious casita; dine on gourmet cuisine from the highly acclaimed kitchen of Food Network star Beau MacMillan; and soak up some epic scenery as you ride and run through the Sonoran Desert. All your needs—training and otherwise—are meticulously anticipated, thanks to a pre-visit call with Sanctuary's fitness team. Looking for a swim focus? Here you have the rare opportunity to work one-on-one with Olympic gold medal swimmer Misty Hyman, who can critique your stroke technique and tweak for easy efficiency gains. Day two lets you focus on the bike during a guided ride, and on the final day you'll run some of the area's world-class trails. And did we mention that every day winds down at the spa?
Insider tip: The renowned spa offers therapeutic sports massage tailored to the individual athlete, but consider trying something a little different: the Watsu massage. For this "aquatic experience," you'll wear a swimsuit and enter a private tub, where the warm water offers relief from joint compression and allows for better range of motion as a therapist stretches and massages you.