How to Throw the Ultimate Kona Viewing Party
Grab your tri friends, hook up the live coverage, serve some Kona-inspired drinks, and throw a shindig that'll make the Kona athletes jealous.
Heading out the door? Read this article on the new Outside+ app available now on iOS devices for members! Download the app.
Grab your tri friends, hook up the live coverage, serve some Kona-inspired drinks, and throw a shindig that'll make the Kona athletes jealous. Presenting all the elements to make your party pop. Race day is set for Saturday, Oct. 14.
Time it Right
Presented in Eastern Time. No hitting snooze if you're on the left coast.
8 a.m. Get up, and get your workout in, so you don't feel lazy later.
10 a.m. Set up your computer live feed. Connect it to your TV and stereo, or a projector—no tiny screens for Kona!
12 p.m. Have a snack—you've got to stay well-fueled for the big day—and start pumping your tunes.
2 p.m. Once the pros are on the bike, turn down the announcer volume and turn up the music. Try a game—Kona bingo, anyone?—and finish putting the final touches on your poke bowls (see page 60).
5 p.m. The race doesn't really start until the run. Gather around the TV with your drinks and cupcakes. Dangerous drinking game we definitely don't suggest: Every time the announcers mention a sponsor, take a sip.
By around 8:30 p.m. and 9:15 p.m. the men's and women's pro races should be finishing. Polish off your poke bowls and drinks, and keep your eyes peeled for friends who may be trickling in over the next eight hours.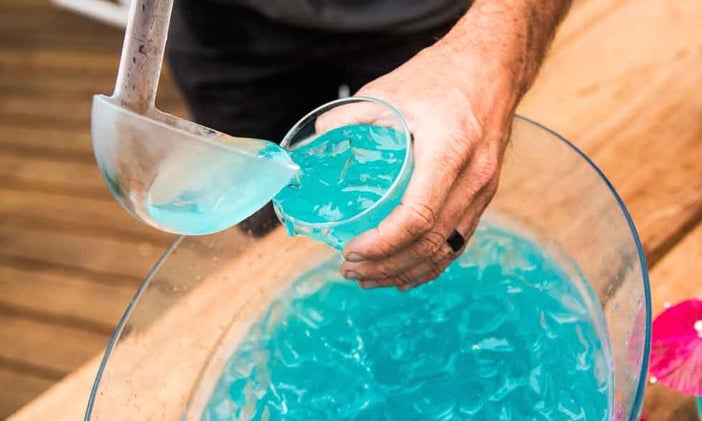 Drinks
Meredith Kessler has won 10 Ironman titles and come in seventh at Kona, but this year she won't be on the start line—BBK (Baby Boy Kessler) is due in early November. Mama K's mocktail of choice:
Kona Kiwi Red Bull Cocktail
1 can La Croix sparkling water (lime flavored)
1 fresh-squeezed lime
splash of grenadine
top with a cherry or two
Olympic gold medalist Emma Snowsill has pulled sherpa duty for both of husband Jan Frodeno's Ironman World Championship titles. She recommends cold-brew coffee and coconut water to survive spectating on the big island. "For the night owls," she jokes, "some vodka wouldn't go astray." Try these:
Dig Me Beach Punch Bowl
This should make up to three gallons, so grab a big bowl. Mix to taste:
2 liters of Sprite or 7-Up
1 gallon of Berry Blue Typhoon Hawaiian Punch
64 ounces of white grape juice and/or Cool Blue Gatorade, as desired
1.75 liters of Malibu coconut rum
Make It Count Mai Tai
Inspired by Huggo's in Kona, where the best post-finish party is often at. Make your mai tai mix in advance:
1.5 cans of pineapple juice
1 quart of orange juice
12 ounces of orgeat syrup
12 ounces of orange Curaçao
Then in your cup pour:
½ ounce of white rum
pre-made mai tai mix to fill most of the glass
top with dark rum
Serve on the rocks and garnish with a pineapple wedge. Bonus: Your gallon of mai tai mix should make plenty of drinks for friends too (if you feel like sharing).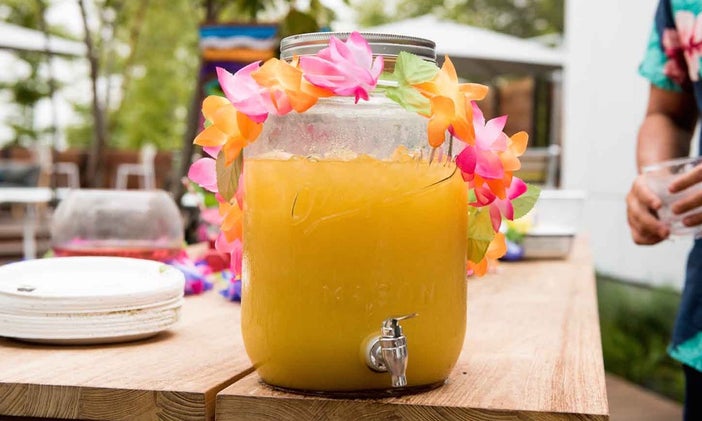 Sugar
Themed desserts in no time.
M-Dot Cupcakes
What you need: Funfetti cupcake mix, pre-made vanilla frosting, red and white sprinkles.
Cover the cupcakes with vanilla frosting , then decorate—go with simple glamour or grab an icing pen and go nuts—try drawing some swim, bike and run stick figures, flowers or your favorite race logos.
M-Dot Cookies
What you need: M-Dot Cookie Cutter ($5.95), giant store-bought sugar or M&M (pictured) cookies, vanilla frosting, red fondant. Roll out the fondant, use the cookie cutter to make M-Dots, place on frosted cookie. Eat.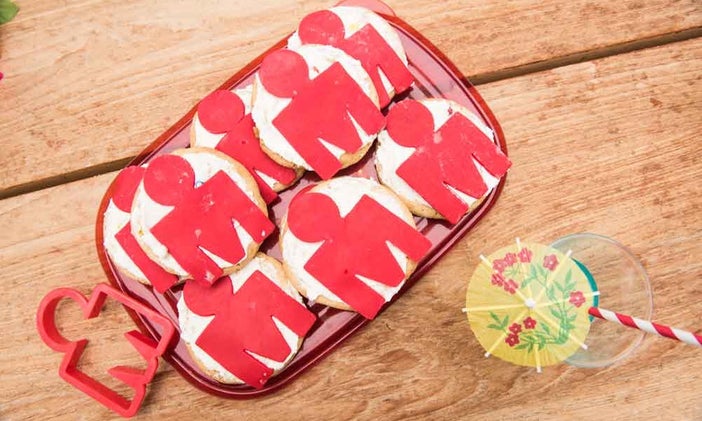 Beats
Sure, you could turn on a Spotify or Pandora station, but that's boring. Instead, try this mix from Emma Snowsill to jumpstart your playlist:
You & Me (Flume Remix) – Disclosure
Shots (Broiler Remix) – Imagine Dragons
Touch (Panda Remix) – Bearcubs
Loud Places – Jamie xx
Someone That Loves You – HONNE (ft. Izzy Bizu)
Superego – Léyya
Can't Hide – Whethan (ft. Ashe)
Be Your Love – Bishop Briggs
Cool (Autograf Remix) – Alesso
Passionfruit – Drake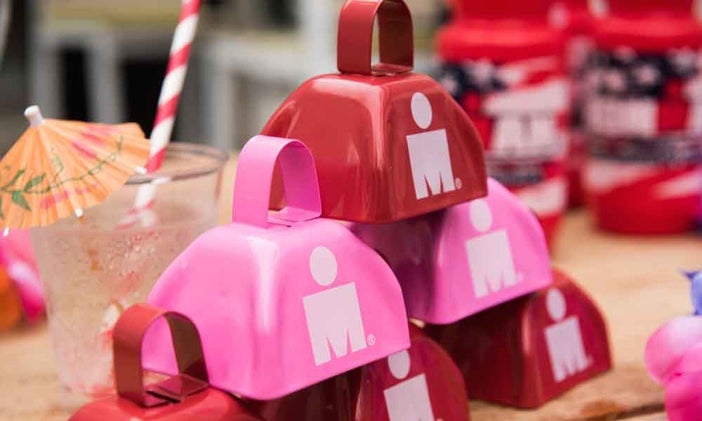 Favors
No Kona party viewer leaves empty-handed.
(Note: We went nuts at Ironmanstore.com for official merch, but with some Sharpies and a steady hand, you can turn just about anything into a Kona-centric work of art.)
Cowbells. Just because the athletes can't hear you, doesn't mean you can't cheer.
Instead of cups or glasses, give everyone a water bottle to drink out of and take home when they're done. (Bonus points for stuffing them with goodies!)
Coozies. Dress up your beer, keep it cool.