This XTERRA Pro Balances a Truly Unique Trail Life
Forty-one-year-old Julie Baker shares tips for success that we can all apply to our tri lives.
Heading out the door? Read this article on the new Outside+ app available now on iOS devices for members! Download the app.
Julie Baker has two jobs, and both of them are dirty. Her current office is the Sierra Nevada Mountains, where she spends her day as a soil scientist for the United States government studying how soils form. But once the samples are collected and the data analyzed, Baker swaps her lab coat for another uniform—that of a professional XTERRA triathlete.
The 41-year-old got a late start in triathlon, but decided to take her pro card in 2016 after finishing as the top amateur at the XTERRA World Championship in 2015. "I wasn't really sure if I should go for it, since I'm not the youngest pro out there and have limited time to train, but I wanted to compete against the best," Baker says. "As long as I am continuing to improve, I might as well see what I can do."
Rather than putting her career on hold to pursue her triathlon dreams, Baker balanced training and racing with an unconventional job that has long, unusual hours.
"During the summer field season—which is also race season—we travel to field sites and either camp in park campgrounds or in the backcountry for five to 10 days at a time," Baker explains. "When we're doing eld work, it's usually 10- to 12-hour days to maximize the time and weather windows we have in the parks."
When it comes to training, Baker employs a simple approach: Do what you can, when you can. "If we're in a campground, I'll often bring my trainer and ride or run before or after work. If we're in the backcountry, I'm pretty much limited to running, and it's slow because the trails are steep and rocky."
The unorthodox approach works—Baker is a consistent podium performer at XTERRA races, including a win at her first pro race at XTERRA Beaver Creek in 2016 and a win at this year's XTERRA Real elite race. She's often asked for the secret to "having it all," and she always returns to one simple thing:
"Lots of people say you can't do everything or be good at everything, and my response is always, why not?" Baker says matter-of-factly. "It might take a lot of effort, and there might be a little compromise… but if it's important to you, there's probably a way to make it work."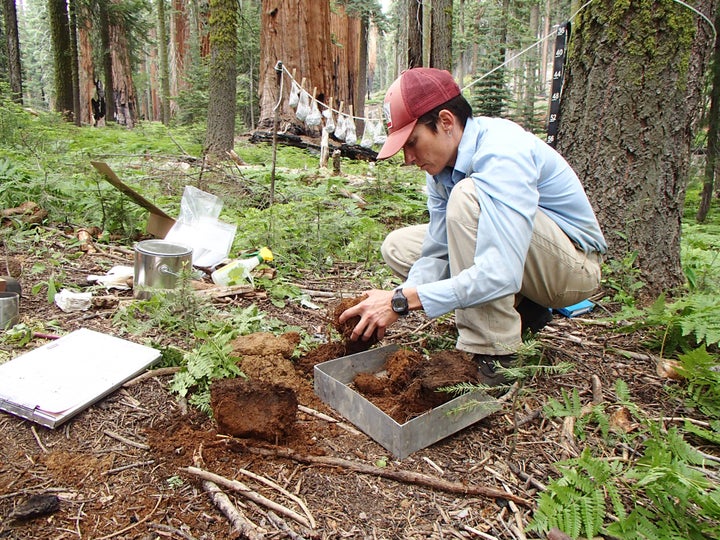 Baker's Tips for Success
Limited on Places to Train
Do something about it! "Last year, I met some of the people who maintain and create mountain bike trails in my town, so I've started to get involved in that."
Don't Sweat a Missed Session
"I've tried to swim a few times in the backcountry, but I usually don't last very long because of the cold." Instead of stressing, she simply schedules her swims for when she has access to better conditions.
Put Your Work to Work
"I usually hike everywhere as fast as I can when we're working, and we carry a good amount of equipment and soil-describing gear, so I feel like that's a strength and endurance workout rolled into one."