Sneak Peek: March/April 2019 Triathlete Magazine
For all the triathlon trekkers out there, we hope this special explorers' issue sparks new excitement about the amazing places our wonderful sport takes us.
Heading out the door? Read this article on the new Outside+ app available now on iOS devices for members! Download the app.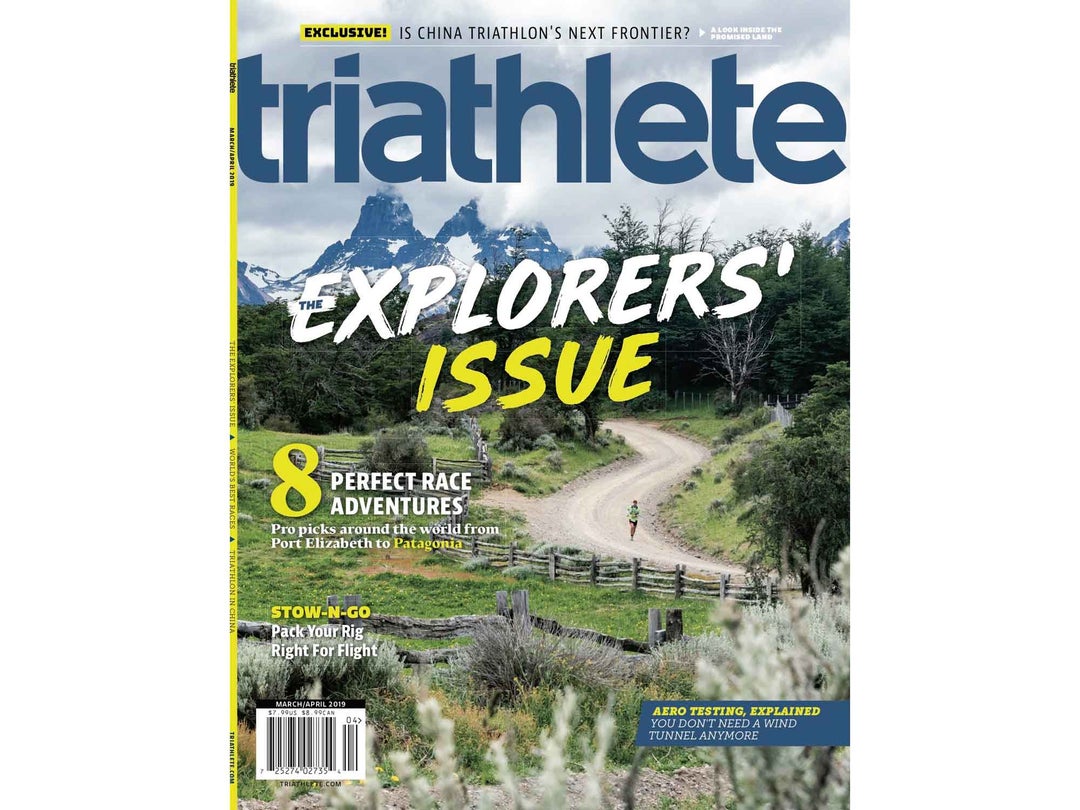 Features
The Ultimate 2019 Travel Guide for Triathletes: Featuring eight places worth the wait (and a few for right now!). Spin the globe and check out pro tips on where to race, and how to train for the stunning terrain.
The Great Draw of China: It's been four years since Ironman announced a new focus on China, claiming the country's exploding, flush middle-class was the world's next greatest endurance sports market. Turns out, getting a country hooked on tri is a lot more complicated—and fascinating—than just finding the money.
Start
Meet Bart Aernouts: And learn the scoop behind his stellar 2018 Ironman World championship runner-up finish
The Juggler: She's a mom, a triathlete, lawyer, and cancer survivor
Work in Progress: From drug binges to IM veteran, Todd Crandell traded a destructive path for one that helps others
Legend: Simon Lessing's class act
Travel Over Timidity: When you leave your micromanaged tri bubble, the world opens up
Travel
Ready, Set, Chill: Long-distance flights to faraway races: a practical guide
Gear
We're Swooning Over This Ride: S-Works Shiv Disc
Freshen Up: Take the stench out of your tri life with these gear destinkifiers
Outside, Inside: The next generation of stationary bikes
Dialed In: Check out how wind aero testing can help your body's position—and give you free speed
At 30,000 Feet: Fly stress-free knowing your bike is stowed safely below
Train
At Sixes and Sevens: Super-efficient indoor training
Exoskeleton Cometh: This device could forever change the way we race and train
Neck or Nothing: Six easy stretches and strength training exercises to help keep your head on straight
Swim on The Go: Three awesome swim tricks to use while traveling
Ask a P.T.: Are Stairmasters and running stairs helpful for tri?
Dear Coach:  Tips for better breathing technique in the water
You Are Not a Rock: Mental health tips for Type A triathletes
Pretty Fly for Tri: Scoring an airline upgrade may mean arriving rested and ready at your next race
Fuel
Snack Pack: Three easy-to-make healthy recipes that pack well—no matter where your journey takes you
The Good Traveler's Gut: Six expert tips to help prevent digestive upset during your next tri adventure
Buy a digital copy now. Want to receive Triathlete in your mailbox? Receive a full year for 61% off of the cover price by subscribing.