A Sandy Hook Victim Is Remembered Through Triathlon
A Sandy Hook victim—and tiny triathlete—lives on through the sport he loved.
Heading out the door? Read this article on the new Outside+ app available now on iOS devices for members! Download the app.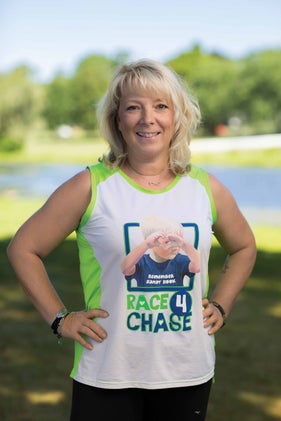 Rebecca Kowalski isn't quite sure where her son, Chase, got the idea to do a triathlon. From the time he was three years old, Chase was a competitor—running a local 100-meter race series, riding his bike effortlessly from the very first day and teaching himself to swim in the backyard pool after watching the 2012 summer Olympics.
"One night, when he was six years old, Chase came in for dinner after one of his practice swims and announced that he wanted to do 'That thing, you know, Momma, where you swim, bike and run.'" Kowalski recalls. "I laughed and said, 'That's a triathlon, and you are crazy. Also, you're way too young."
But her son was undeterred. Within minutes, Chase had logged onto the family computer and found a children's triathlon in a neighboring community only one week away.
"He entered it, and he won his age group," Kowalski laughs, still amazed at the innate talents of her son.
It would be Chase's only triathlon. Just a few months later, on Dec. 14, 2012, the young athlete was one of 26 lives taken in the Sandy Hook Elementary School shooting.
In the midst of their overwhelming grief, the Kowalski family found support in the endurance community. Runners and triathletes from across the country reached out to the family and offered to race in honor of Chase. Soon, non-athletes contacted the Kowalskis with the same offer.
"People who never ran before read the stories, and they thought, 'Wow, if a little boy could be a triathlete, I could get off the couch and start training,'" Rebecca says. "From there it just grew and grew, and we realized that from heaven, Chase was inspiring people to make a change in their lives."
With the help of friends and family, the Race4Chase was born. "We knew we needed to do something to honor Chase and help heal our broken hearts," Rebecca says. "With the help of friends and family, we decided to follow in the footsteps of Chase."
Since its inception in 2014, Race4Chase has taught more than 900 children to swim, bike and run in its free six-week program. Many of those participants have gone on to participate in the Annual Race4Chase Kids' Triathlon in Monroe, Conn. A community of runners and triathletes also compete to raise funds for Race4Chase at competitions around the world, including Ironman events and the Boston Marathon.
Recently, Kowalski joined that community of athletes. At the urging of a friend, Kowalski trained for and raced her first sprint triathlon. Kowalski doesn't remember the minutiae of the race; instead, she recalls two beautiful coincidences—the finish line medal, which contained the pink crystal of her son's birthstone, and her bib number, 2692: "It was given to me randomly, and I didn't see it until the morning of the race—26 for our Sandy Hook angels, and 92 was the bib number that Chase had for his triathlon. You can't make that kind of magical divine intervention up."