Pro Q&A: Pre-Race Chat With Andy Potts In Minneapolis
Heading out the door? Read this article on the new Outside+ app available now on iOS devices for members! Download the app.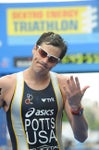 American Andy Potts has a varied race schedule for 2009 with Olympic, half-Ironman and Ironman distances all part of the plan. We caught up with Potts on the eve of the Lifetime Fitness Triathlon in Minneapolis.
Triathlete: So how are you feeling coming into this race?
Potts: I feel good.  My last race was Washington D.C. (ITU World Championship Series Race) and I pulled the plug on Hy-Vee to make sure I was ready to go for tomorrow. Hopefully that will be the case. I've been putting in some really good work. It doesn't matter if it doesn't show on race day.
Triathlete: You've been competing in some draft-legal and non-draft legal Olympic-distance races, as well as half-Ironmans, and then the big Ironman in October. How do you balance all of those distances in training?
Potts: My training doesn't differ too much. It's more about the week before or two weeks out that I make some adjustments along the way. The thing that is nice is that it keeps me mentally fresh. Knowing that each race holds something different, and each race has something unique to it keeps me on my toes mentally and physically. I enjoy the challenge of it.

Triathlete: So this is the opening race of the Lifetime Fitness Triathlon Series, can we expect to see you at some other races in the series this year?
Potts: Definitely. I will go from here to New York in a couple of weeks. Then I will throw in a couple of 70.3s. After that I'll go to Chicago, then Los Angeles and finally Kona. I may not race in L.A. That will be a decision. I may pull the plug on that race in order to focus on Kona. Kona is the ultimate goal. I really want to improve on last year's finish.

Triathlete: There's a quality men's field you'll be facing tomorrow. Can you tell us your thoughts on your opponents?
Potts: We've got a bunch of guys here who have all won major races. Myself, Matt Reed, Greg Bennett and Craig Alexander will all be racing. It will be interesting to see how it plays out between the four of us. I'm not sure if a couple of other guys on the start list are actually here. I didn't see them at the race briefing, but you never know who might show up on race day. That's in my mind who it will play out between. You can bet you'll get an honest effort from me.