The Son Also Rises: An Interview With Drew Scott
Drew Scott wasn't even born when his father Dave raced the epic 1989 Ironman World Championship, dubbed "Iron War" and considered the greatest race in all of endurance sport.
Heading out the door? Read this article on the new Outside+ app available now on iOS devices for members! Download the app.
Drew Scott wasn't even born when his father Dave raced the epic 1989 Ironman World Championship, dubbed "Iron War" and considered the greatest race in all of endurance sport. But the 20-year-old is well aware of the significance of that fateful race, eventually won by his dad's fiercest rival, Mark Allen. That race forever etched Dave Scott's name into the annals of sports history. It permanently branded him a triathlon icon.
Those are pretty big footsteps to walk in, right? Drew, an emerging triathlon talent, isn't ruffled by the prospect. "I don't feel like there's pressure to do as well as he did or win Hawaii," says Drew, who will begin his junior year at CU Boulder this fall. "He never pressured me to get into triathlon; I just jumped into it on my own, and I put pressure on myself. I'm sure some people have expectations, but it doesn't really affect me, I just want to do well and have fun along the way."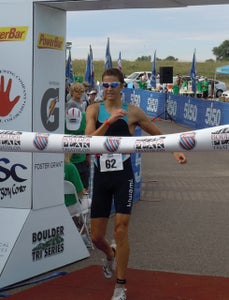 He's certainly done better than "well." He was the first finisher in the amateur elite division at the Boulder Peak triathlon, his best showing to date. "I knew I was in the best shape I've ever been in, so I expected to do well," says Drew. " It was the perfect race for me. I was able to establish a gap on the bike and hold on for the run." He also won his age group at this year's Ironman 70.3 Buffalo Springs, qualifying for Kona.
PHOTOS: Dave Scott's Search For Meaning
He's completed three half-ironman races, but says he stills struggles with dialing in his nutrition "so I can have a good race across all three disciplines and not fall apart on the run, which is what has happened in my last few races."
As a kid, Drew remembers being in Kona and watching his dad race. He even did a few youth triathlons just for fun. In high school, his sport of choice was cross country, and he swam in a summer league. It wasn't until a few years ago that he began riding a bike in earnest. Most recently, his focus has been Nordic skiing, and he was a member of the ski team at Montana State University in Bozeman, where he formerly was a student. "From August through April I wasn't riding my bike or swimming at all," says Drew. And once he was able to devote time to his other sports and was beginning to feel strong on the bike and in the pool, it was time to rededicate himself to Nordic skiing.
No longer.
"I just decided this past year to focus everything on triathlon," says Drew. "That was part of the reason I came back to Boulder—to join the CU Boulder club team and see where it goes. Having a full year to train will hopefully make a big difference. They've got a good group of guys there." In April, the CU Boulder team just raced to its 12th national championship.
Drew trains with his father, a widely respected triathlon coach in Boulder, whenever he can. "I train with my dad at Flatirons Athletic Club twice a week for swim workouts. I get on the bike with him. He still likes to work hard when he can, though he's had a few injuries. I also join in on his running group once a week."
As for his future goals? He's not making any grand plans. Yet. "I haven't really set any big goals. I'm racing Boulder 70.3 on Aug. 7, and I really just want to run well. I haven't run to my potential in the half-ironman, I haven't put it all together."
As for going pro, Drew says he's still a few years out from making the leap: "I'll stay an amateur the next few years and hopefully develop across all three disciplines. I'd like to make that jump at some point but I'm not in any rush to do so."
Amateur or pro, Drew will continue to rely on his dad's insightful guidance. "I get a lot of training input from my dad and ask him to tweak what I'm doing. I sat down with him to get a basic program together for Hawaii. It will be my first full Ironman, but I think it will be a good experience. I'm looking forward to heading over there."
Until then, Drew's enjoying the life of a college kid on summer break. He's training, working at a local yogurt shop, going on hikes around Boulder and hanging out with friends and his dad. And getting lots of sleep.
"I'm always going to sleep early—my friends make fun of me," says Drew with a chuckle.
Related content:
– Dave Scott Signs On As Advisor For HITS Triathlon Series
– Drew Scott Follows His Famous Dad's Footsteps
– The 10 Greatest Male Iron-Distance Triathletes Of All Time