Sneak Peek: Inside Triathlon's Profile On New Zealand's Bevan Docherty
Bevan Docherty hopes to come away from 2012 with the only medal that will complete his collection.
Heading out the door? Read this article on the new Outside+ app available now on iOS devices for members! Download the app.
Bevan Docherty hopes to come away from 2012 with the only medal that will complete his collection.
Written by: Courtney Baird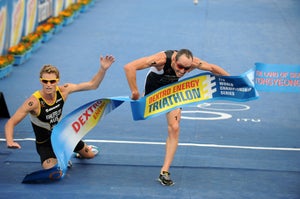 Not many people in the small beach town of Santa Cruz, Calif., know that a triathlete with two Olympic medals is training in their midst. But if you visit the University of California at Santa Cruz's pool on any given day, you'll probably catch a rail thin, sunburned guy swimming, often with straps tied around his ankles and generally in a lane by himself.
If you try to join him, he'll likely dip under the lane lines and head for clearer waters. He waits for the Masters workouts to end before he jumps into the pool—the whole Masters thing didn't really work out for him when he moved to Santa Cruz in late 2009. After all, he goes to the aquatics facility to get his workouts in and not to socialize.
If you head to this triathlete's house—perched on a cliff above the Pacific—you won't find Olympic medals or any sort of triathlete memorabilia lying around. Instead, you'll find a bassinet for his newborn girl, the pieces of an unfinished Monopoly game on the kitchen table, a desk surrounded by papers and files for his wife's financial business, and a potty training kit on the downstairs toilet for his cat, Bella.
In fact, judging by the contents of the house, you'd never guess that the only man with back-to-back podium finishes in Olympic triathlons—Athens and Beijing—lives there. You'd never guess that a man who was part of an Olympic moment—one that catapulted him into the spotlight in his native New Zealand—calls that place home.
And that's just the way Bevan Docherty, 33, likes it…
For more on this story and how Bevan Docherty is preparing for his pursuit of Olympic gold in 2012, pick up the January/February issue of Inside Triathlon, on newsstands now.
See also:
Docherty To Race Armstrong In New Zealand Triathlon
[sig:CourtneyBaird]