Q&A With New Zealand's Terenzo Bozzone
Heading out the door? Read this article on the new Outside+ app available now on iOS devices for members! Download the app.
Terenzo Bozzone of New Zealand has had a busy few weeks. Bozzone raced his way to a second place finish at Ironman 70.3 New Orleans (April 18) and wins at Ironman 70.3 Texas (April 25) and Ironman 70.3 St. Croix (May 2) all in the last three weeks. Competitor.com caught up with Bozzone in Knoxville, Tenn. to talk about his recent success, his opinion on the controversial new rule from the World Triathlon Corporation, and how he expects to fair against a tough field at tomorrow's Rev3 Knoxville Triathlon.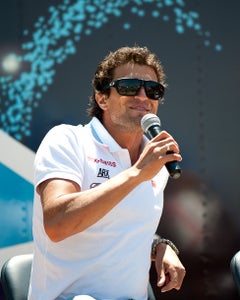 Competitor.com: Were you planning on racing four triathlons in four weeks?
Bozzone: I had three on the cards with New Orleans, Galveston and then St. Croix. Galveston (Ironman 70.3 Texas) was always the big one for me. It was the U.S. Championships and had great prize money. That was the one where I wanted to peak at. I managed to carry a bit of form into St. Croix and after the race I didn't feel all that bad. I spoke with Heather Gollnick down in St. Croix and asked her if it was too late to be a part of the series. She said that they would make it work for me if I wanted to come. On Tuesday night I was up in Baltimore with one of my sponsors and my bike hadn't arrived yet. I told myself that if it arrived before midnight on Tuesday that I would go ahead and do it. It arrived at 10 pm. So I spent the next few hours changing flights and making arrangements.
Competitor.com: So why did you go out of your way to be a part of this race?
Bozzone: One of the big reasons is that the Rev3 series is adding extra competition to our sport and I think it's going to benefit everyone in the long run. I think the races are going to have to step up their game to keep competitive fields. I did a bit of speed work after Ironman New Zealand so I thought it'd be fun to do an Olympic-distance race. We'll see if any of it has stuck after three weeks of doing half Ironmans.
Competitor.com: As you said, you've done three Ironman 70.3 races in the last three weeks. Last week you got a sense of the new WTC 8% rule. The top two women shared the entire women's prize purse, while the men's was spread out between five of you. Do you have an opinion on the rule?
Bozzone: It is a tough situation. It is very political. I've spoken to a couple of people at WTC and I guess there's not enough clarity in the rule. They are hoping to talk about it going into next year, which is good. The thing I struggle with is that there were only five or six finishers on the women's side and we had a tough field. I believe all the way down to ninth place was within that eight percent on the men's side. It's hard to see both the first-place and second-place women earn more than the first-place man. It's hard for me to think that's fair. We want equality for both sides.

Competitor.com: After the three races how do you feel heading into tomorrow?

Bozzone: I don't feel too bad. You never really know until the gun goes off and you're racing. I'm in a good place mentally and physically. I'm going to go out there and try to stick to my plan. We'll see what I'm capable of.
Competitor.com: What's the plan for the rest of the year?
Bozzone: I'm heading to Calabasas after this race. I'm going to train there. I'm looking forward to getting out of taper mode, getting out of a hotel room and getting in some solid training. I'll head back to New Zealand in July for a few weeks to get my head together before coming back to the United States to get ready for Kona.