Lieto On Armstrong's Kona Potential: "I Think He Has The Ability To Go Top-Five"
Heading out the door? Read this article on the new Outside+ app available now on iOS devices for members! Download the app.
Ironman World Championship runner-up Chris Lieto talked with VeloNews' Neal Rogers about the twitter time trial, training as a cyclist and exactly how fast he thinks Armstrong can finish at the Ironman World Championships.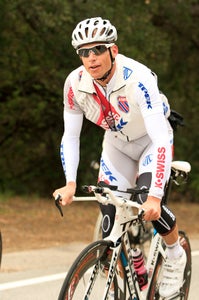 Those who follow Lance Armstrong's Twitter updates may have noticed his first-ever "Twitter time trial" last week against Ironman triathlete Chris Lieto, held along Kona's Queen K Highway — the windy stretch of coastal road that serves as the bike leg of the Hawaii Ironman world championships.
The impromptu competition between the two stars of endurance sports started as a tweet from Armstrong to Lieto on the afternoon of February 16, when the seven-time Tour champ wrote, "Just passed @chrislieto going the other way. He was hammerin. Hey Chris, a little TT showdown on the Queen K tomorrow? You, me, and whoever."
One of the strongest cyclists in triathlon, Lieto promptly replied, "@lancearmstrong see u on the Queen-K! Will have to be after 8am cause I have to swim first. Flying out mid day. Give me a call."
Later that day Armstrong issued a notice to his near 2.5 million Twitter followers: "Queen K Hwy TT Challenge. Tomorrow 9:30am. Start – Waikeloa Beach Dr to Kukio Nui Dr. 14 miles. Full gas. Take it easy on me @chrislieto."
The event, which ended up being closer to 11 miles, drew a few dozen spectators and participants.
A video posted online quoted Armstrong saying Lieto had ridden 15 seconds slower than he had; Lieto later posted his time as 18:44; just nine seconds slower than Armstrong. Either way, it was an impressive ride for the triathlete, considering Armstrong has been one of the strongest cyclists against the clock of the past decade. And as Armstrong said, "Who knows, maybe we'll be having a showdown out here [on the Queen K Highway] in a couple years, with the swim in the front and the run at the end."
The biggest star of the new Trek/K-Swiss triathlon team, Lieto, who turns 38 this year, is famous for using his bike strength to begin the marathon run with a large advantage. That tactic has never taken him to victory on the sport's biggest stage, but he's won three Ironman-distance races, holding the bike-course record at Ironman Canada. He finished ninth in Kona in 2006 and sixth in 2007 (the top American), and last year Lieto posted the fastest bike split — 4:25:10, for an average of 25.34mph — before Australian Craig Alexander finally reeled him in at mile 22 of the run. Lieto finished second, 2:35 behind Alexander, a result that forced those who have questioned Lieto's bike-heavy strategy to think again.
The Bay Area resident has also done his fair share of bike racing with the amateur team California Giant Berry Farms, playing the role of unknown wildcard at the Mt. Hood Cycling Classic, in 2006 and 2007, and at the Tour of Utah, in 2006 and 2008. At the 2006 Utah race Lieto made it into the day's breakaway on the final stage, finishing fourth on the climb to Snowbird Resort, just nine seconds behind climbing sensation Phil Zajicek; he finished the race 11th overall, 5:32 behind overall winner Scott Moninger. At Mt. Hood in 2007 Lieto put in a strong performance, finishing fifth on the pivotal 18.5-mile time trial, ahead of two-time national time-trial champion Chris Baldwin. Lieto finished that race seventh overall, 3:08 behind overall winner Nathan O'Neill.
VeloNews managing editor Neal Rogers caught Lieto by phone to ask about how the recent "Twitter time trial" came about, how it felt to be less than 10 seconds slower than a rider who has stood on the Tour de France podium eight times and how Armstrong might fare against today's Ironman men's field.
VeloNews: So is there a Trek connection with Armstrong?
Chris Lieto: Yeah, I've known Lance a few years, through Trek, we've done some wind-tunnel stuff. He invited me out to his house last fall for the Mellow Johnny's Classic, the mountain-bike race. I did that, and I hung out with him there. I knew he was in Hawaii and I connected with him. I saw him out riding one day, we rode a few times together, and then we passed each other one day — he saw me riding down a hill, and he was riding up — and he twittered right after that. We were planning on doing a good ride together, and then he twittered that. He emailed me, we had an arrival time, he was going first, and I was leaving behind him. We met at 9:30. He opened it up to anyone else that wanted to do the time trial. They just had to leave after us, and it was on the honor system, no cheating, you started your own clock at the start and at the finish. I think he was surprised by how much response he got, and how much banter there was, with the tri community getting in on it. It was pretty funny.
VN: What was the distance?
CL: I'd have to look at my computer. I think it ended up being 11 miles. I don't remember exactly. The average speed was about 56kph, or about 35mph. We had a tailwind.
VN: And this was part of the Ironman triathlon course?
CL: Yep, it's part of the Ironman course, probably from mile 85 to 95, or so, somewhere in there.
VN: Armstrong tweeted that you were only 15 seconds behind him.
CL: Yeah, I was actually nine seconds off. He quoted me at 15 seconds in a video that was shot right after we finished. But after I downloaded my computer, my time was a little bit quicker.
VN: That's pretty fast — Armstrong won a bronze medal at the 2000 Olympics in the time trial, has won several Tour de France time trials, and was third at the Tour last year. Did you expect to be there? Are you pleased with that?
CL: Yeah, obviously I'm pleased to be that close to the best cyclist in the world. It's great. I didn't know what it was going to be like, or how I would perform. I didn't think I would be that close. It was my first hard effort of the year, doing something like that. I haven't done any max efforts yet, so it was a new experience for the year, to get going again. We'd both had hard weeks of training. The day before I think he rode five hours, I rode five hours, a lot of climbing, intervals, so it was just an unknown. But it was good to just hit it out. It helped with the tailwind, it made it a little bit easier to stay within striking range, or minimize the time gap. I think if it was a headwind maybe it would have been a little different. I think it also shows the bike quality of our new Trek Speed Concept. It equaled it out. We were on the same bike, in similar positions, on similar size frames.
VN: Was there one rider that brought more aerodynamic equipment — wheels, helmet, skinsuit, anything?
CL: No, it's funny, we talked beforehand, I said okay, no aero helmets, because I didn't bring mine and he had his. He said okay, and then he showed up and he was in his skinsuit, and I was in my regular jersey and bibs. And I was like "What's up with the skinsuit?" and then he looked at my wheels and said that I had race wheels on. They're four-year-old aluminum training wheels, but they have bladed spokes. But I had a 24-count spoke count wheel, and he had a 32-spoke count wheel. He had a skinsuit and I had a jersey and bibs, I had an aluminum rim with less spokes than he had, so it all balanced out.
VN: I'm pretty familiar with Armstrong's race schedule, and where he should be with his fitness at this time of year. You said that was your first hard effort of the year; what's your first race of 2010, and where did this sort of effort fit into your training?
CL: My first race of the year is March 15th. His first race was, what, last month? I'm a few months behind the cycling community. My first big race isn't until June, and then Hawaii in October. I break my year into two halves. There are two half-Ironmans that I will be focusing on, but I haven't confirmed which ones yet. For me my main focus is October. For Lance it's the Tour de France in July. I try to get a first half of the season peak in June, and then I take a few weeks off and rebuild and start my focus for October. The big build will be for Kona.
VN: We've seen you race at national-level road races in the past, but not really last year. Will you do that again in 2010? Where are you with your side career as an amateur cyclist?
CL: I'm not really doing anything with the side career. I'm still with the (California Giant Berry Farms) team, I am still part of it. Last year was the first year I didn't do any stage races, the year before I did Tour of Utah. Last year with my training schedule and my racing schedule, it didn't fit in. I did a few small local road races. This year will probably be the same. I doubt I'll show up to any stage races. I think the lead up for me is more specific, what I need to do leading up to a triathlon.
VN: So what's changed? How has the lead up changed compared to years when you were racing stage races? Does that mean you need to work more on the run, and less on the bike?
CL: It's the whole balance. Training for triathlon you have to balance all three sports. So going to do a stage race, like say the Tour of Utah, I may prepare differently on my bike leg leading up to it so I can be fit enough on the bike to maintain and to be part of that race. I'm also taking that five- or six-day block and just riding. In the past I would do little runs after the stage was over, just a short run to keep the legs moving. But you take a weeklong block to do a stage race and you're not getting in the swimming and running. So you have to sacrifice those, and you have to figure out what is the grand effect, and how you manage recovery to make sure you're still on plan for the ultimate race in your triathlon schedule.
VN: So out in Kona with Lance, training on the Queen K, you must have chatted with him about him returning to triathlon. What kinds of conversations have you had with him about it?
CL: We have chatted a little bit about it. Nothing is definite or set. It's known that he has an interest in racing triathlon again. He's made statements that he'll come and race in the sport of triathlon at some point, in the next year or two, when he's done with the Tour. I think we may see him at some Ironman events, or half-Ironman events, or something like that.
VN: From what you've seen in Armstrong's comeback, and his rides on the Queen K, what sort of performance do you think he's capable of in the Hawaii Ironman?
CL: Oh, I mean he's one of the greatest athletes in the world. Looking at where he is now, after taking the time off, he has the ability to compete in any sport. He has the biking background, I think he has shown he can run and do marathons. He swam in high school, and he did triathlons early on, so he has the ability and the skill sets to do it. I think he'll be competitive. I think it will be good for the sport.
VN: So what sort of performance is he capable of? I'm looking for a time. Can he go under nine hours?
CL: Oh yeah, he'll go under nine, for sure. There's no reason he couldn't. It's all about the engine. He's a very smart guy, so he gets the part about balance, and nutrition … there's so much more to a triathlon than pure raw power and speed. You've got to be patient, and you've got to be calculating in your nutrition plan and how you get the fluids in you, and as far as dosing your effort. He'll know that if he does a 112-mile bike, he'll need to be reserved to do the marathon. He's not going to go and kill the bike leg. In the race we did on the Queen K, it was 18km, 10-11 miles, it was short, it's different, it's raw power, a different approach. He knows what he's doing. I think he'll go sub-nine. I think he'll be in the mix a little bit. He'll create some stir. He'll get some people worried, stressed out about where he is. I think he even has the ability to get top-five.
VN: I would think your position as the strongest cyclist in triathlon, and as someone who can race against pros at national-level stage races, is of great interest to VeloNews.com readers, many of whom are probably stronger cyclists than runners.
CL: It's all based on the balance of how you go at your race. For me, my strength is my cycling, so I use that to my advantage. I may not run as fast as I could if I just ran a marathon. I could probably go out and run a pretty fast one-off marathon. But trying to put it in after riding 112 miles by yourself, at the front, is much different than riding 112 miles in a group, or not riding at all and just running a fresh marathon. My running is good, it's just not as good as the guy who won this year. But my cycling is that much better than his. It's just finding that balance in your dose of effort.
VN: Does that mean, being the strong cyclist you are, and having gotten closer and closer to winning by using the bike as your strength, that you work even harder on the bike, to get out front even more, or do you have to work on the run more? Will you train one more or less than you did last year?
CL: It's all about balancing the three. I don't look at it as I need to ride more and get faster on the bike for that extra minute. I have to make sure the bike is as strong, if not stronger, than last year. And I also need to focus on the run, and make sure that it's better than it was last year. I can't neglect the cycling aspect and just focus on my running. I focus a lot on my biking and I focus a lot on my running. It seems like my biking is still going well, and it showed well last week with Lance. I think it also shows the cycling community the credibility of the sport of triathlon. It's not just a bunch of guys out there that can't make it as cyclists that are out there doing triathlon. There are a lot of guys out there that are really good on a bike. There are a handful of professional triathletes that could compete in the pro ranks on the bike, but they don't, because we balance all three. And I think it shows with my TT ride against Lance. I won't go out and beat him, but I'm not that far off.
VN: You might go out and beat him. Nine seconds is not a lot in 11 miles; that's less than a second a mile. We all know the fallibility of the transitive properties in bike racing results — otherwise known as the virtual race resumé — but who knows, maybe you're capable of going top-15 in a ProTour time trial.
CL: That would be pretty crazy.
Video: Chris Lieto Talks Twitter Time Trial Challenge
Video: Chris McCormack On Lance Armstrong's Chances Of Winning In Kona