Dirk Bockel On His New Sponsorship, Passing On An Olympic Run & Abu Dhabi
Bockel took time to talk to Triathlete.com about adding Blue Competition Cycles as his bike sponsor, his thoughts on Chris McCormack's attempt to qualify for the Olympics and how he's feeling heading into Abu Dhabi.
Heading out the door? Read this article on the new Outside+ app available now on iOS devices for members! Download the app.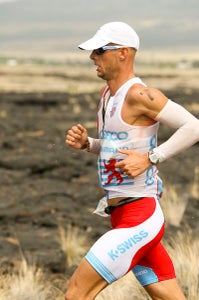 Luxembourg's Dirk Bockel is coming off of one of the most successful seasons of his career. He finished second at last year's Abu Dhabi International Triathlon, placed top 10 in Kona despite a penalty on the bike and concluded the season with a podium finish at Ironman Florida. Bockel took time to talk to Triathlete.com about adding Blue Competition Cycles as his bike sponsor, his thoughts on Chris McCormack's attempt to qualify for the Olympics and how he's feeling heading into Abu Dhabi.
Triathlete.com: How did you ultimately decide on Blue as a bike sponsor?
Dirk: This year I transferred all of my management to Franko [Vatterott] from Retul. We talked to a couple of companies. We thought that Blue was the best solution for improving my bike skills, especially with Kona being the main goal. I think with Blue I have the prefect partner.
Triathlete.com: How will the integrated front end on the Blue Triad SL impact your fit?
Dirk: That was one of my thoughts from the beginning. Thanks to Retul I'm able to dial in the same precision and position I had last year. It's perfect for me. It makes me go faster, but the position is the same. That was one of the criteria for me. I don't have the new bike because there are some delays. For Abu Dhabi I'll most likely have last year's bike and will be in the same position as before.
Triathlete.com: Do you plan on riding in the same position and fit, or will you look to make some adjustments?
Dirk: I will absolutely look to make some adjustments. Blue gives me the opportunity to go in the wind tunnel. I've never looked that closely at aerodynamics, but with the competition now we have to fight for seconds. Biking is my strength. The wind tunnel and Retul will help me take it further.
Triathlete.com: What kind of components and wheels will outfit your Blue Triad SL?
Dirk: I've had the Di2 with Shimano. I think it's the best out there. One example is Andy Schleck in the Tour de France. You can see what happens if you don't use the Di2. I'm hooked and won't go back. The wheels are Pro, which is also a part of Shimano. I'm very happy with them. They will come out with a special wheel for Kona. They have a whole set of wheels to pick from so I'm very happy.
Triathlete.com: Where are you spending your time training right now?
Dirk: I'm down in St. Augustine, Fla., right now. This is my chosen winter location. It's nice and warm. Today it's 76 degrees. It's perfect for training. If you do Abu Dhabi, you have to do a lot of bike mileage early in the year. This is the perfect fit for me. There's some European influence. They have a nice, charming downtown area, which is where we live. With this sport, it's a lot of travel back and forth. This is my winter base until around May and then I go back to Europe. Then I head back to the U.S. and prepare for Kona in Boulder. I will do the same preparation as last year. Then I spend some time in Kona. This will be an intense travel year. That's part of the game.
Triathlete.com: According to your race schedule, you're traveling all over the world this year. How'd you come up with your race plan?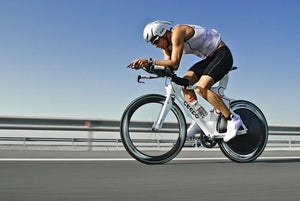 Bockel: It's not necessarily my plan. It's a mix of obligations and races I want to do. I had such a great race at Abu Dhabi last year, so that's a given and Kona is a given. I plan my whole season around Kona. Rio de Janeiro is a must because it's the 2011 Military Games. It's a huge thing for me. I'm enrolled in the military in Luxembourg. It's a must but also a joy to represent the country.
Triathlete.com: Athletes have approached the Kona Pro Rankings system in different ways. Even though you had a top-10 finish in Kona you chose to race at Ironman Florida just a few weeks after, and it looks like you're planning the same for 2011. What about this strategy works for you?
Bockel: I was the first athlete that decided to do it that quickly. I had a great race in Kona and I didn't have to race in Florida. Given that I wanted to do Abu Dhabi, I didn't want to do another Ironman this year. It gives me an advantage when Kona comes around again. It was very tough and I was tired after Hawaii. Four weeks is not ideal, but that's how it goes. I plan to do it again this year but you never know how Kona will go. As of now, that's the plan. It's better than doing another two- or three-month preparation for an Ironman. The system is not what's best for the athletes. There are plenty of other races out there to do. As a professional athlete you have to decide what's best for you.
Triathlete.com: You've had great performances the last two years in Kona. What's it going to take to make the jump up to the podium this year?
Bockel: Given the fact that I had a four-minute time penalty, which forced me to totally over-pace on the bike to get back to the main group. I think we're talking 5-7 minutes that I could have ridden faster without the penalty. It didn't work out the way I had planned. I wasted a lot of energy and still ran 7 minutes faster than 2009. For me personally, I think I had a better race than on paper. I'm more aware of what I'm capable of. I have a lot of self-esteem. I'm very confident that I was in way better shape. The results didn't show it. If I do the same thing this year I should be in the podium range, which is the goal. My running has improved so much and it paid off last year. I just need the same race. Kona is the goal. I have four months of preparation. I'm very serious about performing well in Kona.
Triathlete.com: Chris McCormack just announced he's forgoing Kona this year to go after a 2012 Olympic spot. As a former Olympian yourself, did you ever consider going after another Olympics?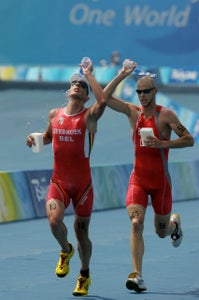 Bockel: Chris is a cool guy. He's an icon in our sport. But coming from short distance, especially since he's been absent in that distance, I can assure you he'll have trouble making swim pace, not to even mention the run. He's a two-time Ironman world champ. Why are you going to work for someone else when you are a champion? I wish him the best of luck. I doubt he'll make it if it's just about the run performance.
As for myself, I did think about going back. I find myself way more comfortable in long distance. ITU is too much struggling. The racing and the traveling are too tough on your body and the relationships. It was a tough call, but I think I'll stick with Hawaii. That said, racing in the Olympics was a great experience, and I wouldn't trade it for anything
Triathlete.com: You're kicking off your season at Abu Dhabi again. What did you learn from last year's race that you'll take into this year's race?
Bockel: The advantage I have is that I raced last year. This year is very different. The swim and run are very fast, but the bike is even slower than an Ironman. I think you need to experience it to know how to race it. Macca said he's going to race, but that conflicts with his Olympic dream. I do think the Crowie vs. Macca hype is very interesting. It helps our sport, but I think there will be other guys at the front. Especially since the top three are racing again.
Given the fact that it will be very warm and windy, those are a couple of components that I put into my training. It's different because it's not middle distance or Ironman. You have to adjust your paces. We ran 1:10 off the bike last year, and I think this year will be different. I think a couple of people will go out too fast on the bike.
Triathlete.com: Anything else to add?
Bockel: I'm very happy at this stage in the season. The body is holding up to the mileage. I'm happy to have my sponsorships this year. I'm happy to have Blue, K-Swiss and Shimano behind me this year. Without them I wouldn't be where I am.