Cover Contest Finalist: Michelle Dinsdale
"It's so important for our children to see we have our own goals and that we set the bar high. I'm hopelessly in love with the sport!"
Heading out the door? Read this article on the new Outside+ app available now on iOS devices for members! Download the app.
Michelle Dinsdale
Age: 48
Location: Foothills Ranch, Calif.
In three words: Disciplined, dedicated, always smiling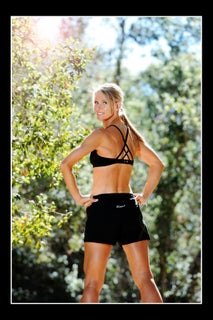 I know it sounds so cliche by now, but I'm not a swimmer. I'm a triathlete, but by accident. I'm from South Africa and the oceans are magnificent, but so are the sharks. So I never learned to swim as a child. "JAWS," as a six year old who was allowed to watch it, cured me of any desire to learn how to swim. Fast forward to age 42, my PT told me I'd better learn to swim if I ever wanted to recover from an ever nagging running injury. I told him I was too old. He poo-pooed that idea and told me there were plenty of people who learned at my age … and older. So I reached out to my son's friend's father who happened to be a USAT coach and he took seven LONG painstaking months. (He rewrote the "Swimming for Dummies' textbook just for me with the patience of a saint to undo fear, teach me enough balance and skill to get to the other side.) I'm a trained classical dancer, I'm still told I swim just like a dancer, aka–very weird style!
One thing led to another and I tried a sprint, mused if I could make it through an olympic and I've done 2 Ironman this far. Triathlon runs so parallel to life! I have lost a child, have another who is a twin and has cerebral palsy and triathlon has been my escape – on good days, and bad. It's taught me that endurance, putting one foot in front of the other reaps big rewards, in the race and in life. It's inspired my twins to dig deep when the going is tough, because they have watched me confront my fears and 'do it anyway'. I can role model for them and it keeps me in great shape and great mental shape too!! I love how God has used it as such a positive tool in my life and I'm inspiring others going through tough times that self care through training for triathlon is so therapeutic!! My relationship with my creator is even stronger because I get hours on some days to just marvel at a sunrise and be still, with him. I'm still not a swimmer. It's a work in progress and I'm still trying to fall head over heels in love with that discipline, but every time I'm in the water, I'm so proud to look back at my journey and see how far I've come! It's so important for our children to see we have our own goals and that we set the bar high. I'm hopelessly in love with the sport!