Amanda Lovato Talks Team Trakkers And Rev3 Costa Rica
Inside Triathlon senior editor Jennifer Purdie spoke with Amanda Lovato about her upcoming Rev3 Costa Rica race and her goals for 2011.
Heading out the door? Read this article on the new Outside+ app available now on iOS devices for members! Download the app.
Inside Triathlon senior editor Jennifer Purdie spoke with Amanda Lovato about her upcoming Rev3 Costa Rica race and her goals for 2011.
Triathlete.com: What is unique about the Rev3 races?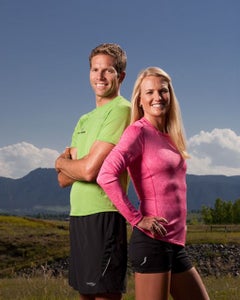 Amanda Lovato: One of the aspects that initially drew to me to the Rev3 series was Charlie Patten. Charlie's vision for the Rev3 series has always been to appeal to the professional athletes, as well as the age group athletes. One way that he appeals to professionals is with an outstanding prize purse that draws extraordinary athletes.
Revolution3 is about change. He is trying to change the way we (age group and professional) experience triathlons. One way he has made it more fun for the professional athletes is offering races in awesome locations like Costa Rica! Locations like Costa Rica, Quassy and Cedar Point offer an exceptional and enjoyable experience for spectators and competitors alike.
Triathlete.com: Costa Rica is such an exotic place to race. What are you most looking forward to about the locale?
Lovato: I have never visited Costa Rica, but have heard and have researched fabulous happenings. Being in Boulder, Colo. the past few months, one thing that I am really looking forward to is being in really warm weather and racing in my bathing suit.
Michael (her husband) and I always love visiting Latin America. Costa Rica is no exception. We adapt to the laid back Latin American lifestyle quite easily. One thing that I am really looking forward to is having the crowd support from the locals. On race day, Rev3 is expecting a good portion of the Costa Rican population to come out to watch, support and cheer on the participants in all of the races. I cannot express how awesome it is as a professional to have that sort of support!
Triathlete.com:  What elements of the course do you think will be the biggest challenge?
Lovato: After seeing a small portion of the course, I believe the biggest challenge will be the first 8-10km of the bike. There seems to be a lot of steep up hills and steep down hills. It is really hard to get into a good rhythm with these sorts of hills. Not to mention, there is about 1000 meters of gravel within the first mile.
Triathlete.com: Have you done any special training preparations for this race that are different from others?
Lovato: My training has been business as usual. I have not done anything different or anything special for this particular race. My plan is to go as hard as I possibly can for as long as I possibly can.
Triathlete.com:  This is your first race of 2011 and the first after the 70.3 World Championships. What goals do you have for yourself this year on the racing circuit?
Lovato: My goals are the same this year as they are every year. My 2011 season goals are to race the Rev3 series events, place top-five in competitive 70.3 races, return to Ironman racing with a podium finish and bring a little style back to the women's pro ranks by representing color-coordinated outfits each time I toe the line.
Triathlete.com: Can you tell me about the 2011 Trakkers team? What will you be doing with them in Costa Rica?
Lovato: I could not be more excited about our 2011 Trakkers team! Michael and I are joined with returning members Richie Cunningham, Brian Fleischmann and Jacqui Gordon. Our new members are Jessica Myers, Courtenay Brown, Chris McDonald, Hilary Biscay, Kathleen Calkins and Matt Sheeks.
Our mission is to promote the Rev3 triathlon series, gain exposure for the GPS tracking device and represent a team of outstanding sponsors including Kestrel, First Endurance and Avia.
Triathlete.com: What do you enjoy about racing internationally?
Lovato: I love visiting countries that I have never seen. I love experiencing different cultures. Michael and I always make time to try out unique activities so that we can take home fun memories of these different experiences! I don't just "enjoy" racing internationally…I love it!