2012 London Olympic Medal Contenders: The Men
A short list of some of the potential medal contenders for 2012—and those who could upset the status quo.
Heading out the door? Read this article on the new Outside+ app available now on iOS devices for members! Download the app.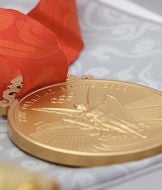 In a perfect world where theories pan out like they're supposed to, Alistair Brownlee will win gold in London, his brother Jonny will win silver and Javier Gomez will earn the bronze. Of course, the Olympic gods tend to scoff at theories about who "should win," and they throw obstacles such as pressure, media, pressure, injuries, sponsors who are expecting you to win, and more pressure into the mix to muck things up. Given that, here is a short list of some of the potential medal contenders for 2012—and those who could upset the status quo.
– 2012 London Olympic Medal Contenders: The Women
– 2012 USA Olympic Hopefuls
Courtney Atkinson, Australia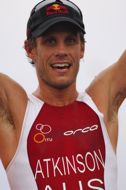 Atkinson had a stellar start to his season last year, with two silvers at World Championship Series events and a bronze in Hy-Vee, but he had a disappointing end to his 2010 season and a poor start to this year. Despite his recent results, he has proven that he can race with the best of them and, according to reports, is currently in Australia overhauling his training program. That he likes to race hard from the gun means that he has a shot at a podium spot, especially since this is how the Brownlees like to race.
RELATED: Aussie Triathlete Courtney Atkinson Ready For ITU Series
Alistair Brownlee, United Kingdom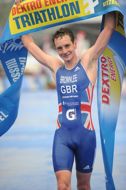 2009 short-course world champion Alistair Brownlee has no weaknesses, and his greatest strength is what you need most at the Olympics: mental fortitude. Indeed, he'll kill himself to win and pressure doesn't seem to get to him. He's won every ITU race he's entered so far this year except Sydney, where he came in with a less-than-stellar winter of training under his belt due to niggling injuries. The trick for the oldest Brownlee brother will be to get on the line in London healthy. If he does that, the gold is his to lose.
RELATED: Brownlee Brothers Talk About Their Olympic Gold Dream
Jonathan Brownlee, United Kingdom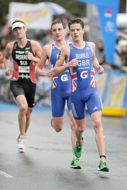 Perhaps the only man who has the talent to beat Alistair Brownlee in London is his younger brother Jonny. The two train together in Leeds, England, with a training group headed by Jack Maitland. Besides being brothers, they are extremely close friends and will likely work together in London to ensure that at least one of them gets a medal. Chances are extremely high that they both will. Jonny is only 21 years old and will likely only get faster in the upcoming year ahead of London.
RELATED: Jonathan Brownlee Tapped As The "Future Of Triathlon"
Alexander Brukhankov, Russia
The 24-year-old Russian is currently ranked 2nd in the World Championship Series standings and 3rd on the ITU's overall point list. A solid all-around triathlete, Brukhankov finished fourth in Madrid and second in Kitzbühel, both in June, and has been on the podium at World Championship Series events in 2010 and 2009. He was also the silver medalist behind Alistair Brownlee at the 2006 ITU world championships in the junior division. Look for him to be a factor in London.
Bevan Docherty, New Zealand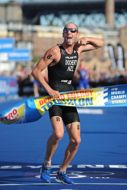 Like his friend and fellow double Olympic medalist Simon Whitfield, Bevan Docherty knows how to race well when it matters most. He won silver in Athens in 2004 and bronze in Beijing in 2008, outsprinting heavy favorite Javier Gomez for the final podium spot. He says he goes into "Bevy World" to help him deal with the pressure of racing, and he's keen on proving the doubters who believe he's too old—he'll be 35 in London—wrong. Like Whitfield, he's extremely dangerous.
Jan Frodeno, Germany
Jan Frodeno was the surprise gold medalist in Beijing in 2008, and he went into the ITU World Championship Series Grand Final in Budapest last year with the opportunity to come away as the world champion. Unfortunately, the cold weather got to him and he finished the race in 41st and out of contention for the title. Some believe that Frodeno hasn't lived up to his gold medal, but he's proven he can win when it matters and there's no reason, barring injury, he shouldn't be in contention for a podium spot in London.
Javier Gomez, Spain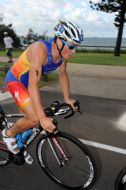 Javier Gomez is the reigning short-course world champion and gave a stunningly dominant performance in Sydney in April, when he crashed on the bike, time trialed back to pack just before T2 and then ran through the entire field—including both Brownlees—to cross the line in first. Everyone thought Gomez was the shoo-in for the gold medal in Beijing in 2008, but he came up short with a fourth place finish after going into Beijing with a stress fracture. You can bet he will be ready to win in 2012.
Brad Kahlefeldt, Australia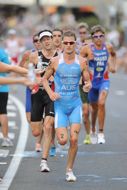 A consistent fixture on the podium in big races for some time now, Kahlefeldt has had a fairly auspicious start to 2011 with a win at the Mooloolaba ITU Triathlon World Cup in March and fifth in Kitzbühel in June. He was third in the overall World Championship Series standings last year, and he spent part of the winter working with famous Australian running coach Dick Telford in an effort to match the foot speed of the Brownlees and Javier Gomez, according to The Australian. "I don't want to race for the bronze medal in London," Kahlefeldt told the paper.
Hunter Kemper, United States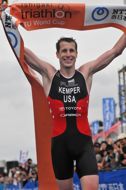 Former world No. 1 Hunter Kemper has participated in all three of the last Olympics and improved his finish every time. He was seventh in Beijing—a feat he accomplished despite a sports hernia that required cortisone shots. Finally healthy again after being plagued with injuries for over a year, Kemper believes he still has the talent to win a medal in London. That he has absolutely no pressure on him to medal could help him pull off an upset podium spot.
PHOTOS: American Olympic Hopefuls
Mario Mola, Spain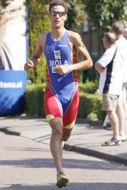 The great Alistair Brownlee himself views Mario Mola as a man to watch, saying that "if he learns to swim, he's a crackin' runner." Mola is only 21 years old, and his fourth place showing at the Pontevedra ETU Triathlon European Championships in June behind both Brownlee brothers and Dmitry Polyansky of Russia could portend stellar things for him come 2012. Mola is also a junior world champion, something he did in 2009 by beating the younger Brownlee with a late surge in the run. That the course in London is a runner's course is also in Mola's favor.
Sven Riederer, Switzerland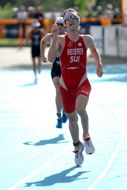 Switzerland's Sven Riederer probably has more bronze medal finishes than any other man on the ITU circuit. The bronze medalist at the 2004 Athens Olympics, Riederer has had a good start to his year this year, placing third in Kitzbühel and third in Sydney (and don't forget his third in Madrid last year.) He's a tough racer and could come up with a surprise medal in London.
Brendan Sexton, Australia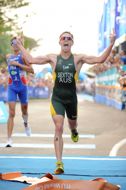 Brendan Sexton has been the surprise standout so far this year thanks to his podium finish at the Mooloolaba World Cup, the first of his career, and his win at the Monterrey ITU World Cup, also the first of his career. He was fourth at the World Championship Series race in Sydney—his best finish ever at a WCS race. He is injury-free for the first time in many years (he suffered a horrific bike crash in 2009) and has been open to the press that he is gunning for a medal in London.
RELATED: Triathlete Brendan Sexton Aims For Aussie Olympic Team
Jarrod Shoemaker, United States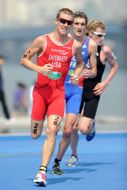 Jarrod Shoemaker is a fast runner and is capable of putting in the 29-low 10K split that will probably be needed to get on the podium in London. Many believe that Shoemaker is the United States' best hope for an Olympic medal this time around, but the race will likely have to unfold in his favor for this to occur. That the course in London is a flat and fast runner's course means that this just might happen.
VIDEO: TriCenter Interview – Jarrod Shoemaker
Joao Silva, Portugal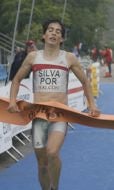 Joao Silva, 22, is another youngster who has recently shown potential for great things in London. He was fourth at the World Championship Series Grand Final in Budapest last year even though he could have competed in the under-23 division, and he was the under-23 European champion last year ahead of Jonathan Brownlee. He's had multiple top-10 finishes in the World Championship Series, has won a World Cup and was the bronze medalist at the 2006 junior world championships behind Alistair Brownlee and Alexander Brukhankov.
Simon Whitfield, Canada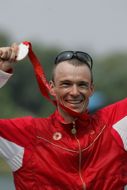 Simon Whitfield and good mate Bevan Docherty own about half the Olympic triathlon medals in existence—with Whitfield earning gold in Sydney in 2000 and silver in Beijing in 2008—and Whitfield is doing everything in his power to ensure he makes it 3 for 4 in London, including working with the coaches and altitude specialists behind Paula Findlay's meteoric rise in triathlon. While Whitfield had a disappointing year last year due to overtraining and a less than stellar start to this season, he knows how to win when it matters and should be considered extremely dangerous.
RELATED: Simon Whitfield On Training, Longevity, And Balancing Family Life
Mr. X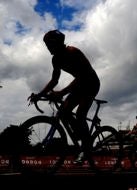 ITU triathlon is the cerebral version of swim/bike/run, and one lapse in judgment can cost a pre-race favorite a podium spot. Nerves, an ill-timed injury, or an unlucky mechanical or crash can also dismantle someone's quest for Olympic glory. This means that literally anything can happen on race day, and triathletes not mentioned on this list—guys like Matt Chrabot of the United States, Tim Don and Will Clarke of Great Britain, Dmitry Polyansky of Russia, and Steffen Justus and a bevy of other Germans—could get the better of the pundits in London and come away with a medal. Just you watch.