One Year Later: Gwen Jorgensen's Gold Medal Performance in Rio
Heading out the door? Read this article on the new Outside+ app available now on iOS devices for members! Download the app.
Jamie Turner, Gwen Jorgensen's longtime coach and currently the head of Triathlon Australia's inaugural International Performance Centre, shared with Trainingpeaks.com an analysis of Jorgensen's Rio Power File and an overview of their four-year lead up to the 2016 Olympic Games—where Jorgensen claimed the gold. 
One year ago on Aug. 21, 2016, Gwen Jorgensen became the first American to win a gold medal in the Olympic triathlon. After finishing 38th at the London Olympic Games, Jorgensen and her coach Jamie Turner began a four-year journey solely focused on Rio.
Jorgensen executed the race beautifully: She stayed near the front in the swim, exited out of T1 part of the lead group, held her position throughout the bike, and battled out the 10K run alongside 2012 gold medalist Nicola Spirig of Switzerland. In the final stretch of the race, Jorgensen pulled away seemingly effortlessly, crossing the line in 1:56:16.
See Jorgensen's Rio Bike Power File here.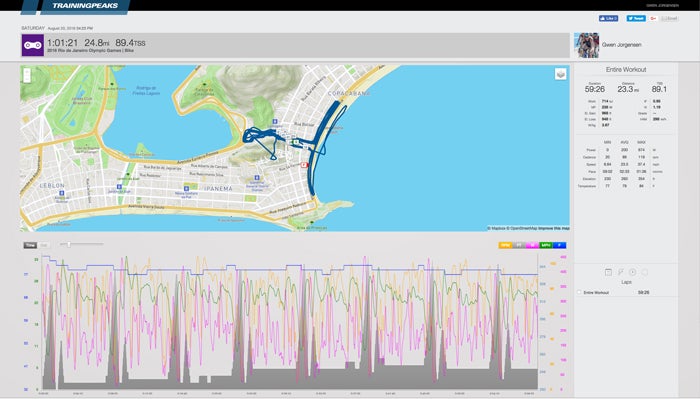 Quick Stats:
Training Stress Score (TSS): 89.1
Intensity Factor (IF): .95
Normalized Power (NP): 238W
Avg. Power: 200W
Avg. Speed: 23.5 mph
Watts/kg: 3.67
(Learn more about TrainingPeaks metrics here.)
The story of Jorgensen's gold medal victory was as much about her willingness to commit to excellence everyday for four years as it was her genetic gifts. "Gwen is an accountant by trade," explains Turner. "So she was pretty certain about the investment needed and she committed to it 100 percent."
The Preparation
In 2015 Jorgensen was able to compete on the Rio Olympic course as part of the World Triathlon Series. It was a vital opportunity to do course reconnaissance and determine what to focus on during the following year.
After a 1.5 kilometer swim at Copacabana Beach, the athletes had to complete 8 laps of a 5 kilometer course, with each lap including a short, steep hill (and subsequent fast descent). The run was four 2.5 kilometer laps along the waterfront, which would play to Jorgensen's strength—the run.
"We had to take ownership of the things that Gwen could do well," says Turner. "That meant working on her ability to produce power on the climbs, having a high crank torque while going uphill, and also mastering her descending skills."
After looking at the data from the test event, Turner and Jorgensen went to work. "I believe that it's a matter of athletes meeting and exceeding the demands of the course," says Turner. "So we worked to create a larger toolbox of skills and then fine tune down to what we needed."
Jorgensen spent much of her time training in Basque Country, where Turner lives, riding up and down the antenna section on the peak of Puerto Zaldiaran—a steep hill near Turner's home in Vitoria-Gasteiz that closely mimicked the climb in Rio. "We really focused on that climb and going a little bit harder and longer than what she would need to do in Rio," says Turner.
"Additionally we composed a 10K Kermese-style course on the outskirts of Vitoria-Gasteiz through the villages of Mendiola, Castillo and Aretxabaleta, including a section with a climb where we would replicate the power and cadence of Rio," explains Turner. "We also had similar cross winds that she would face on race day. My goal was to see if she could get to the top in the red and then still descend quickly after red lining. Eight to 10 laps around that 10K course would then exceed the demands of the day."
Jorgensen also went to  Southern California  and worked on her descending skills down some of the more technical descents in the world.  Here, Jorgensen hopped on a bike of a different kind—a motorcycle. It was her first time on one, and her fear became evident by more than a few shrieks. Riding on the back of pro motorcycle racer Eric Bostrom's 1000cc bike, she learned how to observe (but not focus on) her surroundings and to scan the road while flying around corners.
"We put her into the realm of what a motorcyclist would need to do so that she could really descend with confidence," says Turner.
Jorgensen further prepared for descents on the course by taking hill after hill with Tour de France yellow jersey holder Dave Zabriskie and road and cyclocross pro Tim Johnson providing their expertise during the process. The experience gave her great confidence and developed her skill vocabulary as well.
"For Gwen, she really wanted to make that bike a game because she knew others would be looking to threaten any vulnerabilities they may have thought she had on the bike—and she would be ready for them," says Turner.
In the months leading into Rio, Jorgensen had an upsetting finish at a race in Hamburg that rattled her confidence. She asked Turner if she should go see a sports psychologist or change things up. "I think there is always this tendency for people to do new things before the Games—and it's never a good idea," says Turner. "I didn't want anyone new brought into her environment. She had been so deliberate with her mental skills throughout her preparation and she had so many people assisting her, and helping me help her as well."
Turner told Jorgensen to trust that the work had been done and to move forward with confidence.
The Race
Race day went down exactly as Turner and Jorgensen expected—in that no matter what was thrown her way during the day Jorgensen would respond calmly and do what needed to be done to win. "We had no assumptions about who would be with her at any point during the day, not even the run," explains Turner. "It would be foolish to assume it would be Nicola or anyone else. In the Olympics you cannot make assumptions like that."
Jorgensen exited the swim in 24th but sailed through transition in solid positioning. All of her bike simulation work paid off as she easily sailed up the hill and rolled into the turns with her peers on the flatter sections easily.
After the first 200m of the run it was clear it would be a two-person race for gold, but Turner could see that the pace was one that she was comfortable with. "She utilized her reserve during the tailwind and not during the headwinds, which I think helped a lot," says Turner. "After about the 8km mark it was simply about staying present in the moment and pressing the button when it needed to be pressed—and she did."
For Turner, Jorgensen's win was the culmination of years of deliberate training and race-day focus. "One of Gwen's greatest strengths is her presence of mind, her mental flexibility and her ability to do what needs to be done to win—to solve the problem of what that would take in any given moment."
Susan Grant Legacki is the Content Editor at TrainingPeaks. The founding editor of LAVA Magazine and a former editor at Triathlete magazine and Inside Triathlon, Susan is an Ironman finisher, Boston Marathon qualifier, USAT Level 1 Triathlon Coach and certified Pilates instructor. When she's not editing or writing copy about endurance sports, you can usually find her training for them around Boulder, Colo.