XTERRA USA Championship: Women's Preview
Heading out the door? Read this article on the new Outside+ app available now on iOS devices for members! Download the app.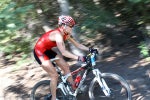 The women's pro field is as deep as the men (18 pre-registered pros in each race) but there is a clear No. 1 and that's Melanie McQuaid.  The three-time XTERRA World Champ from Canada won the first five Cup Series races of the season then started thinking about Utah.
She's been at altitude for more than a month, has done stints in Park City and right here in Ogden, has pre-rode the course dozens of times, won this race last year and in '06, skipped a big tradeshow in Vegas so she could fine tune, and is clearly, without a doubt, focused on the prize.
The unenviable task of knocking her off the top step falls squarely on Shonny Vanlandingham, the decorated NORBA champion who switched her focus to XTERRA last year and has gotten faster by the race.  She'll likely have the best bike split (almost always does) but she'll have to make up some ground coming out of the water a minute or two or three behind McQuaid, then have a great run if she is to succeed.
Renata Bucher from Switzerland, who has won 18 XTERRA Championships in 10 different countries and four Euro Tour titles, is perhaps the most intriguing racer to watch.  The XTERRA faithful have watched her climb mountains like a kid peddles through the park, nice and easy.   If she can do that here and come into the bike-to-run transition with a lead she could very well run away with the win.
Others to keep an eye include Danelle Kabush who historically comes on strong at the end of the year as evident in her runner-up performance at the World Champs last year (she was 4th at this race last season).  Also watch for Carina Wasle (the XTERRA Czech Champ), Jenny Smith (3rd here the last two years), and Lesley Paterson (2nd at the Southeast Cup and 3rd at the West Cup this year).
The women's race could play out like this…Christine Jeffrey leads all women out of the swim, followed a couple minutes later by McQuaid, Paterson, Bucher and the others.  Jeffrey holds on for as long as possible until McQuaid catches and passes her, and the chase is on.  McQuaid has a lead heading out on the run but how much of a lead, and can Vanlandingham or Bucher or Wasle or Kabush or Paterson reel her in?  Only one way to find out, and that's to be at finish line at the world-class Snowbasin Resort (home to the 2002 Winter Olympics) at around 11:40 a.m. on Saturday.  Pro Start List:
'09 Rank (61 = #1) – Name – Age, Hometown
61 – Melanie McQuaid – 36, Victoria, B.C., Canada
62 – Shonny Vanlandingham – 40, Durango, Colorado
63 – Renata Bucher – 32, Lucerne, Switzerland
64 – Danelle Kabush – 34, Canmore, Alberta, Canada
65 – Christine Jeffrey – 36, Guelph, Ontario, Canada
66 – Jenny Smith – 36, Westport, New Zealand
67 – Rebecca Dussault – 28, Crested Butte, Colorado
68 – Emma Garrard – 27, Truckee, California
70 – Alexandra Borrelly – 33, Digne-les-Bains, France
71 – Lesley Paterson – 28, Sterling, Scotland
72 – Sari Anderson – 30, Carbondale, Colorado
73 – Tracy Thelen – 29, Colorado Springs, Colorado
75 – Jenny Tobin – 40, Boise, Idaho
76 – Sara Tarkington – 28, Boulder, Colorado
81 – Brandyn Roark Gray – 30, Aztec, New Mexico
82 – Teri Albertazzi – 27, Tucson, Arizona
83 – Cameron Randolph – 38, Ridgway, Colorado
84 – Carina Wasle – 24, Kundl, Austria
Provided by XTERRA.