XTERRA USA Championship: Men's Preview
Heading out the door? Read this article on the new Outside+ app available now on iOS devices for members! Download the app.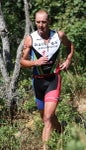 The man to beat is Conrad "the Caveman" Stoltz, the most feared XTERRA athlete on the planet. He won here last year, won four of the five Cup Series races he entered this year, and showed true grit by winning with an injury in Richmond.  That said; anyone who thinks it's a foregone conclusion that the Caveman will come out on top should consider…
1) Three different guys have won this race – Stoltz last year, Seth Wealing in '07 and Mike Vine in '06.
2) Last year the top four guys finished within a minute of each other.  Stoltz was at 2:21:32, Vine was 14 seconds back, then Brian Smith (40 seconds) and Wealing (50 seconds).
3) In XTERRA mechanicals happen, like at this race in '06 when Stoltz had more than two minutes on the entire field halfway through the bike before puncturing his tire going uphill at 5mph.  He flatted in '07 as well, as did Mike Vine.
4) It's been two months since the last Cup race and it's anybody's guess as to which guy put together the best training plan so they'd be at their peak on race morning (and then execute!)
Using the last three years of results on this course when the XTERRA Mountain Championship was contested here from 2006-2008, it's clear that this race plays to power and strength and racers that can climb and handle the altitude.  It's 4,600-feet elevation at the swim start and 7,600-feet at the top of the bike course.
It's also clear that there are a bunch of XTERRA pros that fit the description like Stoltz, Nico Lebrun, Mike Vine, Josiah Middaugh, Seth Wealing, Brian Smith, Branden Rakita, and Cody Waite (the last five guys on this list are from Colorado where they live and train year-round in mountain riding conditions and altitudes similar to this race).
Look for Wealing, Rakita and Stoltz to come out of the water first, a full-blown rumble up the mountain on the bike with Stoltz leading the charge, Wealing and Rakita hanging on, and Middaugh, Vine, and Smith gaining ground, then a pure survival of the fittest and test of courage on the run.  This race will rock, and thank goodness the XTERRA TV crew is in full force on site to capture all the action and turn it into a one-hour show for the whole world to enjoy (see scenes from last year at xterra.tv).
Pro Start List:
'09 Rank – Name – Age, Hometown
1 – Conrad Stoltz – 35, Stellenbosch, South Africa
2 – Nicolas Lebrun – 35, Digne-les-Bains, France
3 – Josiah Middaugh – 31, Vail, Colorado
5 – Mike Vine – 36, Victoria, B.C., Canada
6 – Seth Wealing – 30, Boulder, Colorado
7 – Branden Rakita – 28, Manitou Springs, Colorado
8 – Brian Smith – 33, Gunnison, Colorado
9 – Craig Evans – 31, Spring Hill, Tennessee
10 – Cody Waite – 30, Lakewood, Colorado
11 – Will Kelsay – 28, Boulder, Colorado
12 – Matt Boobar – 36, Stratton Mountain, Vermont
13 – Ryan Ignatz – 30, Boulder, Colorado
16 – Ryan DeCook – 28, Rochester, Michigan
19 – Jeff Smith – 28, Sandpoint, Idaho
22 – Brendan Halpin – 25, Missoula, Montana
23 – Christopher Bagg – 37, Portland, Oregon
24 – Scott Gall – 35, Cedar Falls, Iowa
25 – Damian Gonzalez – 32, Stockton, California
Provided by XTERRA.