Xterra Athletes Gear Up For West Championship
A preview of this weekend's men's race at the Xterra West Championship in Las Vegas, Nev.
Heading out the door? Read this article on the new Outside+ app available now on iOS devices for members! Download the app.
A preview of this weekend's men's race at the Xterra West Championship in Las Vegas, Nev.
Two worlds collide Sunday at the Xterra U.S. Pro Series season opener at the West Championship in Lake Las Vegas, Nev.
The wisdom of experience is on one side; and youthful exuberance on the other.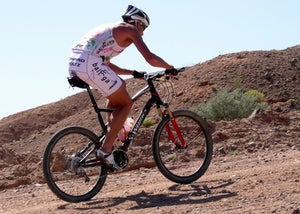 Representing the old school; Stoltz, Middaugh, Wealing, Lebrun, Evans, Waite, Rakita, Kelsay, Glavin, Thijs, Henestrosa, Zoller, and Smith – 13 pros with nearly 100 years of collective Xterra off-road tri experience.
On the flip side; Ganter, Jackson, Madsen, Michalak, Mielke, Stehula, Valentine, and Wirth– eight young guns with a grand total of eight races under their belts as Xterra professionals.
The infusion of young and new talent is not only a great sign for the sport, but a fist-pumping tribute to the masters who have made getting dirty and suffering look so darn compelling.
"I want to win Xterra Worlds in the next five years and go after my hero Conrad's record for Xterra Worlds wins," wrote Karsten Madsen, a 19-year-old from Ontario, Canada, in his racer bio form.
Today, as KVVU Fox 5 News interviewed Conrad "the Caveman" Stoltz in the lobby of the Aston MonteLago Resort, Madsen stood nearby fresh off an eight-hour drive from his training grounds in Arizona with all the excitement of a kid entering the Magic Kingdom.
In stark contrast, Stoltz was calm, collected, the consummate professional, no doubt methodically preparing to win his record-breaking 38th career championship on Sunday.
The diversity creates excitement and the battle for the top seven spots, for who gets paid and who does not, will be hotly contested. The "old-timers" will have to earn it, especially with so many up-and-comers looking to prove their worth.
Three on the men's start list are making their pro debuts – Michalak, Mielke, and Valentine – but aren't new to Xterra.
Two-time Xterra USA amateur champ Jason Michalak would've won prize money in 2010 had he been a pro, Patrick Valentine will likely be the first racer out of the water, and Mielke – a trail running madman– had never even done a triathlon at this time last year. The future is bright for those three.
You've also got Chris Stehula, who won the Collegiate National Triathlon Championship last year, and his Cal Poly San Luis Obispo teammate Chris Jackson who is entering his first year as a pro.
The experienced newbie is Adam Wirth from Boise, Idaho, who accounts for half of the newcomers eight pro races mentioned above. Wirth has shadowed friend and former Xterra World Champ Nico Lebrun across America competing in Xterra's, and finished as high as 5th at Xterra Canada last year.
Indeed, there's a lot of new talent mixed in with the proven Xterra pros here in the desert, but with all the hope and promise the fresh faces bring they'll still have to run like Josiah Middaugh, bike like Brian Smith, and swim like Seth Wealing to have a shot.
Race preview provided by Xterra.