This Woman Crushed Ironman Florida on a Fat Bike
A challenge from a training buddy turned into an epic race for Vicki Ostendorf.
Heading out the door? Read this article on the new Outside+ app available now on iOS devices for members! Download the app.
A challenge from a training buddy turned into an epic race for Vicki Ostendorf.
Ask Vicki Ostendorf why she did an Ironman on a fat bike, and she'll pause thoughtfully before answering. "Well," Ostendorf deadpans, "I don't know how to ride a unicycle."
It's probably a joke, but then again, it's hard to tell with Ostendorf. After all, the 53 year-old age-group triathlete completed the 112-mile bike ride at the 2017 Ironman Florida triathlon on a 9:Zero:7 Fatbike. The bike, which weighs about six pounds more than a typical triathlon bike, also features wheels that are 4.5 inches wide— far less aerodynamic than a 23mm rubber of her competition.
Ostendorf did it for the challenge. A four-time Ironman finisher, the Minnesota resident has a reputation in her training circle for her adventurous spirit. She was knocking around ideas with her friend and training partner, Dave Cossack, when Cossack brought up the idea of doing the race on a fat bike.
"At first, I said no—that is insane!" Ostendorf laughs. "But he came back and asked a second time, knowing full well I would not be able to say no twice."
Ostendorf didn't even own a fat bike, yet something about the challenge intrigued her. "I wasn't positive that completing the bike course in time was possible, but I was hoping I could train hard enough to make it happen."
She found out early on just how hard she'd have to train. "I was not going to be able to put the same miles in on this bike that I typically put on a triathlon bike when training for Ironman," Ostendorf recalls. "It is so much more work. I consider myself a pretty strong biker, but when I started training I was frustrated that I couldn't keep up with people on their tri bikes. I was so sure there must be something wrong with me—I even went to the doctor to see if my iron levels were low!"
The doctor reassured her that her physical health was fine—but doing an Ironman on a fat bike surely raised some questions about her mental faculties.
Still, Ostendorf and her very large, very bouncy bike pressed on with training, and it paid off in the form of a 6:52:35 bike split en route to a 14:01:28 finish at Ironman Florida. With the finish, Ostendorf became the first female to complete an Ironman on a fat tire bike.
"The looks and comments were fantastic," Ostendorf says of race day. "Plenty of spectators looked puzzled—it seems as if fat tire bikes are a northern thing, so many people from Florida had never seen bikes like this. I had people riding up to me saying everything from 'That must have been a drunk night' to 'You are my hero.'"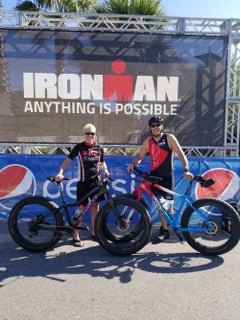 At some point, her fellow participants started saying "So, this was your idea, huh?" As it turned out, Cossack, who was also doing the race, was riding about a quarter-mile behind Ostendorf, telling people it was her idea. The two did the race together, laughing all the way.
"It was an amazing experience. We didn't hit the time goal we had set for ourselves, but, at the end of the day, I accomplished something that most people won't—and probably shouldn't—ever do," she says. As for her next challenge, Ostendorf laughs:
"Probably to stay away from Dave as long as possible."