Wittmack Completes Inaugural World Triathlon With Everest Climb
He swam 275 miles down the River Thames and across the English Channel, pedaled 9,000 miles from France to Nepal, then ran 950 miles from the Bay of Bengal in India to Mount Everest
Heading out the door? Read this article on the new Outside+ app available now on iOS devices for members! Download the app.
By Adam Elder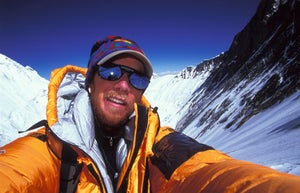 Charlie Wittmack, a man we profiled in Triathete's adventure issue in April, successfully completed the first ever continent-spanning World Triathlon on Monday by climbing Mount Everest—the run portion, if you will.
Summiting the world's highest mountain was the culmination of an epic journey, on which Wittmack was the sole participant. He swam 275 miles down the River Thames and across the English Channel, pedaled 9,000 miles from France to Nepal, then ran 950 miles from the Bay of Bengal in India to Mount Everest,which he'd successfully climbed previously, in 2003.
Quite a feat for an age-grouper who by day is an attorney in Des Moines, Iowa.
The journey wasn't all roses, however. As we reported, Wittmack had some setbacks along the way. He contracted amoebic dysentery in England, causing him to vomit as he was swimming. One of his sponsorships fell through, and he had to cross Asia unsupported, duringwhich time he was hit by a car while riding his bike. He cycled through sunburned Kazakhstani sand 18 inches deep in places, and ate food he didn't recognize.
"Whenever it got harder and harder, I would think smaller and smaller—thinking about the next two strokes, or trying to look at the jellyfish, or figuring out where the eels are," he says. "If you start to think about the finish line, you're done. That's just too far away."
Wittmack's also boosted by the World Tri's philanthropic angle, in which a Des Moines medical team visits Nepal each year for obstetrics training to combat the country's staggering maternal mortality rate.
Before this journey started, he was the only American ever to have swum the English Channel and summited Mount Everest—the Peak and Pond, as its known among adventurers. Now he can say he's the first World Triathlon champion.
Back at Everest base camp though, Wittmack was thinking much smaller. "I just wanted pizza," he was reported to have said.
Find out more at Theworldtri.com.