Which Pros Will Race Vegas 70.3 Worlds?
You can expect the return of some familiar 70.3 series faces for the 2011 Ironman 70.3 World Championship, but don't count out some Ironman-focused pros who will race this year's 70.3 worlds in lead up to Kona.
Heading out the door? Read this article on the new Outside+ app available now on iOS devices for members! Download the app.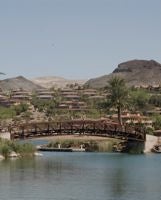 You can expect the return of some familiar 70.3 series faces for the 2011 Ironman 70.3 World Championship, but don't count out some Ironman-focused pros who will race this year's 70.3 worlds in lead up to Kona.
Here's who's all in for Vegas this September 11, assuming they meet the qualification standards.

The Men
Michael Raelert
The two-time defending 70.3 world champion, Raelert rarely loses at the distance. With the venue's change to Vegas, the German star is out to prove that he's worthy of the world champion title on any course.
Craig Alexander
Alexander races his best in the weeks leading up to Kona. He recently said his best race the past three years has been Muskoka 70.3 in Canada, which is four weeks out from Kona. Muskoka will be replaced by Vegas this year, and he's fired up to reclaim the 70.3 world champ title, which he first won in 2006.
Terenzo Bozzone
One of the youngest top pros on the circuit at age 26, the New Zealand native has multiple half-ironman victories to his credit—including the 2008 70.3 world championship.
Joe Gambles
Gambles has made victory at this year's 70.3 worlds his explicit goal for the 2011 season. With course records at Ironman 70.3 Lakes Stevens and Vineman 70.3, Gambles has shown he's a formidable competitor at the half-iron distance.
Filip Ospaly
A short-course specialist with an ITU racing background, Ospaly finished second to Michael Raelert at last year's 70.3 world championship by a minute and a half.
Andy Potts
He's been more focused on 70.3s in recent seasons, as it's proven to be his racing "sweet spot."
Maxim Kriat
Kriat, 26, is a specialist at the half-iron distance, racing eight 70.3 events last year and placing in the top 6 six times—including course record-breaking wins at 70.3 Augusta and 70.3 Mooseman.
Michael Weiss
The 30-year-old Olympian (2004) and Ironman champion (2010 St. George) is another versatile triathlete who excels in everything from Xterra off-road racing to Ironman.
Luke Bell
Bell raced three 70.3 races and an Ironman over the span of six weeks, finishing atop the podium every time.
Sebastian Keinle
The German, considered by many to be one of Europe's brightest pro prospects for his immense cycling strength, knows what it takes to beat rival countryman and defending champion Michael Raelert. He's dueled with Raelert at the 70.3 distance, beating him at the 2009 70.3 European Championship.
Paul Matthews
A member of the Trek/K-Swiss team, the Aussie hails from an ITU background but has dedicated himself to 70.3 racing.

The Women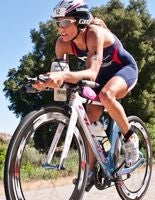 Magali Tisseyre
The Canadian is one of few athletes whose main focus is on this year's Ironman 70.3 World Championship race. After finishing on the podium the past two years in Clearwater, Tisseyre is excited to mix it up on a new course.
Lesley Paterson
Paterson comes from an Xterra background and will not be intimidated by the Lake Las Vegas course. The Scottish pro finished second at the 2010 Ironman 70.3 California race, nearly keeping pace with Mirinda Carfrae in the process.
Catriona Morrison
The difficult bike course will suit Morrison and her background as a duathlete. She had strong showings at half-Ironmans this year, winning 70.3 Texas and 70.3 St. Croix.
Julie Dibens
With her powerful swim/bike combo, Dibens will be tough to beat. The racecourse (hillier bike) and the timing (pre-Kona) suit her much better than Clearwater.
Leanda Cave
One of the most versatile women in the sport, Cave has proven she can perform at the top at 70.3 and Ironmans. She's one of few athletes who may be able to keep Julie Dibens within her sights on the swim and the bike.
Heather Jackson
Jackson had her breakout race at 70.3 Oceanside this year where she nearly beat Mirinda Carfrae but finished second in a sprint.
Angela Naeth
The tough bike course will suit her, as she is one of the strongest cyclists in the sport. She won the Leadman Epic 250, which also is in Henderson, Nevada, so she knows how to navigate the course.
Melanie McQuaid
Another Canadian, McQuaid is an Xterra world champ who's turned her focus to the 70.3 distance and performed well at the distance.
The Undecided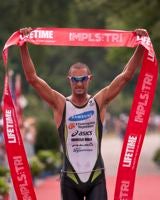 The following athletes have not committed to race this year's Ironman 70.3 world championship. If they do decide to toe the line, they'll be earnest contenders for the 70.3 crown.
Men:
Chris McCormack
Matty Reed
James Cunnama
Chris Lieto
Paul Amey
Mathias Hecht
Tim O'Donnell
Dirk Bockel
Women:
Mirinda Carfrae
Jodie Swallow
Kelly Williamson
Caroline Steffen
Rachel Joyce
Linsey Corbin
Mary Beth Ellis