What Happened In Abu Dhabi?
Andrew Starykowicz and race organizers talk about the events that followed a horrific crash at the 2012 Abu Dhabi International Triathlon.
Heading out the door? Read this article on the new Outside+ app available now on iOS devices for members! Download the app.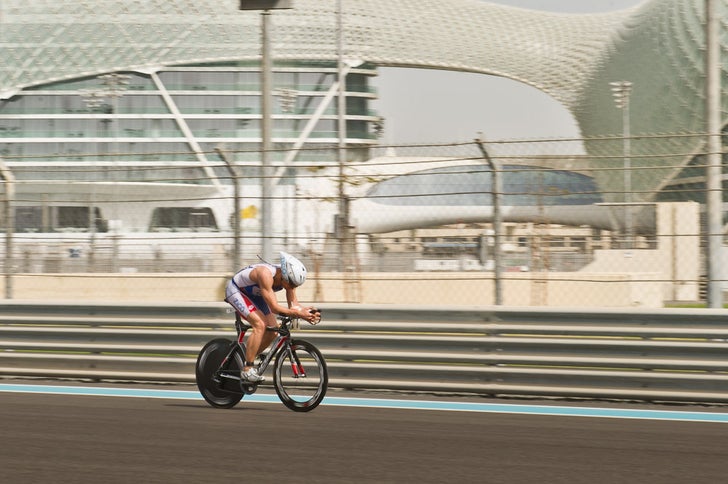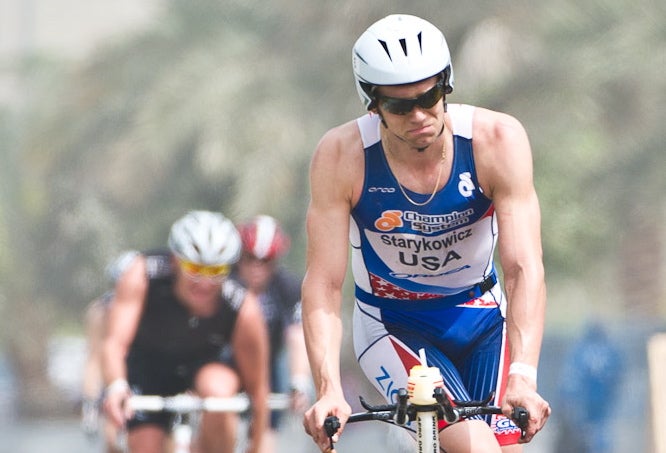 Andrew Starykowicz and race organizers open up about the events that followed a horrific crash at the 2012 Abu Dhabi International Triathlon.
The United States' Andrew Starykowicz was at the peak of his career heading into the 2012 triathlon season. The 30-year-old ended last season by winning Rev3 Cedar Point and Rev3 South Carolina, giving him the overall Rev3 Series title and a $15,000 bonus. Starykowicz kicked off 2012 by returning to the Abu Dhabi International Triathlon (ADIT) in March, a race where he passed out at the finish line from the heat in 2011 and finished 10th.
Abu Dhabi would be the place where the American would start and end his current year of racing. While on the 200K cycling leg of the race, Starykowicz collided with Carly Williams of Great Britain, a volunteer who was on the course collecting water bottles. The accident left Williams battling for her life and thrust Starykowicz into the Abu Dhabi legal system. Now 16 weeks after the race, Williams is on her way to recovery and Starykowicz, who was also injured in the accident, is home in the United States. A blog post published by Starykowicz on June 20 titled I did time ignited reaction from the triathlon community. Many wondered how an incident at a high-profile triathlon that was clearly an accident could result in the incarceration of a professional triathlete. We spoke to both Starykowicz and a spokesperson from the Abu Dhabi International Triathlon to get the truth about the past four months.
There is little debate about what happened in the minutes and hours following the accident on the course. Starykowicz remained on the scene long enough to see Williams receive medical attention, but as a frontrunner in the race he decided to continue on his bike. The injuries he sustained were bad enough that he wasn't able to finish the race. Following the accident, Williams was in critical condition and was put into an induced coma. The severity of her injuries, coupled with the fact that Starykowicz technically left the scene of the incident, introduced the intervention of United Arab Emirates (UAE) government officials.
"All matters were dealt with in accordance with UAE law," the spokesperson for the Abu Dhabi International Triathlon said. "This is common practice when one or more of the parties involved sustain critical injuries, as was the case with the volunteer. Mr. Starykowicz was afforded full support in resolving the incident by the event organizers."
After reading Starykowicz's blog, posted last week, many were left with the impression that he was put in prison for a significant amount of time. He confirmed to Triathlete.com that he spent one night and one day in confinement and was then released, but his passport was confiscated and he was not allowed to leave the country.
"We can confirm that Mr. Starykowicz voluntarily met with police after the incident and stayed overnight in a holding cell at the Abu Dhabi Traffic Department whilst his statement was verified, upon which he was released the following morning," the race spokesperson said. "He was to remain in the country until a full police investigation was concluded and agreed. This is standard practice as the volunteer suffered severe head injuries and was in an induced coma for the initial stages of her recovery."
This is the point where Starykowicz says things started to get confusing. After originally being told the legal process would take a few days, he realized it would not be that simple. Although communications between Starykowicz and race officials seem to be on rocky terms now, he says during his time in Abu Dhabi they worked together to come to a resolution as quickly as possible.
"They (race organizers) worked with me and the authorities," Starykowicz said in an interview with Triathlete.com. "The prosecutor initially wanted an insurance letter from the race, so they had to be involved. We worked together the whole way. We all wanted to get this straightened out."
Starykowicz was offered legal support and hotel accommodations during his time in Abu Dhabi. He chose not to take up the race on its offer to provide his housing.
"I stayed with a friend," he explained. "The nights I was in the hotel were the nights that were part of the accommodations of the race. Other than that I stayed with a friend because I did not feel comfortable staying in a hotel where I knew Abu Dhabi officials could come and arrest me at any time."
Starykowicz says he spent weeks going in front of an Abu Dhabi prosecutor, trying to provide whatever he could to be allowed to return to the United States. When asked about what the process was like, Starykowicz expressed frustration at the lack of procedures in the legal system.
"A process is something that is repeatable," he said. "There was no process there. It was every day we went in there it was something different that they wanted. We would bring them something they had requested from the day before and they wanted something different."
Starykowicz says that during his time in Abu Dhabi he received the support of the U.S. government and other athletes living in the Middle East.
"There were a lot of people involved," he said. "The U.S. Embassy, the U.S. government and professional and age group triathletes were helping. People from other sports were reaching out to see how they could help. Everyone was trying to lend a helping hand because it did not make sense."
Eventually Starykowicz and the prosecutor reached an agreement that would allow him to leave the country. By paying a large sum of "blood bond money," which Starykowicz says was the prosecutor's name for the payment, not his, he was allowed to return to the United States. He says he was told that the money would be returned if and when Williams was released from the hospital. Williams has since been released and Starykowicz says the process of retrieving the money has left him frustrated. Both Starykowicz and the race have confirmed that the event organizers have offered to fly him back to the UAE to try to retrieve his bond. In his mind, this is not an option.
"I'm not going to go back there," he said. "He (the prosecutor) is just going to throw me in jail. He's going to hold me against my will, probably for more money. I'm not going to take that risk. It would not be very smart of me to go back there. Plus, my injuries do not allow me to go back at this time."

Although Starykowicz tells us that he was charged with crimes (he would not be specific), race organizers say the police report has been concluded and he is not facing any prosecution.
The organizers tell us that they continue to help Starykowicz resolve the situation.

"We have continued to support Andrew since he's returned," the spokesperson for ADIT said. "Our counsel and senior management team have been in contact with him and continue to work with him. There was communication with him this week and we're trying to get him the answers he needs. The event wants to take care of its athletes, volunteers, staff and spectators at the foremost and will do everything within its ability to help with the situation."
Starykowicz says that although he received medical treatment during his time in UAE, his injuries were left undiagnosed until he returned home.
"When I came home I went to a shoulder specialist because my shoulder was not any better," he said. "I then found out that the swelling had gone down enough and you could see my collarbone protruding through the skin, and that I indeed did have a broken collarbone. They did X-rays and I had a grade II AC separation and I had a huge hole in my labrum, all of which are contradictory to what their medical personnel had said. That's why I said that I received inadequate medical attention."
Starykowicz spent a total of six weeks in the UAE, meaning that he returned home in the middle of April. Which begs the question: Why did he wait so long to come forward with his story?
"When you look at people who've had issues in the Middle East and talk about it they've received maximum sentences," he said. "They've never been let off the hook and if you look at the people who do get away with less scars, those people have pretty much worked with the system and have kept quiet and then afterward told their story."
The tone of Starykowicz's blog post caused some to wonder if he feels any sympathy for the volunteer who was left in critical condition for weeks.
"Anybody who has talked to me about this knows how much this pains me," he said regarding Williams' condition. "Most people are drawing conclusions that I'm not a very caring person and not a very nice person from this. That's not the case. Both of us sustained injuries that have changed our lives. I would never wish this on my worst enemy. I volunteer at a lot of races and this has been very hard all around because this sport means so much to me and I feel really bad about this whole situation."
For Starykowicz, his focus is now on trying to regain his health and hopefully return to competing next year.
"From what the doctors say, it will be extremely unlikely for me to race this year," he said. "My goal is to do what I can, not focus on what I can't do and focus on what I can do each day and get healthier, and hopefully I'll be able to weather the storm and return stronger in 2013."

Since Starykowicz has gone public with his story, several athletes, both professional and amateur, have expressed concern about racing in the Abu Dhabi International Triathlon in the future.
Australian pro Richie Cunningham says that the incident has caused him to rethink his 2013 racing plans.
"Was looking forward to racing Abu Dhabi next year but there is no way in hell I'm going now," he wrote on his website.
While many have shown hesitancy about returning to the region, Great Britain's Julie Dibens, who has won the race twice and served as an ambassador at the 2012 event, is standing up for the race organization.
"A lot of talk going on about ADIT," Dibens tweeted. "That race is all class. 1 of best in the world #respectdifferentcultures." She followed that with, "There is usually two sides to every story."
The race organization recognizes that athletes may be hesitant to participate in the Abu Dhabi International Triathlon, but don't feel that this incident should keep athletes away.
"The safety and well-being of everyone involved in the event and visiting the destination are of paramount importance," the spokesperson said. "We believe that the strength of the event will see athletes of all skill levels continue to want to be part of the Abu Dhabi International Triathlon."
Anyone with concerns or questions about the Abu Dhabi International Triathlon should direct comments to info@abudhabitriathlon.com. The 2013 race date has not yet been set.
We will continue to follow Starykowicz's story.