How to Watch the Super League Arena Games Finale
Can Gustav Iden survive the "Group of Death"? Will Gina Sereno and Chase McQueen pull off a couples' championship? Tune in to the blockbuster finale of the Super League Arena Games Series this weekend to find out.
Photo: Super League Triathlon
Heading out the door? Read this article on the new Outside+ app available now on iOS devices for members! Download the app.
The spectacle that is the Super League Arena Games will barrel to its exciting conclusion in London this weekend. The unique three-race series, which blends virtual racing and in-person swimming in one massive Olympic-pool sized arena, will feature an all-star cast this weekend in the quest for the title of Esports Triathlon World Champion.
The action goes down this Saturday, April 8 in London, with the women's' final broadcasted at 12:30 p.m. ET/9:30 a.m. PT and the men's final at 1:30 p.m. ET/10:30 a.m. PT. Here's what you need to know.
What are the Super League Arena Games?
Born of pandemic ingenuity when most races were canceled and social distancing strictly enforced, the Arena Games is an virtual/in-person hybrid event taking place in an arena using a pool, plus stationary bikes and treadmills connected to Zwift. This creates a fast-paced and exciting race that can all be watched from the stands and followed remotely with in-game data screens. There's also fire pyrotechnics to announced the arrival of each athlete. Just because.
Last year, Super League has teamed up with World Triathlon to make the Arena Games the official arbiter of the first-ever esports world title in triathlon, meaning the Super League Arena Games crowned an official world champion and awarded official World Triathlon points towards athletes' overall World Triathlon ranking (about on par with Continental Cups). That partnership continued this year, with World Triathlon president Marisol Casado saying "Innovation has always been at the core of World Triathlon, and this partnership proves once again that we are investing in new formats and events that attract both fans and athletes alike."
There have already been two Super League Arena Games events this year: Montreal on February 25 and Sursee on March 12. The grand final in London on April 8 is where the world title will be awarded via a cumulative points total from the three events, with the grand final counting for double the amount of points.
RELATED: Achievement Unlocked: How Esports Could Take Triathlon to the Next Level
Super League Arena Games format
While Super League events are always exciting, they can also be slightly confusing.
Unlike traditional triathlons, Super League utilizes various formats to keep people guessing and to keep the stakes high—rounds of short 200m swim/4km bike/1km runs, changing up the order of the legs, equalizer formats, pursuit formats, etc. In the Arena Games this weekend, there will be two days of racing. Three heats for men and women will take place on Friday, where the top two in each heat will advance to the final on Saturday. Those placed 3-7 in the heats will get a second chance to make the finals by racing a repechage on Saturday morning, where the top two will also advance.
The three qualifiers and two repechages will be decided by a two-stage swim-bike-run contest, where a staggered start will be employed based on the time difference from stage one. The ten athletes from the mens' and women's fields who advance to the finals will then race three stages: swim-bike-run, run-bike-swim, and swim-bike-run. The final stage will be done pursuit-style, with athletes starting based on their times from the previous two rounds; the first person to finish wins.
The world title is decided by an athlete's best score from either of the regular Series events in Montreal or Switzerland, plus their score in the final.
See what we mean by "slightly confusing"? Luckily, the commentators on the live broadcast do an excellent job of walking viewers through what's happening – and somehow, it all makes sense when you watch it. (Promise.)
RELATED: What is Super League Triathlon Anyway?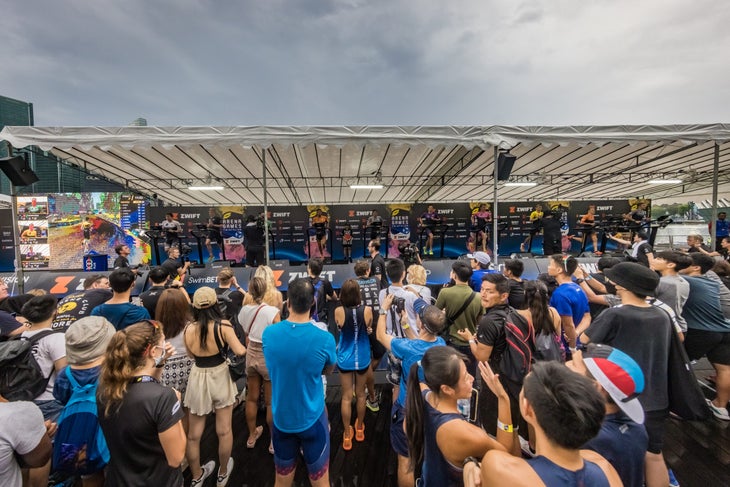 Super League Arena Games Final 2023: Who to watch
The Super League matches typically bring together the best in short-course, and the 2023 Arena Games are no exception. The race winners of the first two Arena Games events are heavy favorites for the final title. American power couple Gina Sereno and Chase McQueen won the first race of the series in Montreal, while Zsanett Bragmayer of Hungary (who placed second overall in the series last year) and and South African Olympic medalist Henri Schoeman won in Sursee. Each earned the maximum number of points possible toward the final tally toward the world title, so a win in London would mean the world title as well. But that doesn't mean it's a lock for any of these athletes – with double the number of points in London compared to the first to events, a lower placing for the winners opens the door for a dark-horse victory.
Last year's winner of the women's Arena Games title, Britian's Beth Potter, will be in London with the goal of disrupting Sereno and Bragmayer's quest for the title. She'll be joined by Cassandre Beaugrand of France, who won at Arena Games London last year. In heat one, Potter and Bragmayer will attempt to knock out each other, as well as Australian star Emma Jackson and Barbara De Koning of the Netherlands, while heat two sees Beaugrand and Sereno face off alongside Eva Daniels of Luxembourg and 15 year-old rising star Fanni Szalai of Hungary. In heat three, the likes of Kate Waugh (GBR), Natalie Van Coevorden (AUS) Hanne De Vet (BEL) and Anabel Knoll (GER) will battle for their shot at the final.
In the men's event, look for reigning Ironman World Champion and two-time 70.3 world champion Gustav Iden to try to add another title to his resume. He's currently working on his short-course speed as he looks to make the Paris Olympics, and the Arena Games poses an excellent test. If he's looking to run the gauntlet, he'll certainly find one: Iden was randomly assigned to heat 2 of the playoffs, which has been nicknamed the "Group of Death." That heat's stacked start list includes Schoeman, Moroccan speedster Jawad Abdelmoula, and British Arena Games stars Daniel Dixon, Jack Stanton-Stock and Max Stapley (who will surely relish the home field advantage).
McQueen will face off with Frenchman Aurelian Raphael (who placed third overall in the series last year) and Italy's Nicolo Strada in heat one, while heat three will see the most successful Arena Games athlete to date, Justus Nieschlag of Germany, face off against Hungarian Bence Bicsak and Maxim Hueber-Moosbrugger of France.
Full start lists can be found on the Arena Games website.
How to watch the Super League Arena Games
The finals for every race will be broadcast across multiple platforms, including YouTube and Super League TV. Super League maintains a detailed listing of broadcasts by geography here.
On every streaming option, the race's 2.5-hour feed will be streamed with English commentary and international graphics, along with on-screen data from Zwift and Garmin. A 45-minute highlight package will also be available on these channels the Monday after the race.