USA Triathlon Inducts 2011 Hall Of Fame Class
A recap of the 2011 USA Triathlon Hall of Fame Banquet from Colorado Springs, Colo.
Heading out the door? Read this article on the new Outside+ app available now on iOS devices for members! Download the app.
A recap of the 2011 USA Triathlon Hall of Fame Banquet from Colorado Springs, Colo.
Written by: Courtenay Brown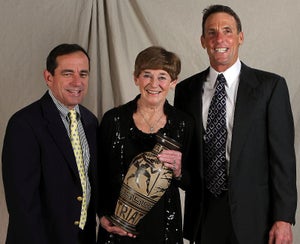 This weekend, USA Triathlon welcomed a third class of inductees into its Hall of Fame with a celebratory banquet at the historic Broadmoor Hotel in Colorado Springs. The event was largely retrospective, yet at the same time, its themes of participation and personality attested to the future and growth of our sport.
This year's trio of inductees represents a true cross-section of triathlon. Susan Bradley-Cox: age grouper, coach, volunteer, and perhaps the world's most decorated triathlete. Dave McGillivray: race director, athlete, visionary, and 2005 inductee into the Running USA Hall of Champions. Dave Scott: six-time Ironman World Champion and charismatic coach who needs no introduction (unless you are a child looking for Dave Scott the Astronaut, which has happened).
Photo montages and glowing introductions preceded each inductee's acceptance speech on stage. The highlights were frequent and poignant, so much so that the event ran well past its slated 9 p.m. endpoint.
Susan Bradley-Cox recounted her athletic history with humility that belied her athleticism. She spoke of Team USA with the spirit of a true team-player (and her photo montage evidenced the depth of her commitment to red, white and blue!). She went to the first World Championship Triathlon in Avignon, France, because she wanted to help her sport get into the Olympics. In the process, she became a world champion.
Dave McGillivray spoke with a rapidity and levity that left no doubt as to how one man could run across the United States, run a 3:14 marathon blindfolded, direct over 850 events, and, at the age of 56, parent a 1 year-old child. As a teenager, McGillivray posted a sign over his bed, begging "please God, make me grow", so that he could play sports without being cut. While his physical stature certainly did not grow, his morality and character did.
Dave Scott's segment began in a surprisingly appropriate way. "It is one thing to question the official story," spoke a familiar yet misplaced voice through the speakers, "and another thing entirely to make wild accusations, or insinuate that I'm a superhero… The truth is… I am Iron Man."
Well done, USA Triathlon, well done. Along with this quote from the Robert Downey Jr. film Iron Man II was, of course, an instrumental version of the Black Sabbath song Iron Man.
What followed was a heartwarming tribute to both the Scott family and the sport of triathlon as a whole. As Jane Scott introduced her brother, and as Dave Scott spoke of his career and of his father, 2009 USAT Hall of Fame inductee Verne Scott, the family collaboration was clear. Further, one couldn't help but admire how one man's spirit and tenacity has shaped what is now a global sport. To paraphrase the words of his sister, Dave created the life of his dreams and shared it with the world.
Sharing and participation were indeed the messages of the evening. These are very positive themes, and they speak to triathlon's longevity, but one has to wonder why "The Big Four", Dave Scott, Mark Allen, Scott Molina and Scott Tinley, were not all inducted together. The other three are sure to be Hall of Famers soon enough. Inducting all four together would have made a truly remarkable evening of lessons, storytelling and reliving athletic achievements that remain incredible some 20 years later.
Nevertheless, the 2011 USA Triathlon Hall of Fame banquet succeeded in celebrating three people who have made triathlon what it is today, and who continue to improve the sport. Dave McGillivray encapsulated the tenacious spirit of this Hall of Fame class perfectly. "My greatest accomplishment," he said, "is my next one."