Two Triathletes Racing Olympic Marathon Trials
Joanna Zeiger and Tyler Stewart proved that they have single-sport prowess and qualified for the Olympic marathon trials in Houston.
Heading out the door? Read this article on the new Outside+ app available now on iOS devices for members! Download the app.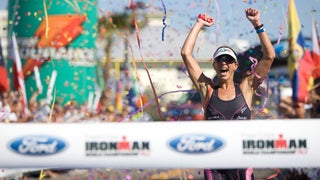 Who says all triathletes are "a jack of all trades, master of none"? Two female professional triathletes, Joanna Zeiger and Tyler Stewart, proved that they have single-sport prowess and qualified for the Olympic marathon trials in Houston tomorrow. They'll line up with more than 200 women that met the high qualifying standards to compete (2:46 for the marathon, 1:15 for a half marathon, 33 minutes for a 10K).
Being a part of Olympic trials is nothing new for Triathlete magazine "Fast at Forty" contributor Zeiger, who competed in the swimming trials in 1988, both the 2000 marathon and triathlon trials (where she qualified for the Sydney team) and the triathlon trials again in 2004 (pulling out during the bike due to back injury) and 2008 (she didn't qualify but went on to win the Ironman 70.3 World Championship).
Zeiger qualified with a 2:43:38 at the California International Marathon in December. On her blog, Zeiger says her two main objectives for tomorrow are: "1. Run the best race I possibly can on the day and 2. Savor the moment, because you never know if you get another chance."
Zeiger took a moment today to tell Triathlete.com what the experience means to her: "I am excited to compete because I love lining up with the best in the sport. Even though I have no chance of qualifying for the Olympics, I want to use the momentum from the day to propel me to a great performance."
Stewart is best known for her fast bike splits, but at the Santa Rosa Marathon in August, she surprised even herself when running a 2:45:14 to qualify for the trials.
Stewart had a rollercoaster year in 2011, starting out with a disappointing finish at Texas 70.3, going on to set a bike course record of 4:42:40 at Ironman Texas (fourth overall), taking third at Ironman Lake Placid and winning Lake Stevens 70.3. Then she lost a good friend in August and her stepfather passed away the day after she raced the Ironman World Championship in October.
Last summer, her brother called her and said he wanted to run his first marathon in New York City and asked her to do it with him. By the time he made that decision, the only slots left were $2500 charity slots, which Stewart didn't think she would have time to raise the money for. She emailed the marathon race director who said, "We don't typically do this, but if you can run a sub-2:55 marathon in the next four weeks we'll let you in."
Her coach, Craig Upton, built the Santa Rosa Marathon into her schedule. "I honestly thought I would run three hours," Stewart says. "But I went out and felt great. I didn't even know what the whole Olympic qualifying thing was. When I crossed the finish line they said, 'You qualified for the Olympic trials!' and I said, 'What? Excuse me? Whoa.'"
She decided she had to do it. "How many times in your life do you get that opportunity," Stewart says. "Do I know I'm going to go out there and be the slowest one? Yeah, but who cares?"
In addition to her fast marathon, Stewart took on the challenge of her first 50-miler last month, and plans to compete in a 100-miler this year, with a goal of finishing in under 20 hours.
Good luck to Joanna, Tyler and all of the runners competing in tomorrow's race. For complete coverage of the trials, visit Competitor.com.