Tropical Trick or Treat Tri in Jamaica
Heading out the door? Read this article on the new Outside+ app available now on iOS devices for members! Download the app.
The laid-back island life in Montego Bay takes a backseat Saturday as athletes take part in the Rose Hall Triathlon and Wellness Festival.
Saturday will mark the second running of the Wata Rose Hall Triathlon, putting the easygoing Jamacian lifestyle on end as athletes take on a hot, humid Olympic- and sprint-distances course along Montego Bay shoreline.
In the centerpiece Olympic-distance event, The two-loop, 1.5k swim is a triangular course that takes place in the Caribbean Sea off Iberostar Hotel. The bike runs the length of the Montego Bay shoreline past the host Rose Hall Resort and Spa, and is fairly flat by and large.
It's the run that will be the big challenge. The two-loop 10k run takes place on the cart paths of beautiful Cinnamon Hill Golf Course, where the late Johnny Cash built his home (and which is where an aid station will be set up). Golf courses are often referred to by their terrain; a desert course, a cliffside course. This one ought to be called a "mountain course." Once racking at T2, athletes are in for a rollercoaster ride that will not let up on the legs. The first lap and finishing final lap will culminate in a 200-meter uphill pitch that is being affectionately (and appropriately) named "The Witch."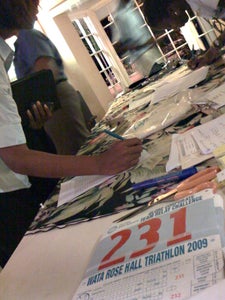 The race also features a wellness festival, and a Halloween post-race party—appropriate timing since T2 is located at Rose Hall Great House, a 1700s old sugar plantation house that is reputedly… haunted. At least that's how the story goes in the H.G. de Lisser 1928 novel, The White Witch of Rosehall. An 1800s tale of black magician Annie Palmer, who was claimed to have murdered three of her husbands, was also reputedly murdered in her own bed in the house by a voodoo priest from a neighboring plantation, and it's said her ghost roams the house.
No telling if any bikes will disappear from T2 at the foot of the house.
Back to the 21st century… One athlete who figures to not only win the visually impared category but may well make a run at a top overall finish is Aaron Scheides. The distorted, blurred vision that Scheides suffers with is called Stargardt's Disease, and qualifies him for a cane. Instead he uses guides, those of whom in the past years have included pro triathletes Matt Lieto, Luke McKenzie Joe Gambles and Ben Collins and top age grouper Matt Miller.
Saturday, his guide will be rookie rookie pro Andy Starykowicz, A 2:05:45 bike at Ironman 70.3 Steelhead put eventual race winner Andy Potts on the defensive then when he scored a runner-up finish, and puts the Scheides/Starykowicz tandem in the drivers seat for a top finish in Montego Bay.
The race also has at least one high-profile name on the start list: triathlete and Washington, D.C. Mayor Adrian Fenty, who looks to improve on the 2:17:54 PR he set at the Nation's Triathlon in D.C. this June. Race organizers said that they also leave the door open for former heavyweight boxing champion and area resident Lennox Lewis to drop in and do the race in whole or as a relay.
Stay tuned to triathlete,competitor.com for a complete race report and photo gallery.