TriSports.com Is Closing
The 17-year old go-to shop for everything tri will shut down one week from today. We spoke with co-founder Seton Claggett about the news.
Heading out the door? Read this article on the new Outside+ app available now on iOS devices for members! Download the app.
The 17-year old go-to shop for everything tri will wind down operations next week. We spoke with co-founder Seton Claggett about the news.
TriSports.com's co-founder Seton Claggett told Triathlete that the popular online and brick-and-mortar retail shop will begin the closing process over the next week. The shuttering is the direct result of a legal battle between Trisports.com and their onetime creditor, Bank of The West. The lawsuit stemmed from an early loan note call and TriSports.com's resultant bankruptcy in 2013.
TriSports.com began in early 2000, while Claggett was a college student at the University of Arizona. The small home business quickly grew and eventually, Trisports.com sponsored clubs, athletes and charities—putting over $750,000 back into the sport over three years, according to their website. Their corporate ethic of giving back extended through all that they did, from encouraging their employees to bike commute to taking on an ambitious environmental makeover of their store to improve recycling and run on solar energy.
In 2011, after having become a strong name in the triathlon community, TriSports.com took out a loan that they used to fund ambitious projects including a new software system, solar-powered equipment, and the opening of a new store in Tempe, Ariz. However, when the bank called the note in early, TriSports.com was unable to pay.
"It's like buying a house with a 30-year mortgage and being asked to pay the balance in two months," said Claggett. As a result, the bank sued Trisports.com in February of 2013 for failure to repay the note. In June of the same year, Trisports.com filed Chapter 11 bankruptcy. Over the next six months, Claggett was forced to reduce his staff from 65 to 19 employees—immediately closing his new Tempe store. That same year, he filed a countersuit against Bank of The West for breach of contract, breach of the covenant of good faith and fair dealing, and fraud.
For the next few years, Claggett said he stabilized the business solely on the backs of his and his wife's (co-founder, Debbie Claggett) $250,000 line of credit cards. However, late last week, Claggett was notified of the final decision that found the bank not liable.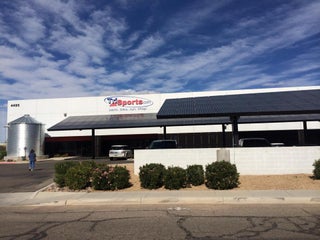 "On Tuesday, I let my staff know—I had to fire almost all of them," said Claggett over the phone, as he choked up and was forced to pause between sentences. "But almost everyone kept coming in to work. They're stubborn, they don't want to leave."
As for Claggett, he said he has no idea what comes next. "Unless a white knight comes in at the last minute, I have no idea what I'm going to do," he said. "This business is all that I know." At the same time, he said the outpouring of support from the triathlon community has been huge. "You just hope you're making a difference, you hope you're doing more than just selling shit," he said.
"I've shed most of the tears over the past few days, but…" he said as he paused to shed a few more tears, "this is not the way you expect the story to end."
Update: A previous version of this article said TriSports.com would close next Thursday. It's been updated to note that operations will wind down next week.