Triathlon News and Notes: What You Missed in March 2023
The biggest triathlon stories to make waves this month.
Heading out the door? Read this article on the new Outside+ app available now on iOS devices for members! Download the app.
Naval Academy picks up women's triathlon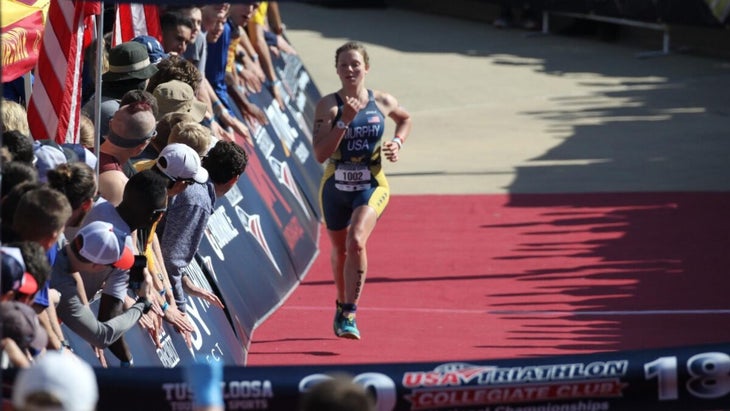 The Naval Academy will add women's triathlon to its varsity lineup this fall, the Annapolis, MD-based school recently announced. They've also tapped current Navy triathlon club coach Billy Edwards to lead the program. Triathlon has been a club sport at the Naval Academy since 1992, with the Mids finishing third at the  Women's Club National Championship this year.  A rapidly growing collegiate sport, there are currently more than 250 student-athletes from some 24 countries competing in varsity triathlon at NCAA schools, according to the NCAA.
RELATED: Triathlon Hits Mark to Become Next NCAA Sport
Chrissie Wellington to push wheelchair athlete in the London Marathon 
Sam Perkins next challenge is unprecedented! Sam who is living with MND is competing @LondonMarathon with four-time Ironman World Champion @chrissiesmiles. More from @NFFC fan and triathlete Sam on @bbcemt on BBC1 1830 #nffc pic.twitter.com/5wGqtZgjQH

— Natalie Jackson (@NatJacksonsport) March 10, 2023
Four-time Ironman World Champion Chrissie Wellington is returning to the race course—but in a far different capacity than in her pro triathlon days. Rather, the 46-year-old will be pushing wheelchair athlete Sam Perkins in the London Marathon on April 23. Perkins, who has Motor Neuron Disease (MND), will be participating in the marathon, alongside a support team which includes the legendary triathlete. "All I ever wanted as an athlete was to use it as a platform, so if you can use it to support and help others, I'll feel like I've achieved a greater end," said Wellington. "To be able to help him achieve it will be one of the most pivotal moments in my life."
A new Riccitello riding well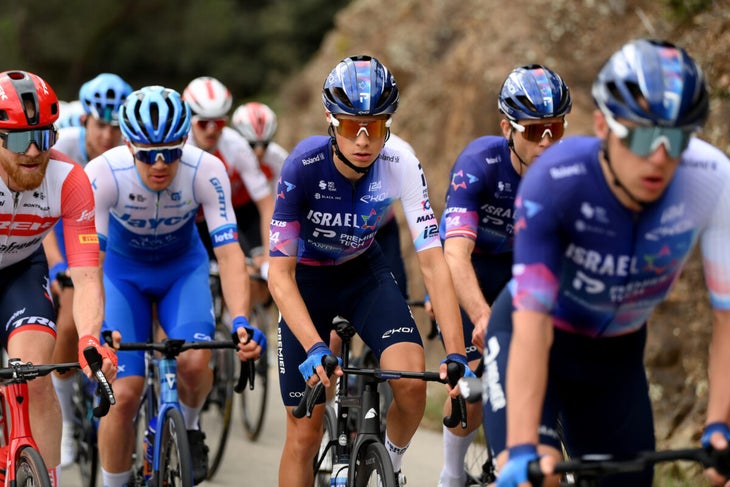 Anyone who's familiar with Jimmy Riccitello—a former pro triathlete, the first man to win an XTERRA World Championship, and top Ironman referee—will recognize the name of one of the brightest new stars on the pro cycling circuit. 21-year-old Matthew Riccitello, Jimmy's son, is keeping endurance sports in the family by signing a three-year deal with Israel-Premier Tech, a professional cycling team. This year, he won the young rider's jersey at Vuelta a San Juan, a stage race in Argentina (where he placed ninth), and also raced in last month's UAE tour.
Kiwi Hayden Wilde inks first-of-its-kind deal with Nike 
Hayden Wilde, the silver medalist in men's triathlon at both the 2020 Tokyo Olympics and 2022 Commonwealth Games, has signed a joint sponsorship deal with online retailer SportsShoes.com and Nike. This is the first time Nike has worked with a partner for its global athlete sponsorship program, and builds off of SportsShoes.com's Nike Athletes in Residence program, which aims to support up-and-coming athletes. The 25-year-old Kiwi will be supported by both brands in tandem as he builds toward the 2024 Olympics in Paris. "I have used Nike since the day I started racing and SportsShoes.com has always been the real deal with their support of me in the early years," said Wilde. "I plan on delivering some big wins in the years to come for the partnership!"
Grace Norman to be ambassador for USAT's new NIL platform 
Two-time Paralympic triathlon medalist and 2022 world champion Grace  Norman has signed on to be an ambassador for USA Triathlon's new Watch Us Thrive Collective. Launched in November, Watch Us Thrive Collective is a platform for female triathletes who compete at the NCAA level to sign Name, Image, and Likeness (NIL) deals so they can be compensated for their promotion of triathlon, particularly on the NCAA level, on their social media channels and through other digital avenues. For her part, Norman will "drive the collective's resource needs and impact through social media promotion, speaking appearances, fundraising assistance, and donor and athlete engagement," according to USAT. Applications for those interested in joining Watch Us Thrive will open on May 1 and will close on June 30, and the inaugural 2023 class will be announced in August.
RELATED: Will NCAA Triathletes Cash in on NIL Deals?
Laura Philipp named top influential athlete
Professional triathlete and Ironman champ Laura Philipp is among a grouping of 45 influential female triathletes put together by German publication Ispo.com. Philipp, 35, of Germany, is applauded for her advocacy for training based on a women's menstrual cycle, a topic she discusses and explores in depth on her YouTube channel.  In the past few years, Philipp has refocused her training to take her menstrual cycle into account, and has spoken frequently about encouraging other women to do the same.
RELATED: How Laura Philipp Set A New Ironman Record
Zoot turns 40, launches new line 
In 1983, Kona resident and artist Christal Nylin designed the first-ever triathlon specific race suit. Her one piece design soon turned into Zoot, which ultimately pioneered multisport apparel. To mark the anniversary, Zoot has launched a limited edition "40-year" collection, a line of Hawaii-inspired race kits, training gear, and athleisure choices. This collection is available now at zootsports.com.
Driver who hit and killed Washington triathlete convicted
The driver who struck and killed 65-year-old triathlete Kerry Wiltzius in June, 2020 has been convicted. Jonathan Ryser was found guilty of the death of Wiltzius, a beloved member of the Spokane, Washington triathlon community who was training for an upcoming race when  she was struck by a tow truck, thrown off the bike and onto the side of the road. She died a few days later due to brain injuries caused by the incident. Ryser, who had meth and THC in his system at the time of the accident, was convicted of vehicular homicide, a "sign of relief" for Wiltzius's family. Ryser will remain in jail until his sentencing on April 28.
Popular North American Ironman and 70.3 races sell out
If you're thinking about snagging a last-minute entry into Lake Placid or Mont-Tremblant this year, you're out of luck: Ironman has announced that general registration for both Ironman Lake Placid triathlon and Ironman 70.3 Mont-Tremblant are both sold out. These popular races join the ranks of this weekend's 70.3 Oceanside, as well as 70.3 Oregon, and 70.3 Chattanooga in reaching sell-out status, with more Ironman races nearing capacity, including new additions 70.3 Morro Bay in California, 70.3, New York–Jones Beach, and 70.3 Pennsylvania–Happy Valley.
RELATED: Triathlete's 2023 Guide to the Best Ironman and Iron-Distance Races in the U.S.A.
USAT launches women's gravel series 
New USA Triathlon CEO Victoria Brumfield is putting her passion into play by launching a women's gravel racing series. Kicking off on May 7, with the XTERRA New Jersey in Vernon, the series will go through the fall with a finale on October 22's with the Brick House Triathlon and Duathlon in Navasota in Texas. "Gravel triathlon is an exciting way for athletes to test their skills and try a unique race experience, and not surprisingly it has taken off in popularity," Brumfield said. "It's such a fun and accessible way to be a part of the multisport lifestyle, and a discipline I am very passionate about." (Brumfield also put a finer point on the need for women's-only races in this editorial.)
RELATED: How to Train for Gravel Triathlon
Oman hosts first-ever Xterra event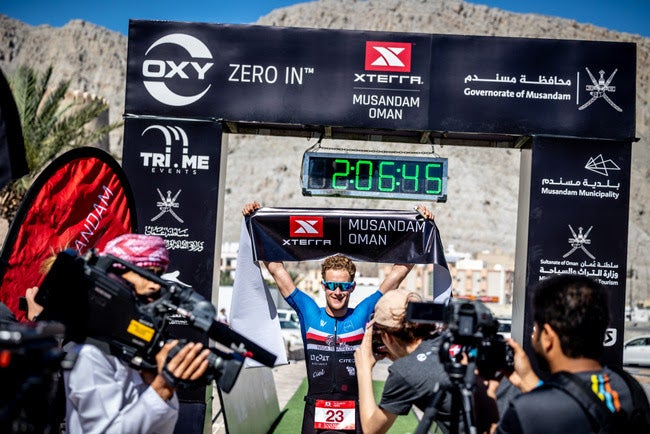 Oman, Jordan welcomed off-road triathletes to its shores for the first-ever Xterra event to be held in the country this month. The 2023 Xterra Musandam Championship featured a series of races, including a trail half-marathon, kid's runs, and then the main event: an off-road triathlon in the scenic (and mountainous) Omani peninsula that's known as the "Norway of Arabia." French athlete  Maxim Chané and Italian Marta Menditto took the wins in the men's and women's triathlon, respectively.
RELATED: What is XTERRA? Your Guide to Off-Road Triathlon
Three pros announce retirement
March was the month of retirements for a few triathlon legends as Mirinda Carfrae, Andrea Hewitt, and Cameron Brown all shared that they're stepping away from start lines for good. Four time world champ Carfrae, a mom of two who has been dabbling in commentary for Ironman, shared her news on her YouTube channel, and also shared that she will be now coaching alongside her husband, Tim O'Donnell, in an endeavor they're cheekily calling "Tim & Rinny's World."
Meanwhile, a pair of Kiwis in Andrew Hewitt and Cameron Brown are also retiring. Hewitt, 40, is hanging up her race gear after a dazzling career in draft-legal racing, in which she competed in three Olympics. And Brown, 50, put an exclamation mark on a 25-year pro career in early March by racing his final Ironman New Zealand as a professional triathlete, finishing in 8:42:15.
The most-read Triathlete articles of March 2023