Triathlete's Big Monthly News Digest: August 2023 Edition
Get caught up on the most-read and most-discussed stories of August 2023 in our Big Monthly Digest of triathlon news.
Heading out the door? Read this article on the new Outside+ app available now on iOS devices for members! Download the app.
It's true what they say – time flies when you're having fun, and August 2023 is proof positive of that. This month, the championship season took off with a barrage of triathlon events, including PTO Opens in the USA and Singapore, the Paris Test Event for the 2024 Olympic and Paralympic Games, and the Ironman 70.3 World Championship races in Finland. We also saw significant news and fresh starts, including the PTO-World Triathlon joint announcement of their new 100K race series for age-groupers.
But there's even more to talk about as we wrap up the month. Before we get into September (which is somehow even busier and more exciting than August, believe it or not), let's review some of the triathlon news you may have missed.
Video: August 2023's Big Monthly Digest of triathlon news
Tim O'Donnell goes off-road at XTERRA U.S. Championship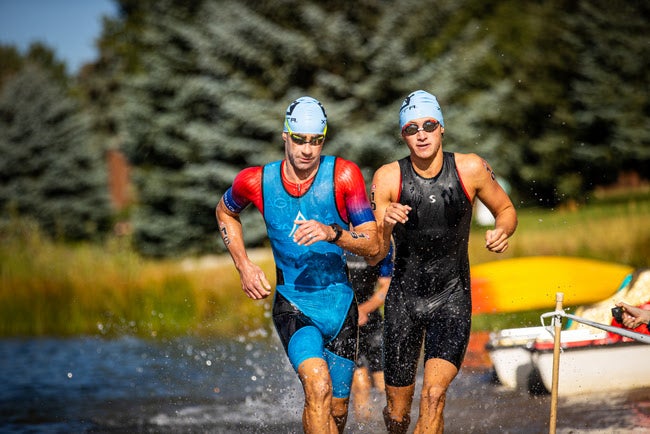 Timothy O'Donnell is a triathlon legend and holds one of the most impressive resumes in triathlon, with over 50 podiums, (including two at the Ironman World Championships). Yet somehow, that resume didn't list an XTERRA triathlon – until this month.
So what inspired this off-road adventure? The widow-maker heart attack he experienced when racing Challenge Miami in 2021. Miraculously, O'Donnell not only recovered, but returned to racing, even winning Peru 70.3 this year. But retirement is ahead for the 42-year-old, and during the twilight of his career, he decided to give off-road a go.
"After my heart attack, I realized life is short so we need to live it up," O'Donnell said in an interview with XTERRA ahead of his debut at the XTERRA USA Championship in the Colorado Rockies (which also happens to be his backyard). "I'd hate for time to pass and regret never having tried XTERRA, it seems too amazing to miss."
O'Donnell got off to a great start with a brilliant swim, but the home-court and swim advantage disappeared on the bike, as O'Donnell felt the power of the off-road junkies. "The guys closed on me so quickly," he said after the race. "I looked back and there was no one on the climb and then all of a sudden there's four guys running over me on the descent."
Still, O'Donnell managed to finish just outside the top ten, saying, "It was amazing. It was such a different beast, but it was humbling to be out there with the best guys in the world and I learned a lot and had a great time…but I quickly realized I was in it for the experience."
Young phenom Sullivan Middaugh, at the opposite end of his career at 19 years old, was one of these "best guys in the world" O'Donnell was talking about, as he impressively defended his title in his hometown. Lesley Paterson broke a five-month-long stretch of zero swimming (being a Hollywood bigwig makes it hard to get to the pool) to take the title in the women's race yet again. Another VIP: none other than USA Triathlon CEO Victoria Brumfield, who took on the event for a third straight year.
Super League kicks off fifth season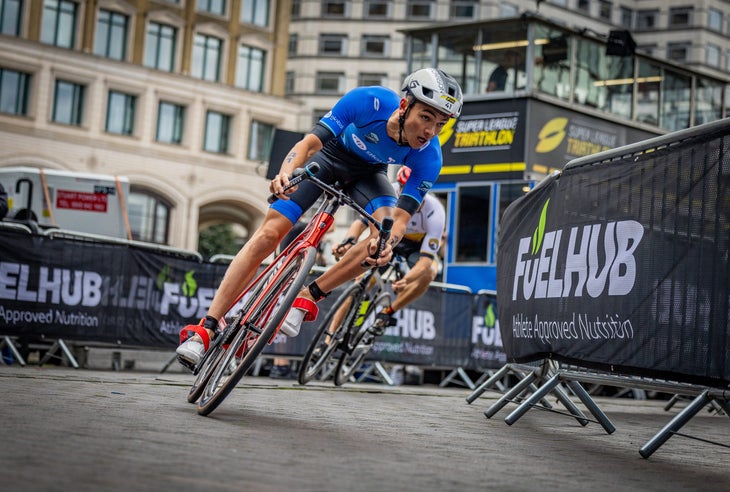 It's already been five years since Super League Triathlon graced us with its heart-pumping, nerve-firing, non-stop super short-course action. It was fitting, then, that London was the venue that kicked off their 2023 championship season – not only is it London, but it has welcomed the athletes with roaring crowds more times than any other venue. The event took place around West India Quay in the heart of the city, attracting throngs of spectators who undoubtedly left inspired by the fastest triathletes/superhumans on the planet.
Similar to last year, Super League will employ a team format for this series: 4 teams, each consisting of 5 male and five female athletes. New this year is the Real Tri Squad Warriors, a Super League team working in association with USA Triathlon's Project Podium to help bring up the next generation of U.S. triathlon talent. After a dramatic start to the series in London (where Alex Yee and Jeanne Lahair took the wins in the men's and women's races, respectively) Super League continues on its world tour. Toulouse hosts next, with even more big names like Kristian Blummenfelt. The series then heads stateside to Malibu before finally traversing to Neom, Saudi Arabia, for the finale.
Countdown to the Olympic & Paralympic Games begins with Paris Test Event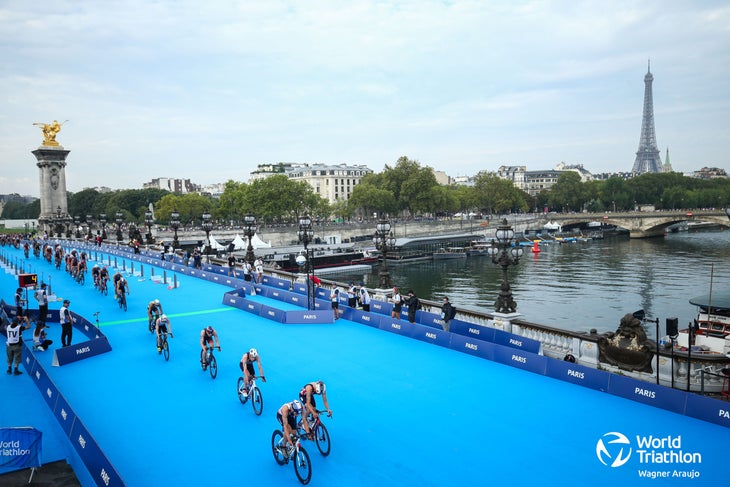 Iconic. Magnificent. Spectacular. These were the words thrown around for a triathlon race course that, on paper, looked too audacious to pull off. Yet Paris 2024 and World Triathlon put together something truly special for the Paris Test Event this month, cramming in as many Parisian landmarks as they could show off within an Olympic-distance triathlon.
However, not everything was as successful as the course's unveiling. The Seine River may be a beautiful swim venue, but it's also a breeding ground for certain bacteria. The city has reportedly spent $1.5 billion dollars in an effort to clean the famous river and make it not only ready for swimming in the Olympics, but for the public as well. But when the Paris Test Event rolled into town, so did a cluster of storms that dumped heavy rainfall into the river. The water quality wasn't the best, and despite being within safe margins for the individual men's and women's races, it wasn't safe enough for the Paralympic athletes or for the athletes competing in the Mixed Relay event, resulting in duathlon races for both of those races.
Despite that, the racing was a true spectacle, with Alex Yee and Beth Potter cementing Great Britain's hopes for a Gold medal. (Tim Heming, Triathlete contributor, keenly observed that Yee's father is actually a chartered bridge architect and must have been in his element watching his son take the victory on the Pont Alexandre III bridge.) There were many upsets in the Paratriathlon races, and Germany took advantage of the duathlon format in the mixed relay event, securing the gold and establishing the rapid-fire relay format as the one to watch in 11 months' time.
Sam Long welcomes "Lil' Unit"
Kristian Blummenfelt's daring schedule took all the headlines this month, as the Norwegian raced the PTO U.S. Open, the Paris Test Event, the PTO Asian Open, and the 70.3 World Championship. But Long more or less did the same thing, except instead of bagging a spot at the Olympics, he became a dad (which is a bigger deal?). Long's first child, Leonardo Franko Long was born on August 1. Lara Gruden, Long's partner, clearly deserves a lot of love (and naps) when he returns home after racing around the world; Long said in an Instagram post (above) that he feels "so grateful for her and it's given me a bigger purpose to race for them."
Jan's retiring (or is he?)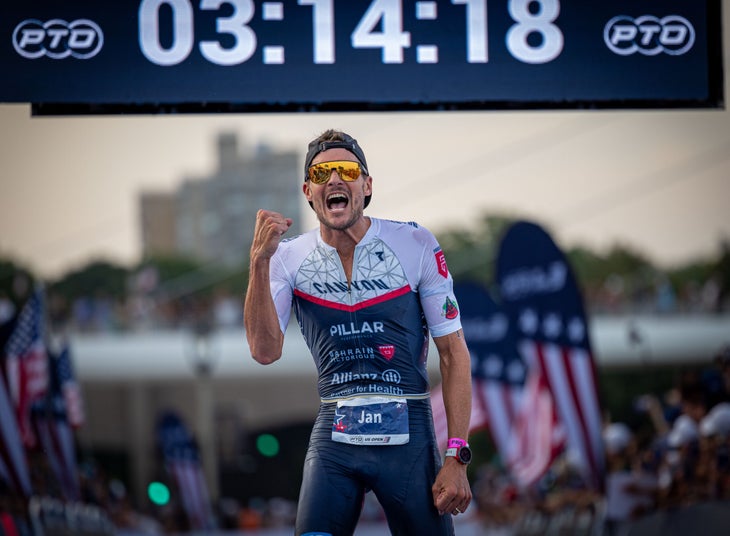 Midway through August, headlines, Instagram posts, and videos began circulating that triathlon GOAT Jan Frodeno was putting the candle out on his very long and illustrious career with two final races. The rumor began with a PTO post just before the PTO U.S. Open, which said the event would be the "penultimate race of an incredible career." This was in response to Frodeno's Instagram post upon departure from a training camp in Lanzarote, where he said he was "Milwaukee-bound for the second last dance."
Then, in a twist of tales, Frodeno was caught on camera saying he "didn't announce anything." But it's not what you think: "I've told everybody for months now, this is my last championship season," he said. In an interview with the New York Times, Frodeno said the Milwaukee race and the Ironman World Championship in Nice would be "the last time with proper butterflies and racing for titles."
Does that mean more races for the long-legged legend? Reading between the lines, we probably won't see a "championship season" from Frodeno, but after that U.S. Open performance and with a men's Ironman World Championship race in Nice next, surely he must be having thoughts. Or maybe he'll just visit to get a new Hawaiian shirt to wear at more of his donut-eating, beer-drinking SGRAIL races. Either way, we'll be cheering him on.
Wildfires cancel Canadian races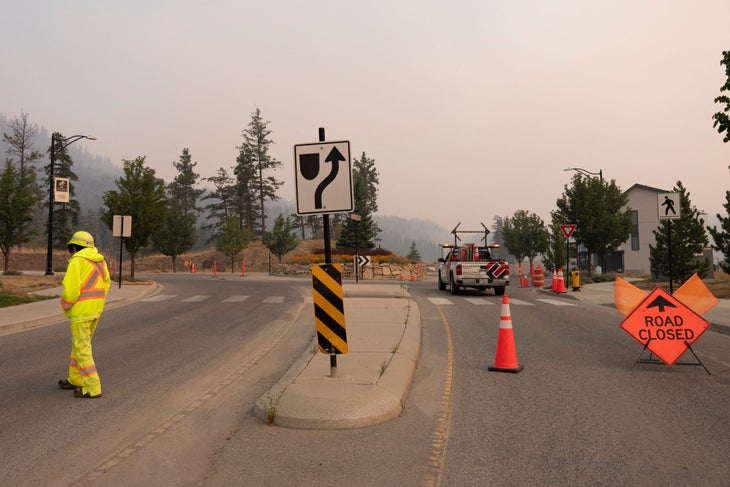 According to the Canadian Interagency Forest Fire Centre (CIFFC), this wildfire season in Canada is the worst on record, burning more than 13 million hectares (that's about the size of Portugal) and causing hazy, smoky skies across North America. It's no surprise, then, to hear that this month's Ironman Canada in Penticton was canceled "…to allow the local resources the space they need to focus on the local community" as British Columbia declared a state of emergency with evacuations taking place across the province.
This follows the last-minute rescheduling of 70.3 Mont-Tremblant and the cancellation of WTCS Montreal's mixed relay event in June, also due to wildfires.
RELATED: Hotter, Harder, and More Expensive: Why Triathletes Should Care About Climate Change
Challenge London makes sparking debut
We first heard the news back in May that "the world's biggest city-center triathlon," the London Triathlon, had joined the Challenge Family. Like the Paris Test Event course, this race was full of unforgettable London landmarks, including Big Ben, the London Eye, and the Houses of Parliament. 5,000 people competed in the event that had many different distance options, including a new middle-distance option designed for the high-level athlete, as well as the pros. Sam Laidlow was first across for the men despite a calf injury sustained at Challenge Roth and Fenella Langridge was crowned the first-ever women's Challenge London winner. To make it even more memorable, Langridge's win was the first time her parents were able to watch her professionally, despite racing as a professional for over five years.
Some good triathlon news: Emma Pallant-Browne's husband saves age-grouper's race at 70.3 Worlds
There's no doubt that the best part of this sport is being a part of a community that takes care of each other. A moment that exemplifies this occurred at the 70.3 World Championships in Lahti, Finland, where Maria "Flaca" Guerrero was in despair pre-race over damage to her bike, sustained on the flight from Finland to Ecuador.
Believing that her dream of racing the 70.3 World Champions was all but over, Guerro posted a plea on social media the night before the race. Then, to use her words, "an angel crossed my path and loaned me his bike" just 30 minutes before transition was closed. The donor was Jaryd Browne – husband of pro and eventual 4th-place finisher Emma Pallant-Browne, who delivered his own bike for Flaca to use despite needing it for his own race the next day.
Guerrero was overjoyed after finishing her race, praising God and the universe for her miracle. seemingly in a state of disbelief that it had happened. In further reflection, Guerrero said Jaryd, "showed a nobility and generosity that I will always remember."
What a great story – let's keep the kindness and support rolling into September (and beyond).
Most-read Triathlete articles of August 2023