Trek/K-Swiss Triathlon Team Officially Introduced In Santa Monica, Calif.
Heading out the door? Read this article on the new Outside+ app available now on iOS devices for members! Download the app.
Written by: Liz Hichens
The excitement surrounding the development of the Trek/K-Swiss team peaked on Friday as all nine team members were brought together and formally introduced in front of a crowd of media and fans. The athletes are in Southern California for the next few days to try out their new gear, meet their fellow teammates, and get in some fun training time with fellow professionals.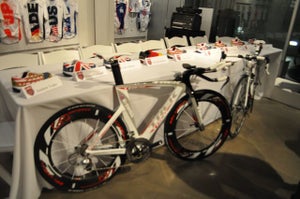 Today, the athletes started their day by learning about all of the brands that they will be representing in 2010. Then the team headed over to Santa Monica, Calif. to the K-Swiss Concept Store to meet with the media and speak about the team. Athletes then headed out for a team dinner. Activities will continue tomorrow with an opportunity to swim in the morning, followed by a day of media interviews and professional bike fittings from the crew at Retul.
The nine team members include Fraser Cartmell, Julie Dibens, Joe Gambles, Heather Jackson, Chris Lieto, Matt Lieto, Paul Mathews, Michael Raelert and Andrew Yoder.
Stay tuned to Insidetri.com for complete coverage of the camp including photo galleries, video recaps and news stories.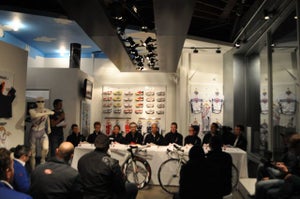 Here are a few key quotes from this evening's press conference –
Reigning Ironman 70.3 World Champion and Xterra World Champion Julie Dibens:
"I come from a swim background. I grew up in the U.K. where swimming is pretty much an individual sport. I came over to the United States to swim in college where there is a lot more of a team aspect. Once I got back into triathlon it went back to being individual, so to be able to be on a team like this is super exciting. I think were really going to feed off of each other. Chris (Lieto) here and having done so well in Kona, we can learn a lot from him. I'm very excited about helping the younger guys on the team."
Reigning Ironman 70.3 World Champion Michael Raelert:
"I'm very honored to be on this team. We've already had a strong start to the year with Fraser (Cartmell) winning Ironman 70.3 South Africa. It's fun to watch the others on the team and cheer them on. It gives you great motivation. I got to run with Chris (Lieto) yesterday and in just an hour and a half of running I've learned more than I did over the last two years."
Ironman World Championship Runner-Up Chris Lieto:
"I wanted to be part of this team because I really want to leave something behind. I've been in the sport for 11 years and my goal was to become a world champion and I want to leave a mark on the sport beyond winning. I know when you retire you're forgotten within a year. To be able to have the opportunity to pass along the stuff that I've learned and to see a team succeed will be huge. For me, when any of these guys win a race it's going to feel good and it's going to feel like I'm a part of it.
Click here to watch a video recap of the press conference.