Top U.S. Junior Triathlete Diagnosed With Cancer
American junior triathlete Kevin McDowell has been diagnosed with Hodgkin's Lymphoma.
Heading out the door? Read this article on the new Outside+ app available now on iOS devices for members! Download the app.
American junior triathlete Kevin McDowell has been diagnosed with Hodgkin's Lymphoma at the age of 18.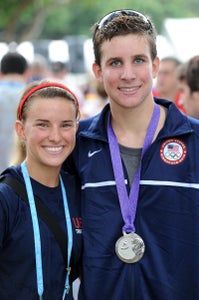 Triathlete Kevin McDowell has had an impressive career at such an early age. He was a bronze medalist at the 2010 ITU Junior Triathlon World Championship in Budapest and was named USA Triathlon's Junior Athlete of the Year in 2009 and 2010. These are just a small handful of his notable highlights in the sport. Recently, McDowell was diagnosed with Hodgkin's Lymphoma.
This has been shocking news to members of the triathlon community. According to professional triathlete Jarrod Shoemaker and friend of McDowell's, "I have been lucky enough to train with him on several occasions and he is a great kid, great athlete and hard worker."
Shoemaker did offer words of encouragement: "His diagnosis for recovery is good, which is very encouraging. I can't wait to have him back racing next to us next year." Shoemaker is also working to get signed photos and triathlon goods donated by various other professionals to be auctioned off to help McDowell and the Leukemia and Lymphoma Society.
Professional triathlete Laurel Wassner also battled this same cancer. She explained, "Hodgkin's is cancer in the lymph tissue found in lymph nodes which are part of the immune system. It is most common in ages 15-35 and then from 50-70-years-old. Fortunately, it is one of the most treatable types of cancer with a very high long-term survival rate."
Wassner had stage 2a Hodgkin's, meaning she had cancer in two areas of her lymphatic system, yet no real symptoms. She had some enlarged lymph nodes in her neck removed and biopsied and they were discovered to be malignant. She visited the hospital every other week for chemo treatments.
"One of the most difficult things, especially for an athlete, is the lingering fatigue," she continued. "I spent a few years being extremely tired and feeling like I just got off a tilt-a-whirl. Considering some of the alternatives, I felt quite lucky."
Although every case is different, Wassner believes McDowell is up for the challenge to beat it. "Having a strong, fit body and an athlete's ability to fight will help him immensely. It isn't an easy road, but keeping an eye towards the future and getting back to normal life and triathlon is essential," she said.
"Plus," she added, "he'll be much tougher with a higher tolerance to pain when he gets back out there."
So his competition better watch out.
After this news story was originally posted, we received a comment from McDowell:
"Earlier this month, I was diagnosed with Hodgkin's Lymphoma. On Monday, I will begin a treatment plan that includes six months of chemotherapy. This will certainly impact me in the short term, but I am very encouraged by my prognosis for a long-term cure, versus just remission. I am extremely grateful for the overwhelming support offered by friends, fellow triathletes, doctors, nurses and church friends and I look forward to getting back to racing next season."